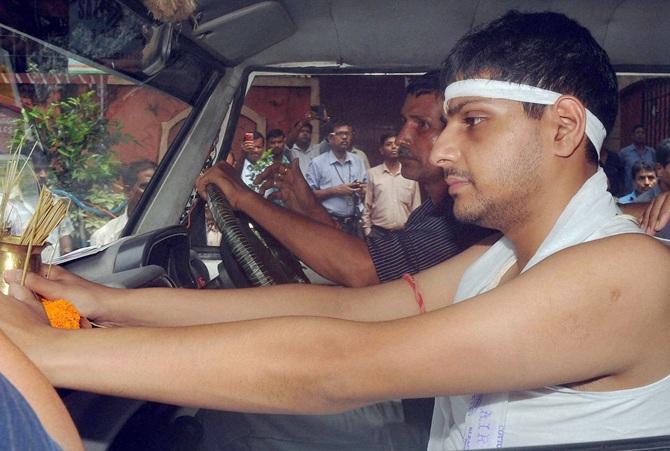 IMAGE: Avishek Dalmiya seen during his father Jagmohan Dalmiya's funeral. Photograph: PTI
A section of members from the National Cricket Club (NCC), one of the affiliated voting units of the Board of Control for Cricket in India (BCCI), questioned as to how late Jagmohan Dalmiya's son Avishek represented the club at the Special General Meeting of the BCCI on Saturday.
The members in a press conference claimed that Avishek Dalmiya was not a member of NCC and also raised questions as to who gave permission to Dalmiya junior to repesent them at BCCI's SGM.
"Avishek, who is 34 now, cannot become a member of NCC as there has not been any updation of membership list and the card since 1981," spokesperson of the revolting NCC group Prabhat Jhawar said.
They also made shocking claims that NCC in its 2013-14 annual return showed total members as 17 -- 16 working and one other -- as against 2200 life and 800 founder members.
"That means 2983 members are dead including all of us," Jhawar said, claiming that NCC did not have any election for decades. He alleged that former BCCI vice-president KP Kajaria is illegally running the show occupying the secretary's post for the last 43 years.
Alleging irregularities in ticket distribution, they also claimed that NCC collects tickets on behalf of members, who are dead and false filing at Registrar of Companies.
The group's next step is to meet BCCI president Shashank Manohar in Nagpur "to sort out the mess" and "if nothing materialises we will move court as a last measure," Jhawar added.
Kajaria also represents NCC at the BCCI disciplinary committee.
"How can Kajaria, who has flouted the by-laws of NCC can be part of the grand body... We the members demand that he must step down immediately and AGM should be called urgently to select the new working committee and president.
"BCCI must take action against Kajaria and ROC must also take action against NCC CA and secretary for filing wrong information," they said in a statement.
Asked why they were quiet over the issue for so many years, Jhawar said: "We've made several attempts for more than three years to meet Mr Dalmiya and Kajaria on many occasions but nothing fruitful had happened then."
As per the Registrar of Company filing, the NCC has 16 WC members out of which four have passed away, two are terminally ill, and four are above 80 years.
"If this is how the club functions where is the element of democratically elected body? If the AGM is held which Kajaria claims then how come none of the 200-odd members that we have gathered have got any notice?" Jhawar asked.
Pointing out the mismanagement in distribution of tickets, Jhawar said: "NCC gets about 2100 tickets for every International match at the Eden and approximately 600 are collected by the members including those who have been dead."
"The balance 1500 is left with the club. Then how come all the seats in J Block (which NCC occupies now) is full during matches," Jhawar asked.
NCC's activities have always come under scanner as till date no one knows what tournaments they organise and what are the cricketing activities that take place under its banner.
Meanwhile Kajaria in an email statement has said serious defamatory aspersions against NCC and him have been made by persons with vested interests and requested the media to refrain from publishing the group's claims.
"While they are aware of the allegations and aspersions being false, the sole and whole intention is to squeeze under threat positions at NCC. In view of above, necessary legal steps are being initiated against the persons concerned.
"The NCC is organising a series of matches and events which are on record. It holds AGMs and files its audited accounts regularly. Therefore, any publication based on defamatory and untrue aspersions without due legal justifications would unnecessarily implicate the concerned persons.
"Hence, you are earnestly requested to desist from attending to or giving any credence to uncalled for and vested interests of certain individuals."