'He is at his best now, he is in the right frame of mind.'
The tough times he has gone through will only make him a better player and a stronger personality.'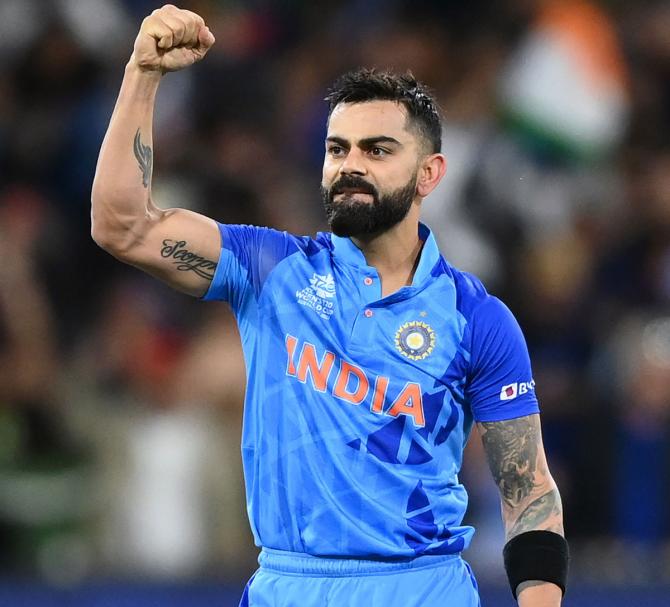 Virat Kohli is back to his best!
After a difficult couple of years when he found the going tough and which also saw him relinquish the India captaincy, King Kohli seems to have regained his form and is proving to be unstoppable with the bat.
He smashed a brilliant 166 not out off 110 balls in the third and final ODI against Sri Lanka in Thiruvananthapuram on Sunday -- to register his third century in his last four ODI innings.
Kohli faced a difficult period before last year's Asia Cup when he went three years without a century in international cricket. He finally ended his barren run with a 61-ball 122 against Afghanistan in the Asia Cup in September 2022 and hasn't looked back since.
"Even the great players will have certain times where their curve will be a bit down. These players have done well for the country for nearly 10-15 years so they know how to come back if they lose their form," former chief selector M S K Prasad tells Harish Kotian/Rediff.com.
Prasad believes the month-long break Kohli took last year was instrumental in helping him rediscover his form. Kohli revealed it was the first time in his life that he hadn't touched the bat for 30 days.
"He actually needed a mental break more than anything else. He had a little bit of a tough time, but he kept on playing so that has piled up a lot," Prasad points out.
"I felt he should have taken a break long time back, maybe soon after the (T20) World Cup (2021). Ever since he has taken the break before the Asia Cup (in 2022), we have got back the original Virat Kohli, whom we saw scoring lot of runs like in 2016," says Prasad.
"He is at his best now, he is in the right frame of mind. I am sure the tough times he has gone through in the last couple of years will only make him a better player and a stronger personality."
"I feel the break has actually pushed his career forward by 4-5 years. He is that sort of character who needs challenges, and he has accepted that challenge and gone through. He took a lovely break and he understood himself well and we have got back the Virat Kohli of the old."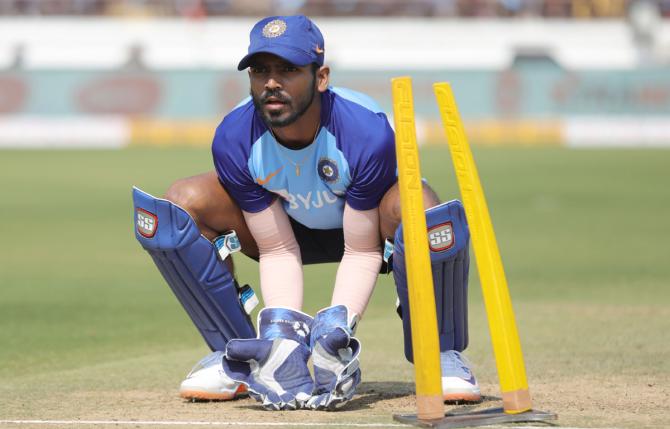 Prasad -- a wicket-keeper during his playing days -- also made his choices clear as far as replacements for the injured Rishabh Pant is concerned.
"I feel very sad for Rishabh Pant, it feels like something has happened to my own son. It feels painful because we have seen his transition from Under-19 to the international level. We have seen him grow in front of our eyes, and seeing that horrific accident is not only painful for him and his family but also for all those people who have supported him and who have been with him.
"With regards to his replacement, it is very obvious that in white ball cricket it will be Ishan Kishan and in red ball cricket it will be K S Bharat. Bharat has always been groomed for the Test format and he has been doing very well for the last three years. He has done exceptionally well whenever he got a chance for India 'A'.
"I have absolutely no doubt that Bharat will make his Test debut against Australia next month," predicts Prasad.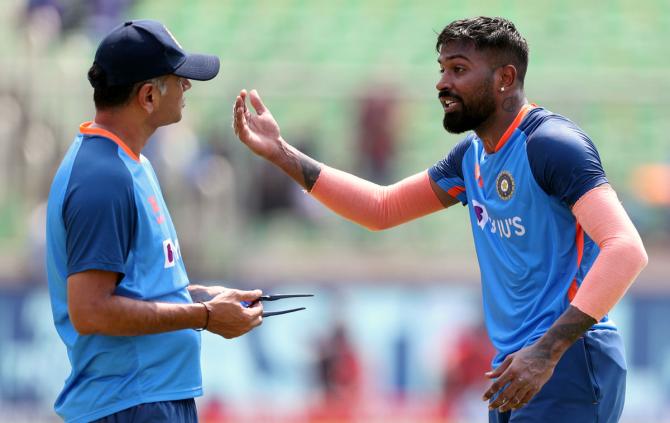 The current selection panel led by Chetan Sharma have split up India's captaincy across formats considering the non-stop international schedule. Hardik Pandya has been handed the reins of the T20 team while Rohit Sharma, who along with the seniors has been rested from T20s, continues to lead the ODI and Test teams.
Prasad calls upon the selectors not to make wholesale changes in the white ball set-up, especially T20 cricket, with the ODI World Cup set to be held later this year.
"I am not sure whether they have gone in for split captaincy or whether they are following a rotation policy. I think Virat has a long way to go (in T20 cricket) because he is extremely fit and Rohit also maybe next year or so. I don't think we should be making changes before the ODI World Cup," says Prasad.
"Post the World Cup, you can assess and start thinking about players for different formats or captain for different formats," he adds.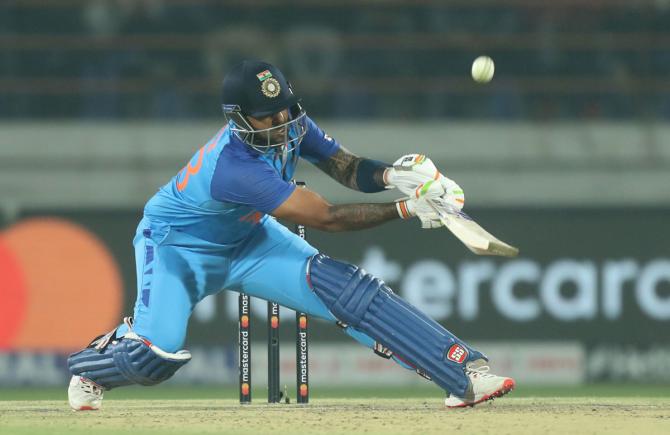 It won't be long before Suryakumar Yadav leaves his mark in the 50-over format too, says Prasad. "Surya is an exceptional player. He is there in the T20 squad and Test squad so that speaks volumes about his adaptability. So if he is able to find a place in the T20 and Test squad, he will definitely do well in ODIs also."
"All that he has to do is wait for his time. I would say it won't be long before he cements his place in the Indian team."
Mumbai's Sarfaraz Khan, despite his amazing run with the bat in domestic cricket in recent times, hasn't found favour with the selectors.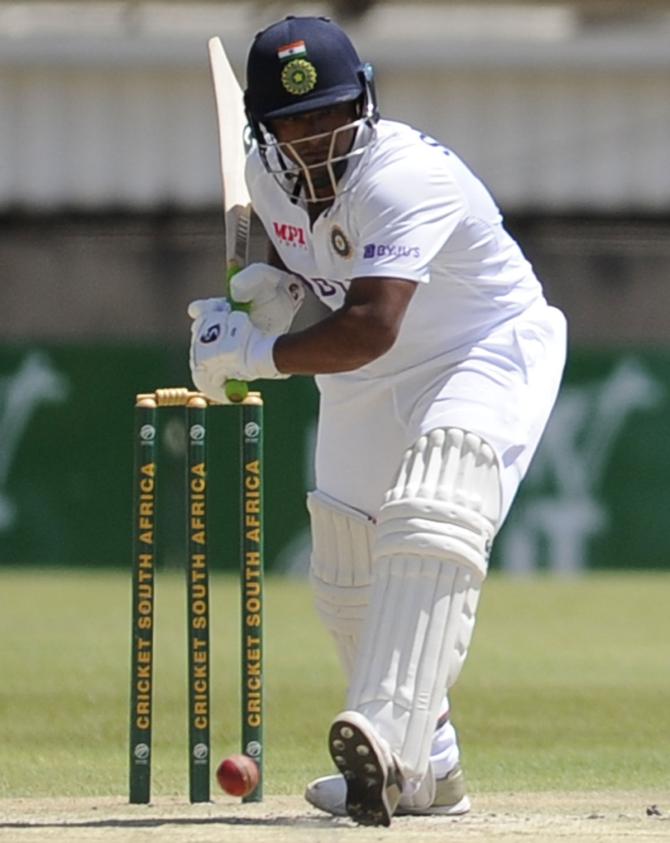 Sarfaraz has scored 801 runs in the ongoing Ranji Trophy and amassed 982 runs and 928 runs in the previous two seasons, but that hasn't been enough to get him a place in the Indian Test team.
Prasad believes there is one more big step left for Sarfaraz, which is to do well for India 'A', which should pave the way for his selection in the Indian team.
"Everybody who does well in domestic cricket they have one more ladder to climb, which is India 'A', whether it is Rishabh Pant, or K S Bharat, or Shreyas Iyer, Mohammed Siraj or Sanju Samson. They have travelled for two years with the India 'A' team and they have been groomed through that ladder," says Prasad.
"Even Shreyas (Iyer) got 1,300 runs in one season, but unfortunately he couldn't get through because the team was packed with middle order batters and he had to wait for his turn," adds Prasad.
"Similarly, Sarfaraz Khan will also have to wait for his opportunities," advises Prasad. "And whenever he gets a chance for India 'A', he should make most of it."
"If he does that, then definitely he will make it to the Indian team."