'I think as a society, the fact that these things are in certain people's heads, acceptable to a certain degree, it's disturbing and it's shocking and I'm ashamed to be a part of that society. I think we need to change our thinking, we need to treat men and women in the same way, be respectful and treat women with some compassion'
'This country should be safe & equal for all. Women shouldn't be treated differently. Let's stand together & put an end to such pathetic acts'
'Change your thinking and the world will change around you'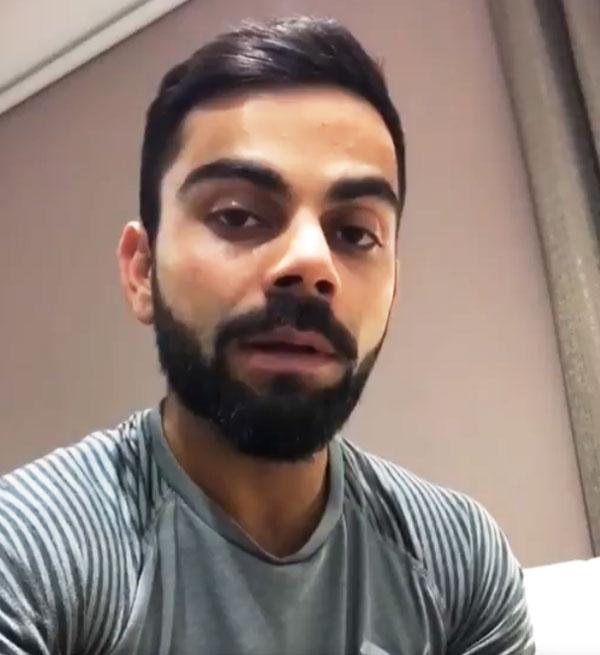 IMAGE: Being silent when women are being molested is cowardly, Virat Kohli said on his Twitter page on Friday. Photograph: Virat Kohli/Twitter
India's Test captain Virat Kohli is a youth icon and he it seems like he takes the honour seriously.
He is one to always share his opinion about any serious events affecting the country – he was one of the first cricketers to show solidarity with the Indian soldiers after the Uri attack in September last year – and now again he has decided to awaken the conscience of the country by speaking about the groping and molestation of women that took place in Bangalore on New Year's eve.
Reacting strongly to the 'disturbing' episode and coming down on the powers that be, in a 1 minute and 34 second video posted on his Twitter handle, Kohli was critical of the behaviour of bystanders who watched without intervening.
"What happened in Bangalore is really, really disturbing. To see something like that happen to those girls and for people to watch it and not do anything about it... I think it's a cowardly act. Those people have no right to call themselves men. I have only on question... 'if something like that happened to someone -- god forbid -- in your family, would you stand and watch or would you help', that is my only question. And I think these things are allowed to happen and people stand there and watch these things happen and they are fine with it because they think it's absolutely fine for something like that to happen to a girl just because she is wearing short clothes. It's her life, it's her decision, it's her choice," Kohli said in a measured tone.
Further, stating that he is ashamed of the society for its regressive thinking, Kohli added: "For men to accept it's an opportunity for us to do something like this and get away with it and people in power trying to defend it, it's absolutely horrible. I think as a society, the fact that these things are in certain people's heads, acceptable to a certain degree, it's disturbing and it's shocking and I'm ashamed to be a part of that society. I think we need to change our thinking, we need to treat men and women in the same way, be respectful and treat women with some compassion and as I said, put yourself in that situation and think 'what if we were the family members of those girls, how would we feel about it'. Jai Hind."
Considering the fan-following he receives, we doff our hats to Kohli for voicing his opinion on the matter.
New Year revelry turned into a nightmare for several women who were allegedly molested despite huge police presence at a large gathering in Bengaluru's downtown region, drawing widespread outrage even as the state home minister stoked a controversy by blaming the youngster's' "western ways" for the incidents.
Eyewitness accounts suggest that women were molested and groped and lewd remarks were also passed by miscreants late night on December 31 in the posh area even as it was claimed that 1,500 police personnel had been deployed to control the crowds.