A police complain has been filed against Pakistani cricketer Sohail Tanvir by his first wife, Nausheen Agha for issuing death threats and not providing maintenance.
Tanvir, who leaves this week with the Pakistan squad for the Hong Kong Super Sixes tournament, was not available for his comments but Nausheen said she was forced to file the police complaint after the left-arm pacer made threatening calls to her and asked to keep out of the media.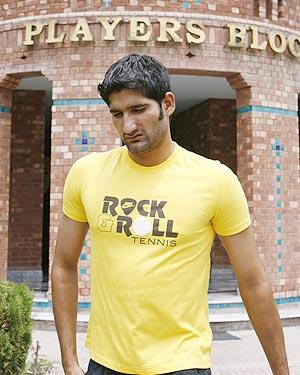 Tanvir contracted a second marriage on October 10 this year without consulting Nausheen.
Nausheen, in her application, has claimed that she is Tanvir's first wife and they have a daughter.
"I had to file the police report because he has stopped giving us maintenance or taking care of us. He has just disappeared from our lives. All that I know about him now is that he is making death threats to me," said Nausheen.
"I have informed the police about how he has behaved with us and about his threats. They are investigating the matter. I want nothing from him except that he should provide us with proper maintenance and take care of our needs like every husband does," she added.
Nausheen said that she would not allow Tanvir to divorce her although he has married a second time without her consent.
Tanvir had earlier claimed that he took the permission of his first wife before tying the knot a second time.