With the series lost, what changes must India make for the final Test?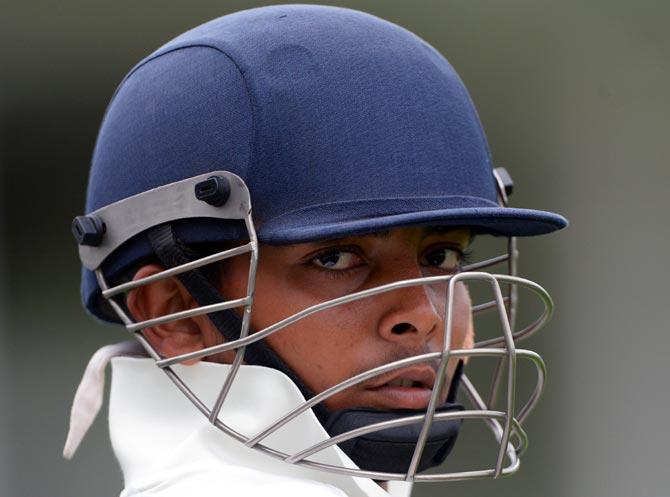 The 21 SAS regimental barracks at Regents Park in London is closer to Lord's than it is to the KIA Oval where the final Test of this series will be played beginning on Friday.
It's unlikely that Captain Kohli and Coach Shastri will have time to request a visit to 21 SAS, but they could note the legendary special forces unit's motto: 'Who Dares Wins'.
Much has been made of Kohli not choosing the same bunch of players till the Southampton Test, but what is overlooked is that the skipper only appreciates a group of players he is comfortable with. His permutations and combinations are made within this elite cabal; Kohli seems reluctant to look beyond them.
So no matter how erratic Hardik Pandya's performance, Kohli will stick with him. No chance that Ravindra Jadeja -- who has a good record in England as an all-rounder -- will get a look in.
So no matter how flimsy Shikhar Dhawan's credentials for staying in the side, Kohli will pick him to open the innings.
Karun Nair may have scored a triple ton against the same opposition -- agreed on a more friendly surface in Chennai -- but he won't fit in anywhere in Kohli's playing eleven.
Kohli's brilliance as a batsman means that his choices as captain are not probed by the Indian cricket media with the same exacting scrutiny that the English cricket writers do about Joe Root's choices.
No one asks why Kohli took Ashwin -- who was bowling his one brilliant spell in the series -- off at Edgbaston when Sam Curran was taking the game away from India.
No one asks why the captain didn't guide Ashwin to create the same magic that another off-spinner produced not once but twice in the Southampton Test.
Unless he returns to being the Wizard of Chennai in spin-friendly conditions at the Oval, one must wonder if Ashwin's Test career has come to an end.
With another series in England lost -- and to think that Kohli's team was billed as the side that would create history -- India has redemption and respect to play for at the Oval.
Unless it wins the Oval Test, its reputation as the world's No 1 Test side will always be open to question, having scaled the ICC ladder on triumphs executed on home pitches.
So if Kohli and Shastri -- and have no doubt that this duo is as powerful in Indian cricket as the duo that runs the BJP and indeed this great country -- need to prove to the world that the Indian team are just flat pitch bullies, messrs K&S need to take a leaf from the SAS and dare to win.
So we say to them, drop every player who has not pulled his weight in the side and give the youngsters a baptism by fire.
Let Prithvi Shaw and Rishabh Pant open the innings. K&S need to tell the Delhi wicket-keeper that if he doesn't get his batting act together at the Oval, he won't play another Test for a long time.
After his dogged century at Southampton, Cheteshwar Pujara is an automatic pick for the No 3 slot as is the Great Man at No 4.
What this series has done is emphasise Kohli's CLASS. None of his rivals -- Steve Smith, Kane Williamson or Joe Root -- are within shouting distance of his batting genius.
With what he did in Southampton, Ajinkya Rahane is set at No 5.
It is about time that K&S picked Karun Nair, only the second Indian to score a triple century in Tests, at No 6.
There is a possibility though that K&S may overlook Karun yet again and pick left-arm spinner Ravindra Jadeja in Hardik Pandya's place.
Given the Oval's reputation with spinners, India may go in with two spinners: Jadeja and the so-far-very disappointing Ashwin.
There may also be a case for giving Ishant Sharma or Mohammed Shami a break with both pacers having bowled 100-plus overs in the first four Tests.
Sharma or Shami could sit the last Test out and K&S could opt for young Shardul Thakur who could be a handful in English conditions.
This is what we think. What do you think?
Have your say by choosing your team for the final Test.
Please click the boxes below to select Your Indian Team for the Oval Test: