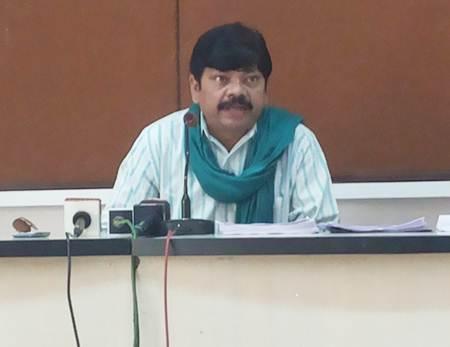 Aditya Verma, petitioner in the Indian Premier League betting and spot-fixing case, says both Shivlal Yadav and Rajeev Shukla are "ineligible to contest for the post of president in the upcoming Board of Control for Cricket in India elections".
After the Supreme Court barred the BCCI's president-in-exile, Narayanswami Srinivasan, from contesting the polls citing conflict of interest, Yadav, the board's interim president, and vice-president Shukla were seen as frontrunners for the presidentship.
"As per the Supreme Court order, dated January 22, 2015, no official having commercial interest in the BCCI can stand in the elections because of conflict of interest.
"Since both Yadav and Shukla have commercial interest in the BCCI it would amount to contempt of court for them to contest elections," Verma told reporters during a media interaction at the Mumbai Press Club on Thursday.
Verma, who is secretary of the unrecognised Cricket Association of Bihar (CAB), added that if the BCCI Working Committee fails to announce the date of the Annual General Meeting by January 11 he will be forced to file a contempt petition.
He said any effort by Srinivasan to off-load his stake in his IPL franchise, Chennai Super Kings, to be eligible for the elections will also be invalid since the franchise is under investigation by a Supreme Court-appointed committee.
"I have also written to the chairman of the SEBI (Securities and Exchange Board of India) requesting him not to allow the sale of CSK shares to any other company because CSK is currently under probe of the Justice Lodha committee, constituted by the Supreme Court," Verma added.
He pointed out that Srinivasan's days as chairman of the International Cricket Council (ICC) are numbered, adding that once the BCCI elections, likely to be held in the first week of March, are conducted, the new elected members will have to send their representative to replace Srinivasan.
He is of the view that former president Sharad Pawar is the right man to guide the BCCI out of the current mess it is in.
"I really hope that Pawarsaheb comes back, and with people for support, like Shashank Manohar, Jagmohan Dalmiya and Inderjit Singh Bindra, they restore BCCI's former glory."
Image: Aditya Verma, secretary of the unrecognised Cricket Association of Bihar, at the Mumbai Press Club.
Photograph: Harish Kotian