India should bring back Cheteshwar Pujara, Harish Kotian tells Messrs Kohli and Shastri.
What is be YOUR playing XI for the Lord's Test, starting on Thursday?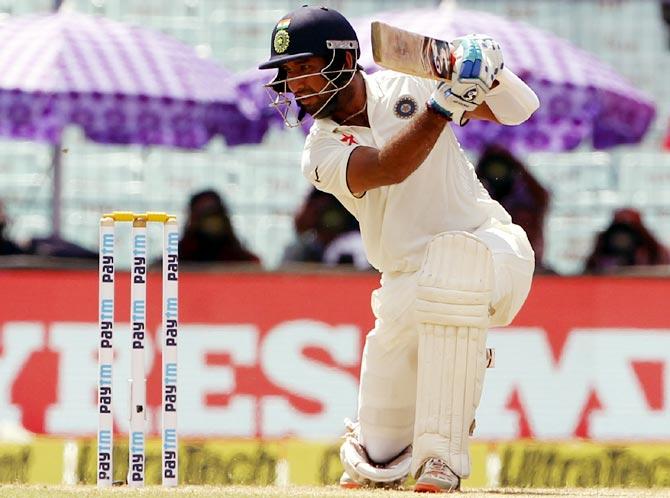 After losing the first Test at Edgbaston by 31 runs, India must win the Lord's Test or risk losing momentum in the five Test series against England.
All the batsmen except Virat Kohli failed in the first Test and every one of them must raise their game and support the bowlers who brought India back into the contest twice in the game.
The batting failures meant questions are already being asked why the experienced Cheteshwar Pujara was omitted for the first Test, even though he had spent some weeks playing county cricket for Yorkshire and was better acclimatised to the English conditions than team-mates Ajinkya Rahane, K L Rahul and Murli Vijay.
India's tame capitulation in the second innings means they need batsmen ready to battle it out in tough conditions. Someone like Chottu Pujara who could be drafted into the side in place of Rahul who struggled against the moving ball.
Else, India could retain Rahul and lengthen the batting line-up, which means all-rounder Hardik Pandya, who had a limited role with the ball in the Edgbaston Test, could be left out.
Sunil Gavaskar suggested the inclusion of an extra batsman in the playing eleven for the next Test, saying, 'I always believe that in overseas conditions, you need to play an additional batsman. They got to believe in themselves that they can do well.'
If Jasprit Bumrah is fit, India could bring him in for Umesh Yadav who didn't have a good game at Edgbaston. English pundits, however, believe that Yadav will be a tough customer with his ability to swing the ball at high pace.
What should be India's playing eleven for the second Test?
Should India bring back Pujara?
Should India drop Rahul or Pandya?
Should Ravindra Jadeja come in for Pandya?
Should India include Bumrah if he is fit?
Please click the boxes below to select Your India Team for the Lord's Test: