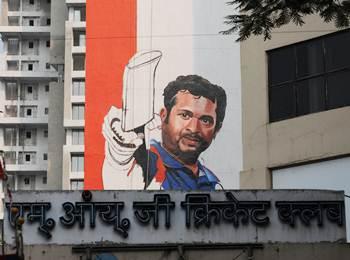 The MIG Cricket Club, Bandra, in suburban Mumbai, will pay tribute to retiring batting great Sachin Tendulkar by naming the pavilion after him.
The dressing room will also bear the name of the legendary batsman.
"We have decided to name the pavilion as Sachin Ramesh Tendulkar Pavilion. We spoke to him around six to eight months back and he acknowledged it," MIG Cricket Club secretary Ashish Patankar said on Thursday.
Tendulkar, who is set to retire after the November 14-18 India-West Indies second Test at the Wankhede stadium, which will also mark his 200th game, often trained at the ground during his formative years.
Patankar said the pavilion would be inaugurated by the batting great after the conclusion of the ongoing Test series against the West Indies. The inauguration function will be open to the public.
The club is painting its front wall with the cricketer's portrait.
"We are expecting the painting to be completed by November 10. I will request him to come and see the painting before the Mumbai Test," Patankar said.
Tendulkar and MIG Club have an association since the late 1980s.
Patankar recalled the batting legend's regular practice stints there before a major international series.
"I remember there was a series against Australia and none of the grounds in Mumbai were available, as matches were being played. It was a Sunday and he wanted to practice only on that day. We had a match scheduled at the ground that day and Sachin asked me if he could practice at lunch time. He got a bowling machine and batted for an hour at lunch time," he said.
"He used to prepare differently for different opponents. For the harsh tour of England, he asked us to bowl to him with wet tennis balls from half pitch," he added.
He also recollected that when a doctor had advised Tendulkar, who developed a back problem in 2000, to run on a green top, the batting maestro used to run at MIG ground at 4:30 or 5 in the morning, to avoid people crowding the place.
- Farewell Sachin... write a postcard to the batting icon
Image: A huge poster of Sachin Tendulkar at the MIG Club in Mumbai
Photograph: Sahil Salvi