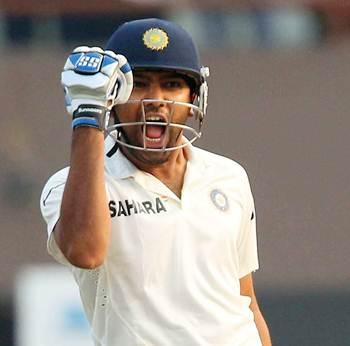 "I was really disappointed with what happened in 2010," said Rohit Sharma, recalling the freak accident he suffered while playing a game of football ahead of the opening Test against South Africa in Nagpur.
The incident delayed his Test debut by three-and-a-half years, even as he cemented his place in India's One-day and T20 squad.
"I was waiting for a long time for the opportunity," he continued, adding, "But that phase is over now. I'm really happy that finally I did get to play a Test match."
The Mumbai batsman realised his long-cherished Test debut in the opening Test against the West Indies at the Eden Gardens, and made most of the opportunity on Day 2, scoring a brilliant 127 not out, which bailed India out of a tricky situation.
"I feel very happy to have got a hundred in my first match. A Test match hundred is always special for any batsman. Since this one came on debut, it makes it even more special," said the 26-year-old batsman.
He proceeded to admit that the seemingly endless wait to play a five-day game for India was annoying and he looked up to other sportspersons for inspiration.
"There were a lot of cricketers who had to wait for an opportunity," explained Rohit.
"Even someone like Michael Hussey had to wait till he was 30 to make his Test debut. But I never put my head down, because I always had faith in my talent. I kept working hard on my game."
His hard work and diligence did yield positive results for Team India in the game's shorter versions, more recently in the One-day series against Australia -- where he became only the third batsman ever, after compatriots Sachin Tendulkar and Virender Sehwag, to score an ODI double hundred -- and it was not surprising that he admitted that the knock served as motivation.
"This innings was a continuation of my good form in that series (against Australia). I just wanted to continue from where I left off in Bangalore (209)," he said.
Having come in to bat with India precariously placed at 83 for five, early on Day 2, didn't help matters.
"They (the West Indies) were bowling well in tandem early on in the day. They were varying the pace well and the runs weren't really coming," explained Rohit.
What worked for the Mumbai batsman was some meticulous planning and pacing of the innings.
"I stuck on initially and capitalised when their bowlers got tired. The fact that the outfield here (at Eden) is very fast helped," he added.
Whatever be the case, Rohit's hundred on debut served as a fairytale ending to what seemed an eternal wait.
Image: Rohit Sharma punches the air after completing his hundred
Photograph: BCCI