'We are talking about the good health of our nation and clearly in sometime, we are going to have healthier people'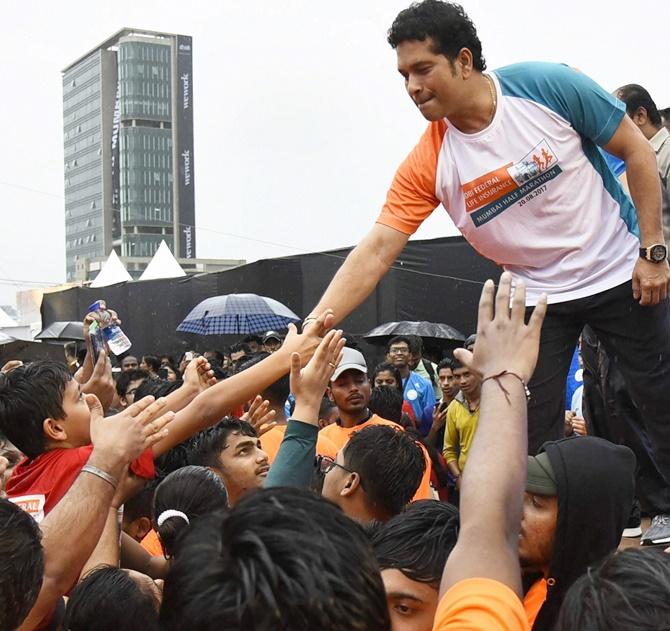 IMAGE: Sachin Tendulkar with his fans during the second edition of Mumbai Half Marathon at Bandra Kurla Complex in Mumbai on Sunday. Photograph: PTI
Cricket great Sachin Tendulkar said his best wishes are always with the Indian cricket team and he will continue to support the side even if its performance doesn't meet expectations all the time.
"Our good wishes are always with the (Indian) team. Be it men's team or women's team," Tendulkar told reporters.
"Our good wishes are there, we will go with them, whether their performance is good or it is little less than our expectations. I will say that we will continue to support the team and I expect that you are there with me," he added.
The right-handed batsman was speaking after flagging off the IDBI Federal Life Insurance Mumbai Half Marathon in the suburban Bandra Kurla Complex. He also flagged off the 10K and 5K run as part of the event amid rains.
The Virat Kohli led team takes on Sri Lanka in the first one-dayer of the series after trouncing them 3-0 in the Test rubber held in the island nation.
Tendulkar also batted for a healthy and a fit India.
"We are talking about the good health of our nation and clearly in sometime, we are going to have healthier people around, because it is about living a healthy lifestyle, being fit, being more active and what is going to happen after that is something that we can be proud of.
"Because I believe that good fitness will always bring more consistent and better results in whatever you want to be in life," the master-blaster said.
Speaking about the initiative, Tendulkar said, "First all this IDBI Federal Life Insurance Marathon has been a great success. Last year, when I was with you, I had said my experience was good, I had told the participants that we will surpass this number. Today I can say that there are more participants than the last year."