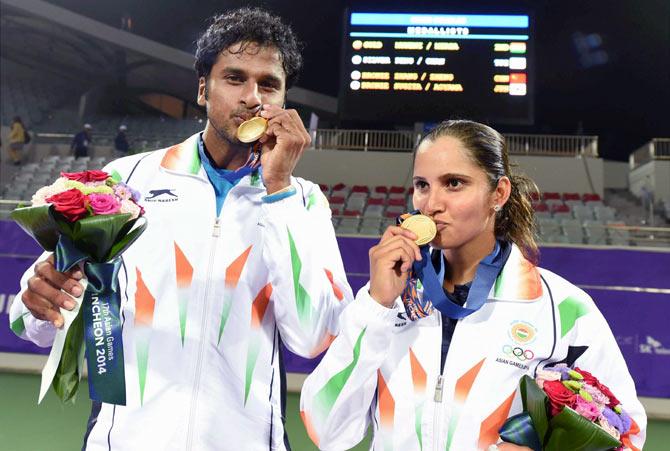 IMAGE: Saketh Myneni and Sania Mirza pose with their gold medals in the tennis mixed doubles at the 2014 Incheon Asian Games. Photograph: PTI
Union Sports Secretary Injeti Srinivas on Saturday made it clear that Saketh Myneni is "no less deserving" than Rohan Bopanna for the prestigious Arjuna award despite questions being raised about his merit.

There has been some controversy after Bopanna's name was not sent by the All India Tennis Association for the honour. The reigning French Open mixed doubles champion felt slighted as Myneni's gold and silver medals at the 2014 Incheon Asian Games got more weightage.

"In tennis, we already had an application (Myneni), who is by no means less deserving and you can't make your own judgement (as to who is deserving and who's not). The applicant (Myneni) has made India proud at the Asian Games. That performance got him marks and his case was entitled to be considered," Srinivas said.

Srinivas, who is also the Sports Authority of India (SAI) Director General, admitted that Bopanna's achievements can't be ignored but a due process needs to be followed.

"Rohan Bopanna's achievements, nobody can ignore that. He has had the highest achievements but there is a process. So somebody has to nominate you, you need to sign an application, whether that system is best, is debatable," Srinivas observed.

"For example, in case of Padma awards, you don't send applications. It's more by selection and here you make an application, give evidence of your achievements, that gets examined very carefully and a decision is taken. So in Bopanna's case, there was no nomination and there was no application," Srinivas clarified.

The
senior bureaucrat admitted that "no system can be fully objective" but there is always room for improvement.
"As much as we try but it is practically impossible to make the current system totally objective. If we could have such a system, then you would not need a committee. You would just rank them on the basis of marks assigned to them and declare the winners," he said.
"Do you know any award (
Arjuna, Dronacharya, Dhyan Chand
) that was given by government and withdrawn by the court? If not, which is the case, then it's a good enough proof that we have a robust and fair system in place."
Commonwealth Games gold-medallist Akhil Kumar on Friday raised questions about the credibility of Dronacharya Awards with one athlete giving multiple recommendations.
Srinivas tried to put things in perspective.
"Look, the rule that we have for Dronacharya award is that any national coach, who spends 240 days a year in any national camp, is eligible for Dronacharya Award nomination.
"Now, in a career span of an athlete, he comes across various coaches at various points in his career. Now it also becomes a moral and social obligation for that sportsperson and he/she ends up recommending multiple names. Am I saying that's correct? Certainly not," Srinivas said.
On the Prime Minister-appointed Olympic Task Force's recommendation of having more professionals in the system rather than bureaucrats, Srinivas, a career bureaucrat, aired a contrarian view.
"Certainly, you need to professionals. But then who is a professional? A professional is a person, who has the domain expertise, who is capable of delivering what he has to deliver. There's no argument on that.
"But to generalise on bureaucrats and professionals, I will not be able to answer that. There could be lot of bureaucrats with domain expertise, who know what they are supposed to do and deliver," he signed off.