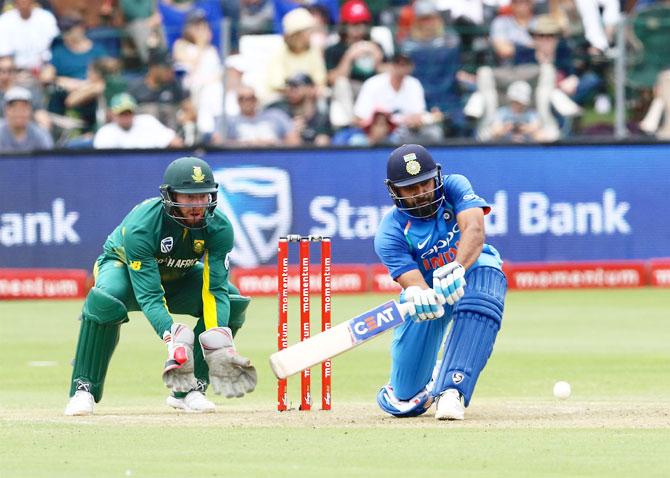 IMAGE: Rohit Sharma bats en route his match-winning knock of 115 on Tuesday. Photograph: Richard Huggard/Gallo Images/Getty Images
Opener Rohit Sharma was the chief architect of India's series-clinching victory over South Africa at Port Elizabeth on Tuesday.
He ended his prolonged bad patch with a fine hundred, as India scored a respectable 274 for 7 after being put in to bat.
His 115 off 126 balls was his first century on South African soil and came after failures in the earlier matches in the series, having aggregated just 40 runs before the fifth ODI.
On Tuesday, the highlight of the Indian innings though was Rohit's century, his 17th overall and 15th as opener.
He is now third behind Sachin Tendulkar (45 out of 49) and Sourav Ganguly (19 out of 22) with most centuries as opener.
After being criticised for his poor show in the series and a pitiable average of 11.45 in 12 ODIs (in SA), with a highest score of only 23, Rohit finally played an innings of substance; it was studded with 11 boundaries and four sixes.
Indeed, the hundred came at a crucial juncture for him, after drawing flak for his indifferent run so far.
The right-hander improved a rather pitiful record in South Africa with his 17th ODI ton.
"I got out in three matches only; how can you say form is bad after three matches? You guys put people in good form after one match, and if somebody doesn't have three good matches, you say he is in bad form," Rohit quipped.
"In 2013 it was different. I had just turned into an opener from a middle-order batsman. The way I am batting now, it has evolved a lot. Whatever happened before 2013 and in 2013, forget about that," he added, referring to his poor past record in South Africa.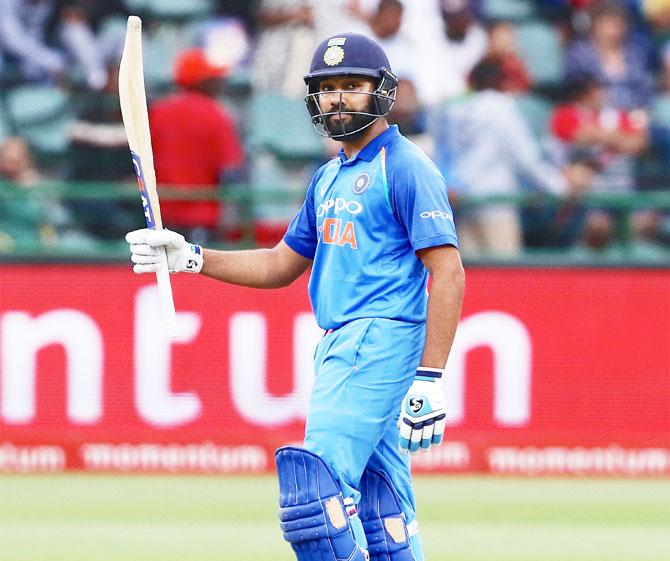 IMAGE: Rohit Sharma celebrates on reaching his match-winning century. Photograph: Richard Huggard/Gallo Images/Getty Images
Rohit said it is not fair to declare anybody a failure or success on the basis of two or three performances.
"I admit the first three-matches weren't great but that happens with everybody. But I was in a good frame of mind, I was batting well in the nets and there was no pattern to my dismissals. That happens in every cricketer's career."
During his match-winning innings, he was shaky at times but the customary elegance was there to be seen as he stepped out to hit Kagiso Rabada over long on for a six.
Looking to overcome his poor run of form then, Rohit started off slowly against Morne Morkel (0/44 in 10 overs) and Kagiso Rabada (1/58 in 9 overs), with the former bowling out two maiden overs. Rohit though had found his touch with a pulled six off Rabada in the sixth over.
He was joined in the middle by Virat Kohli (36 off 54 balls, 2 fours), who played an uncharacteristic innings belying his rich form.
Surprisingly enough, he was in better touch at the other end as he hit another three sixes off Lungi Ngidi (4-51), JP Duminy (0-29) and Tabraiz Shamsi (0-48).
Rohit said he kept following his routines in the belief that a big knock was just around the corner.
"...such a situation does come that you are trying your hardest but things don't come off. So, at that point it is important that you relax, take a step back and think about what you need to do in the next game because every day is a new day."
The stylish batsman said just as one or two failures don't define him, one hundred cannot make him complacent.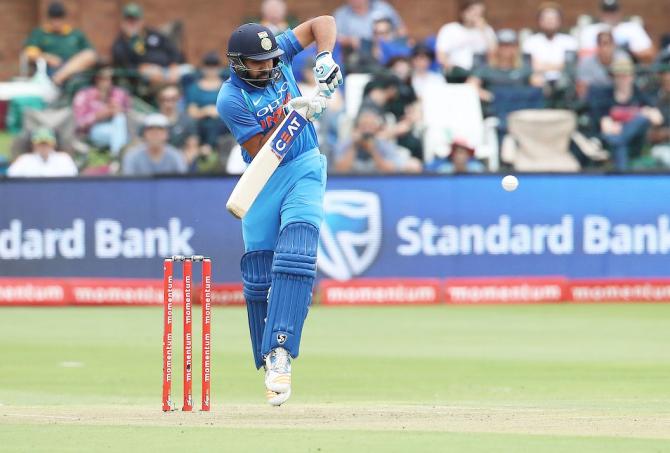 IMAGE: Rohit Sharma bats. Photograph: BCCI/Twitter
"My hundred has gone now and in the next game I play, the hundred I scored isn't going to matter much. So it is important to stay in the present and this is what we talk about in our dressing room.
"If you trust your routines, you won't have to wait too long for results. Like I did, and I knew that a big score was coming and I just have to be in that zone, not get completely bogged down and start worrying about my batting," he added.
Rohit said he realised quite early in the innings that it was the not the wicket to go for a 300-plus score.
"I just wanted to keep batting as long as possible and get the team to a decent target. We realised at one point, after 20-25 overs, that it's not a 300-wicket because the pitch was getting slower and shot-making wasn't easy.
He felt his team put up a decent enough total on board even though the score was nowhere near a winning one.
"...270 was a par score, definitely not a winning score but a par score. But again the kind of bowlers that we have in our ranks, it would have made life difficult for the South African batsmen. As we saw the pitch was getting slower and there was lot of turn for spin bowlers," he said.