West Indies' Ravi Rampaul made a significant contribution to his team's success during the Twenty20 World Cup last year and now the pacer is eager to replicate that performance in the Indian Premier League, commencing.
"Hopefully I can transfer that performance in this year's IPL," Rampaul, who is a part of the Royal Challengers Bangalore side, said.
He also said that he wanted to be a part of RCB's playing XI during the sixth edition of the mega-event. RCB will open their campaign against Mumbai Indians on Thursday.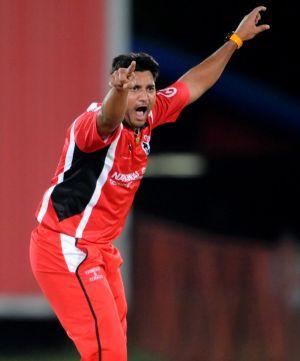 "RCB is shaping up well as our batsmen are looking in good form. I want to be part of the team. Only thing I just need to work on my batting for the selectors to take note of it," Rampaul told reporters.
Talking about his experience of bowling on Indian pitches, the medium pacer said that he has a lot of experience bowling in all types of wickets.
"I have played a couple of Tests and One-dayers in India. Hopefully, I will deliver this time too. I am just looking forward for the action to commence," said Rampaul.
He further added that he is looking forward to work with the bowling coach Venkatesh Prasad.
Rampaul, who got injured in the beginning of this year, said after he recovered he had been playing domestic matches in the Caribbeans.
"Hopefully when the IPL kickstarts, I am raring to go," he added.
Rampaul said the West Indies have made a lot of impact in Twenty20 cricket, which is reflected in so many West Indians being picked up by the various IPL franchises.
Stating that Chris Gayle's presence would give RCB an extra boost, he said, "Having such a player in the side, not only boosts my confidence, but also bodes well for the team."
Photograph: Lee Warren/Gallo Images/Getty Images