Captain Gautam Gambhir's arrival has lifted the morale of Kolkata Knight Riders, who are looking to successfully defend their Indian Premier League title, said all-rounder Rajat Bhatia.
Gambhir erased all doubts about his fitness as he took part in the nets on Sunday. KKR will play Delhi Daredevils in the opening match of the sixth edition of the IPL, in Kolkata, on April 3.
- Check out the IPL 2013 schedule
"The team's morale is high. Captain Gautam Gambhir has arrived and took part in the nets," Bhatia said after a strenuous workout at the Eden Gardens.
Gambhir, who has recovered from jaundice, joined the squad along with West Indies' mystery spinner Sunil Narine.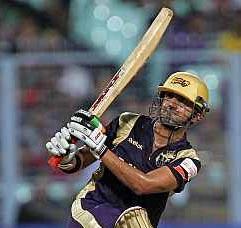 "Gautam is in good nick and is working hard to get his fitness back. We want the title again under him. To become champions it's difficult, to stay on top it is more difficult," Bhatia said.
"You have to be self motivated. give your best shot. Having won it has improved our concentration. We know how to tackle it now," he said.
Asked whether this IPL is special for Gambhir, who has been discarded from the current Indian team, the all-rounder said, "Those who are not in the Indian squad will try hard to do well at the IPL so that they can make a comeback. It is the same for Gautam as well... he is also working very hard."
Bhatia pointed out that it is more difficult to defend the title than win it the first time.
"But to retain it is more difficult."
On their motivation level this time, he said: "Last time we were motivated to win the championship. This time we are motivated to retain it. Chennai Super Kings have won it more than once, we are motivated to win it again."
On the wicket at the Eden Gardens, he expressed hope that it would suit the home side.
Meanwhile, KKR principal owner and Bollywood superstar Shahrukh Khan and his troupe were expected to arrive in Kolkata on Sunday night.
They will rehearse for the gala opening ceremony at the Salt Lake Stadium on April 2.