Mumbai Indians captain Ricky Ponting ruled out bowling during the Indian Premier League, saying the grounds in India are too small for him to bowl in match situation.
Also Read
- IPL 6: How the nine teams measure up
- Captain Ponting eyes IPL glory for Mumbai Indians
Ponting bowled a bit during the Big Bash T20 tournament back in Australia.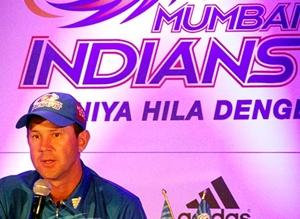 "I have told the Mumbai Indian boys that I had bowled a bit in the Big Bash.
" However, I am not in the league of Indian off-spinner Ravichandran Ashwin. I won't be bowling in the IPL. The grounds are not big enough here.
"We haven't have enough spare balls for me to come and bowl," he said.