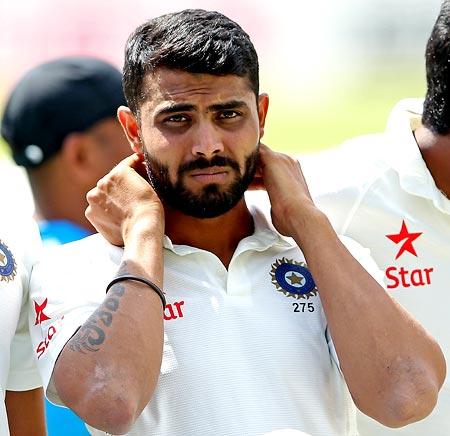 Sudeep Tyagi and Siddharth Trivedi, the medium pacers from Uttar Pradesh and Gujarat respectively, won't be a part of Saurashtra's Ranji Trophy squad for the first two matches this season.
The team, to be led by Jaydev Shah, has India stalwarts Cheteshwar Pujara and Ravindra Jadeja.
While Jadeja failed to make the cut in the Twenty and ODI teams for the upcoming series against South Africa, Pujara will use the match against Tripura to sharpen his batting ahead of the four-Test series against the Proteas in November.
Relegated to Group C after a poor performance last season, Saurashtra will play Tripura from October 1 at the Madhavrao Scindia Cricket ground in Rajkot.
"Jaydev Shah has been named captain of the 15-member squad, while Cheteshwar Pujara and Ravindra Jadeja, the two most successful players in recent past from Saurashtra, have been included," Himanshu Shah, Surarshtra Cricket Association's media manager, said.
"Sudeep Tyagi and Siddharth Trivedi had played for Saurashtra last season, but they have not been selected."
Tyagi played for Saurashtra last year, while Trivedi had a five-year association with the Saurashtra Cricket Association.
However, the SCA did not clarify whether the two were dropped or have chosen to play for other teams.
Dipak Punia and Vandit Jivrajani are two new faces in the squad.
Puniya, a medium pacer, has played eight first class matches for Services.
"As preparation has been on at SCA stadium, Khandheri, for the third ODI between India and South Africa, SCA has decided that opening match would be played at Madhavrao Scindia Cricket ground," Shah added.
Team: Jaydev Shah (captain), Cheteshwar Pujara, Ravindra Jadeja, Sagar Jogiyani, Sheldon Jackson, Arpit Vasavada, Kamlesh Makawana, Dharmendra Jadeja, Jaydev Unadkat, Chirag Jani, Avi Barot, Vandit Jivrajani, Mohsin Dodiya, Dipak Puniya and Abhishek Bhatt.
Image: Ravindra Jadeja
Photograph: Scott Heavey/Getty Images