Some say they are distractions, while some insist they bring out the best in cricketers.
Yes, we are talking about players' WAGs (wives and girlfriends).
The Indian Premier League would surely lose its sheen if those chirpy cheergirls and glamorous WAGs are kept away from the action.
Hold your breath and see what these WAGs are bringing to the ongoing eighth season of the cash-rich Twenty20 league.
Anushka Sharma (Virat Kohli)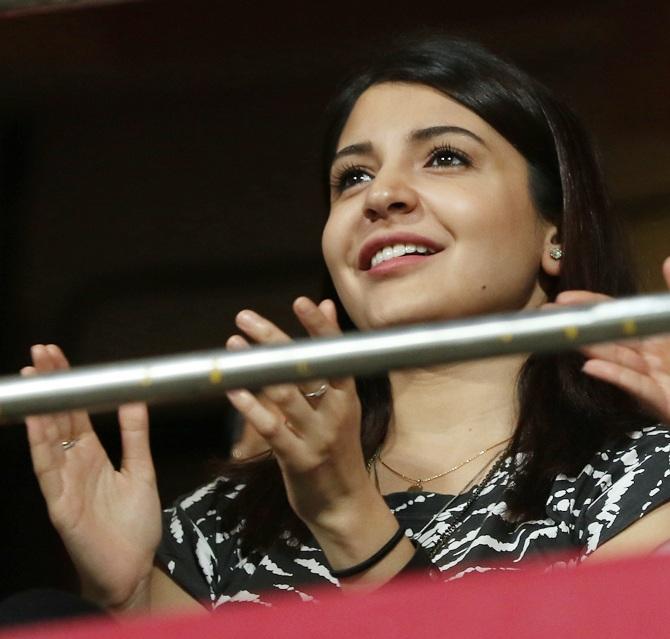 Bollywood actress Anushka Sharma and India's most-talented batsman Virat Kohli are quite a pair for sometime now.
India's dashing Test captain is known for smiling and blowing kisses to his girlfriend after a spectacular knock.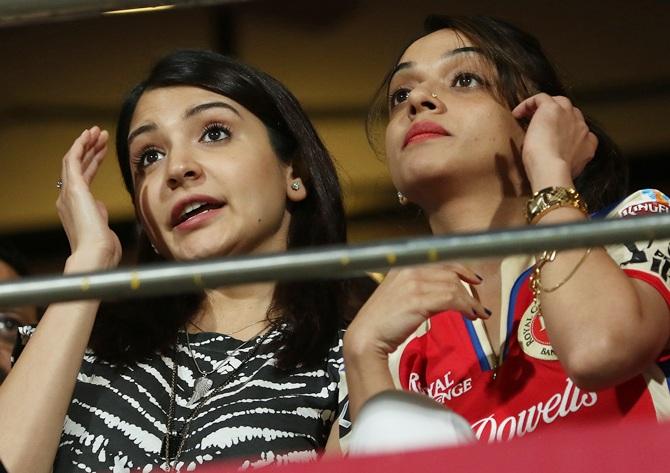 The media got into his bad books and Kohli lashed out at critics who blamed his girlfriend for India's exit from the recently-concluded ICC World Cup, saying they "should be ashamed of themselves" as "no one has won more matches" than him in the last five years.
The star batman opened up for the first time since the World Cup semi-final defeat to Australia, following which his film star girlfriend took a lot of unnecessary flak on various social networking sites.
But that's past; it's IPL time now. Anushka is back in the stands, doing what she does best… supporting her beau who captains Royal Challengers Bangalore.
Ayesha Mukherjee (Shikhar Dhawan)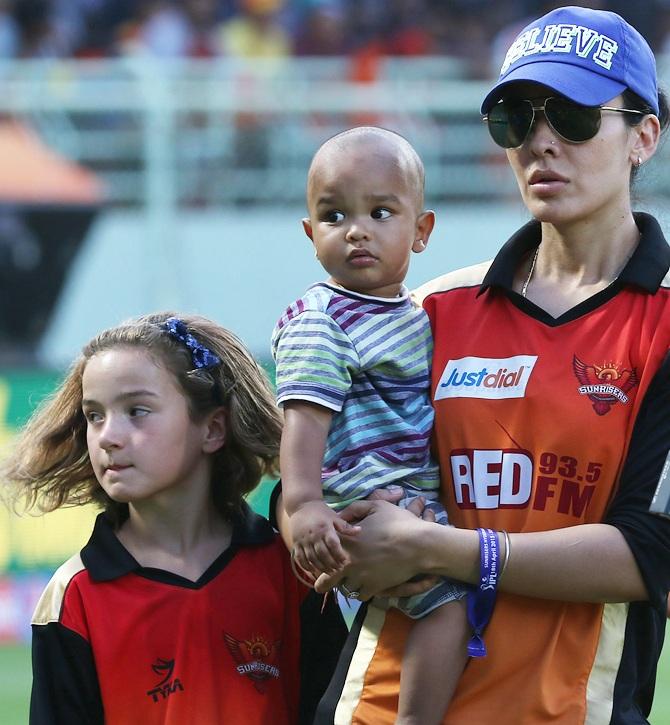 They happened in the time of Facebook. Shikhar Dhawan's then teammate Harbhajan Singh played cupid and the moustache-twirling Dhawan could not get enough of Ayesha.
But love knows no boundaries and the distance between Australia and India became smaller for this couple.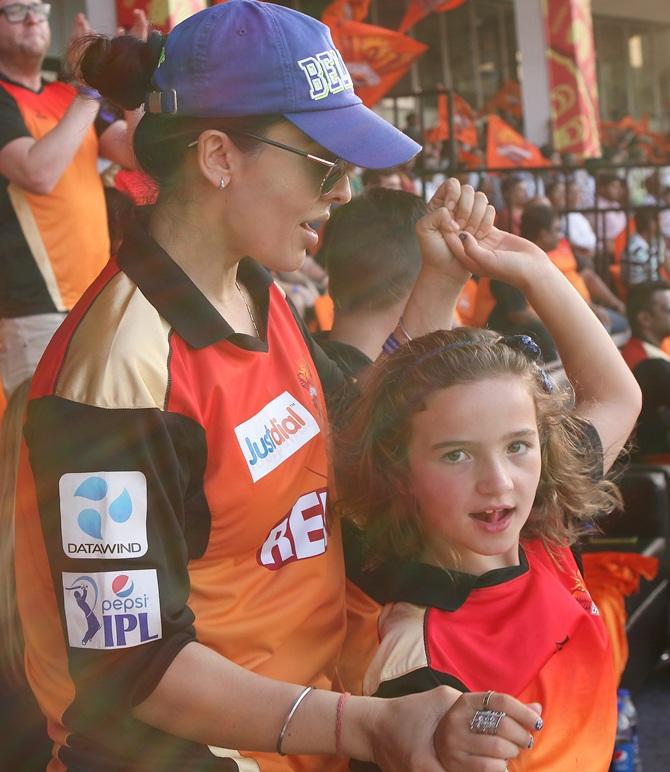 After getting engaged in 2009, the pair married in 2012 amidst fanfare.
Ayesha Mukherjee is not seen in public frequently, but when her husband is playing she matches her jersey with his, always there in the stands to cheer her man.
She is seen with her two daughters (from a previous marriage) and baby boy, Zoravar Dhawan, in tow.
Candice Falzon (David Warner)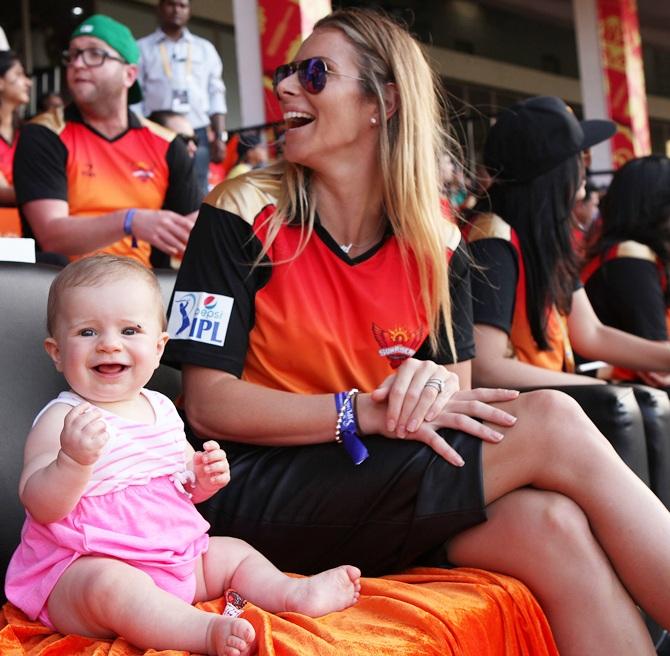 Australia's explosive batsman David Warner has credited his wife for helping him mature as a person; more importantly, as a batsman.
With iron woman Candice Falzon and their daughter, Ivy Mae, by his side, the dashing Sunrisers Hyderabad opener is among the leading scorers in IPL 8, having aggregated 250 runs from five matches. His aggregate includes the hurricane 91 off 55 balls against Kolkata Knight Riders in Wednesday's match at Visakhapatnam.
If you are at a Sunrisers Hyderabad match you cannot miss the 28-year-old Falzon showering all her attention on seven-month-old daughter Ivy Mae while rooting for her man.
Sakshi Dhoni (Mahendra Singh Dhoni)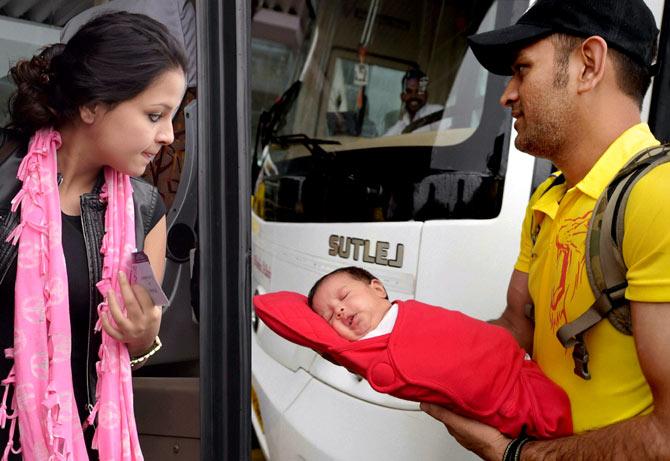 From the time she got married to 'Captain Cool', Sakshi has devoted her life to cricket. Be it any part of the world, she is there supporting husband Mahendra Singh Dhoni from the stands.
Now, at IPL 8, she is touring with the Chennai Super Kings skipper and her four-month-old daughter, Ziva.