Images from Day 1 of the first Test between India and Australia, at the VCA Stadium in Nagpur, on Thursday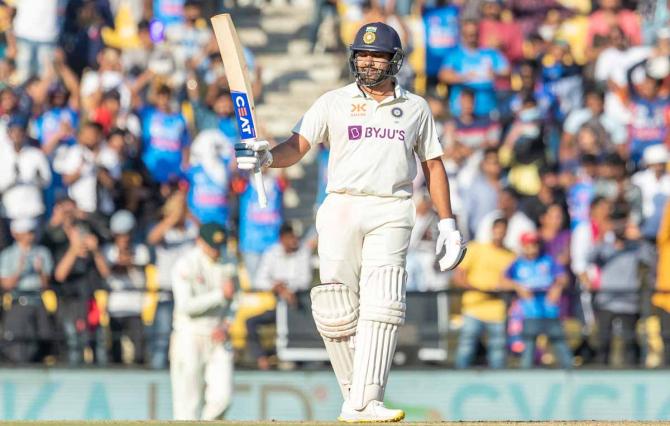 Ravindra Jadeja marked his return to international cricket with a five-wicket haul that knocked the stuffing out of Australian middle order and put India firmly in the driver's seat on the opening day of the first Test, in Nagpur, on Thursday.
Jadeja did bulk of the bowling on the Jamtha dustbowl, earning his 11th fifer (5/47) in 22 overs that helped India skittle Australia out for a paltry 177 after the visitors decided to take the first strike in the series-opener.
Ravichandran Ashwin, who probably dominated the Aussie mind space more than his spin colleague, got 3/42 in 15.5 overs and in the process completed 450 wickets in Test cricket.
At stumps, Rohit Sharma's counter-attacking 56 not out put India in complete command with hosts ending the day at 77 for one and trailing by 100 runs.
KL Rahul's lean patch continued as he was caught and bowled by Australian debutant Todd Murphy after making a 20-run contribution from 71 balls.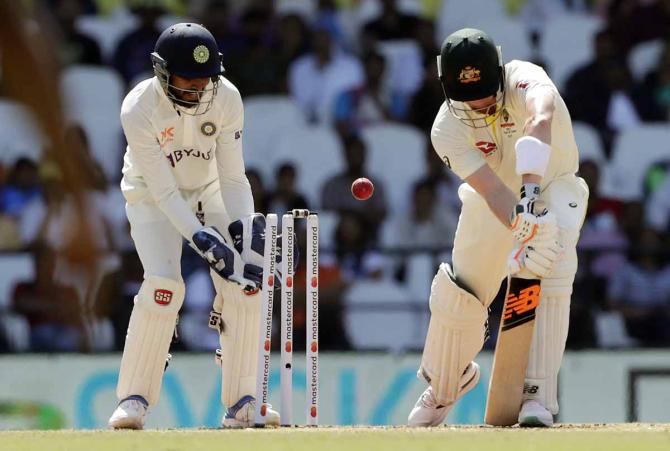 With pitch set to deteriorate further, Indian skipper's decision to attack Nathan Lyon did pay dividends in the final hour.
Two of his shots off Lyon stamped his class and authority: a forward defensive jab that rocketed to the fence between bowler and mid-off and a down the ground six. There were also cover driven fours off deliveries that were over-pitched.
On this track, one cannot survive with a defensive mindset and the decision to score quickly seemed to be the right call.
But no accolades will be enough for Jadeja, inarguably the 'MVP' (Most Valuable Player) in the Indian Test set-up. The iconic Sachin Tendulkar has termed him as compete 'package'.
When India plays abroad, he becomes a batting all-rounder, often bailing the team out at No.6 and when it comes to Indian dustbowls, he is just lethal.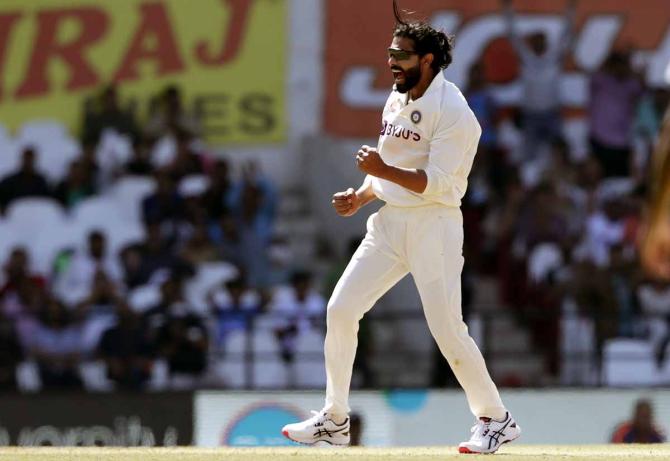 On the day he showed that a knee surgery and five month lay-off hasn't taken away anything from his armoury.
The Australians prepared for Ashwin's guile and variations but perhaps forgot to factor in Jadeja's impact on tracks that offer above average turn.
On turners, the spinners who don't try too much trickery with their fingers and just let the ball land on the cracks and let the pitch do the rest, are more dangerous than others.
Jadeja is a perfect exponent of that art of keeping things simple.
There is no denying the fact that there is considerable turn and bounce on offer but Australian batters too were guilty of playing some bad shots. It seemed they got too much messed up in their heads and tried to tackle the track more than the bowler.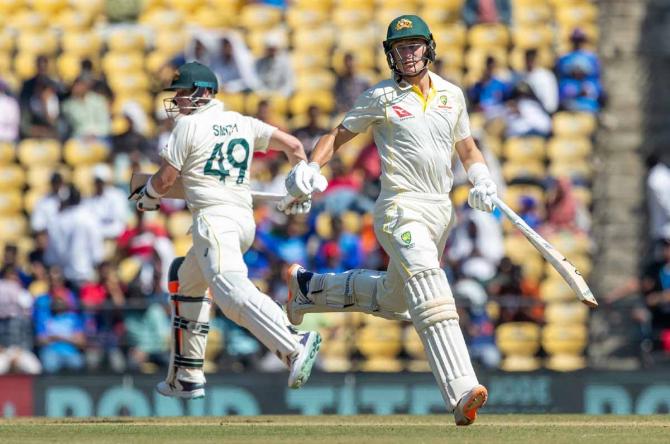 Save Marnus Labuschagne (49), who got an unplayable delivery from Jadeja, the others either played rank bad shots or erred in judgement.
Labuschagne got a delivery that was tossed up to draw him forward. It hit one of the dry cracks to rear up as well as deviate past his bat. As he was drawn forward, debutant Kona Bharat effected his first official dismissal showing smart reflexes while effecting that stumping.
What was admirable about Bharat was his change of stance after he struggled to collect a couple of Jadeja deliveries in the first session. Both deliveries turned and jumped.
Instead of crouching too low which he does with domestic spinners, he stayed on his haunches and could easily gather deliveries on his waistline in the post lunch session.
Once Labuschagne was dismissed after an 82-run stand with Steve Smith, floodgates opened as left-handed Matt Renshaw fell prey to a Jadeja delivery that hit the same spot and turned back sharply to find him plumb in-front.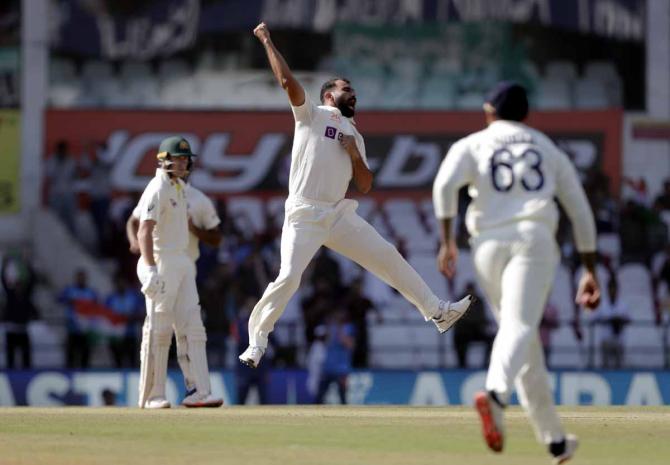 Smith (37), who hit a few boundaries, was dismissed when he played the wrong line to an arm-ball from Jadeja and was bowled bat-pad.
From 84 for 2, it soon became 109 for 5 and although Peter Handscomb (29) and the counter-attacking Alex Carey (36) got quick runs to get the team past 150-run mark.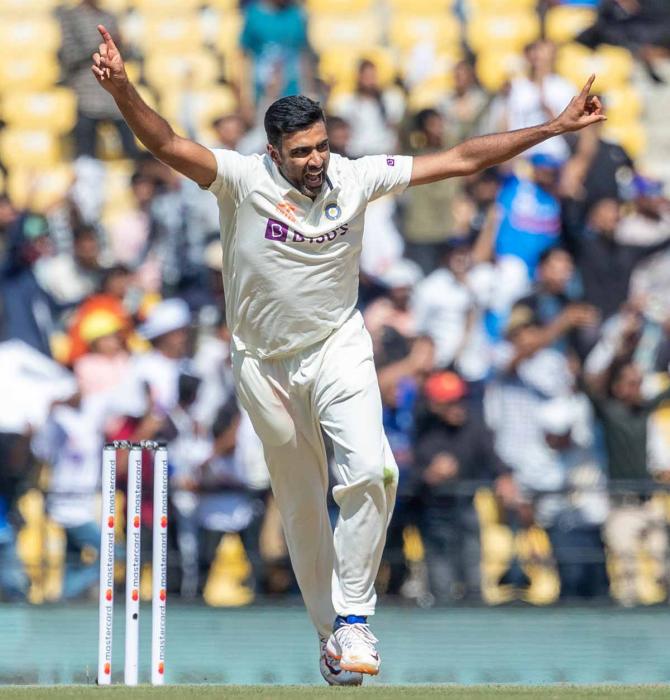 Ashwin, who primarily bowled from round the wicket, induced a false shot from Carey who went for a non-existent reverse sweep while Pat Cummins became Ashwin's second victim when he offered a regulation catch to Virat Kohli at slips.
Earlier, Smith and Labuschagne handled the Indian spinners with a lot of confidence in the first session as Australia recovered from early jitters to reach 76 for two at lunch.
Mohammed Shami (1/18) and Mohammed Siraj (1/30) removed Usman Khawaja (1) and David Warner (1) in quick succession but Labuschagne and Smith led the Australian fight back in an engaging first session.
Smith and Labuschagne showed that good technique is key to adaptability in any conditions but what they lacked was patience to bat long enough to put 275, which was an ideal first innings score.