Images from Day 3 in the second Test between England and India, at Lord's, on Saturday.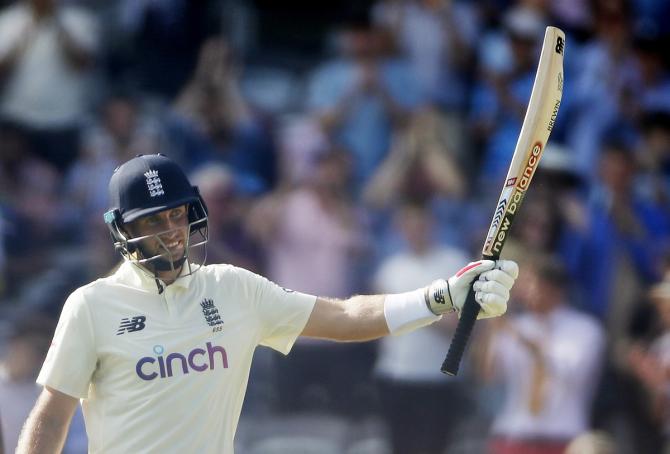 Captain Joe Root continued his dream run with an artistic 22nd hundred to ensure England a morale-boosting first innings lead on Day 3 of the second Test against India, at Lord's, on Saturday.
Root, who scored his second successive hundred of the series, was 180 not out as England recovered from a position of frailty to strength with a first innings total of 391, in reply to India's 364.
More than the 27-run lead, it is the psychological advantage that England gained after a poor first day. That should put them in good stead on the fourth day as their bowlers go flat out to dismiss the low on confidence Indian middle order cheaply.
During his 321-ball knock, Root became the first England captain to hit five hundreds in a season and also complete a personal milestone of 9000 Test runs. He clinically annihilated the Indian attack, which has till now failed to crack the 'Root Code'.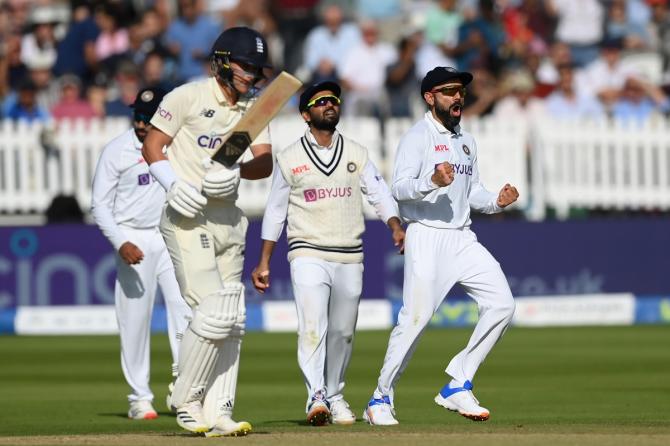 If these records were not enough, he is also now the first English captain with six 150-plus scores, a testimony to his knack of hitting 'Daddy Hundreds'.
His sequence of scores now reads 64, 109, 180* in this series. What makes him more special is the fact that he had made an attack, which otherwise gave a decent account of themselves, look pedestrian with his counter-punches that included 18 boundaries.
Mohammed Siraj (30-7-94-4) had the most number of wickets but bowled too many boundary balls in that first session along with Mohammed Shami (26-3-94-2), who would like to forget this innings in a hurry.
Old workhorse Ishant Sharma (24-4-69-3) once again did his part but at times looked tired in his later spells although the in-cutter that cleaned up Jos Buttler (23) would be any pacer's dream.
But England's batting was all about Root and how he controlled the narrative with superb technique and the sublime range of strokes on the off-side.
Jonny Bairstow (57 off 107 balls) did help him in a 121-run stand for the fourth wicket as the first session was a virtual nightmare for the Indian bowlers.
After a wicketless first session, India did enjoy some good moments when Siraj got Bairstow with a bumper and Ishant bowled Buttler but Moeen Ali was again given loose balls on platter as England closed in on the lead.
From 341 for 5, there was another lower-order slump which had England at 358 for 8 before Root played a flick off Siraj to give his team the lead.
And as if to celebrate, he played a reverse ramp shot off Siraj and then smote over mid-wicket to increase India's misery.
Morning session: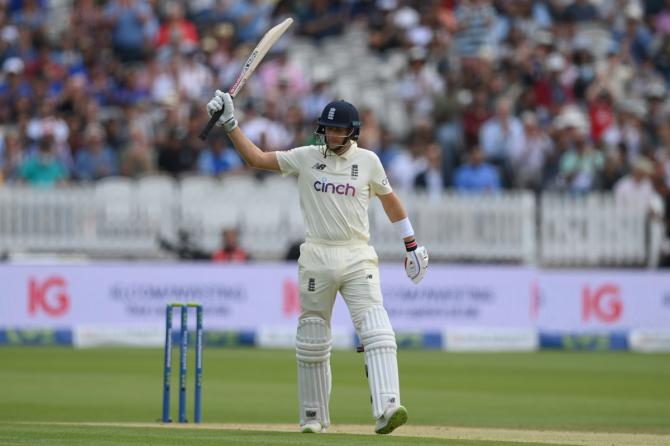 Earlier, Joe Root again tormented a listless Indian bowling attack and Jonny Bairstow added to the tourists' woes as England put up 216 for 3 by lunch.
Root, the nemesis of Indian bowlers since his international debut, was at his best as he attacked them from the start of the third day and found an able ally in Bairstow, who also scored runs at a fair clip.
England's captain, who was inching towards his 22nd Test hundred, was batting on 89 off 171 balls, inclusive of nine boundaries, at the break.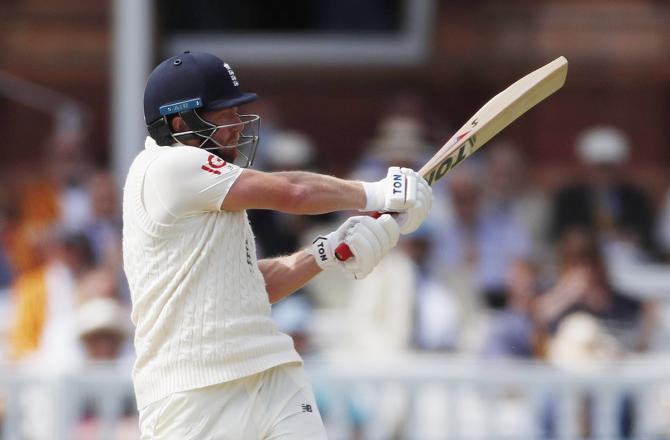 Bairstow, who vindicated coach Chris Silverwood's decision to persist with him by registering his 22nd half-century, was undefeated on 51 off 91 balls, which included six boundaries.
The duo added 108 runs for the third wicket as Virat Kohli's five-pronged attack failed to make a breakthrough on a pitch that had already slowed down a touch and became easier for batting.
Save Jasprit Bumrah (0/34 in 15 overs), none of the Indian pacers troubled the duo, who scored boundaries at will to release the pressure in the first hour itself.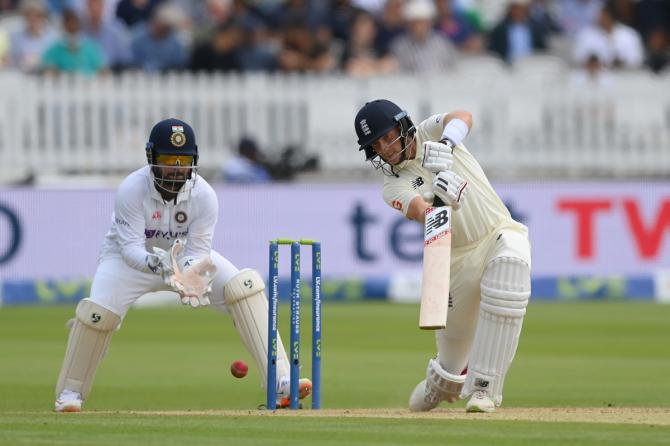 Root started the session with a square drive for a four off Mohammed Siraj (2/49 in 17 overs) to register his third successive fifty-plus score in the series.
Shami (1/60 in 16 overs) and Siraj, during the first half an hour, went for at least six boundaries as skipper Kohli had no clue how to set the field for bad deliveries that the normally dependable Shami and the inexperienced Siraj bowled.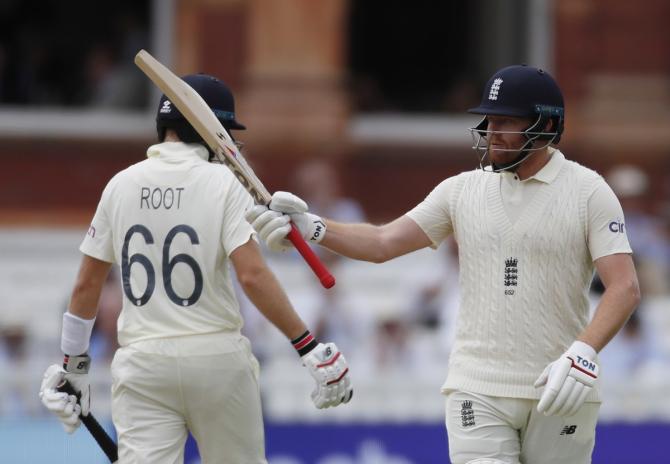 There were only two maiden overs in that first hour of play in which 54 runs were scored and, suddenly, India, who led the charge in the first two days, were on the back-foot.
Bumrah bowled hard lengths with the old delivery to keep the English batsmen guessing, but Ishant, who was not played in the first Test, drifted too much on the pads and Shami provided a lot of width for both Root and Bairstow to play their cuts and drives.
Ravindra Jadeja bowled a few overs but there was not much help for him too.
Post-Lunch session
England captain Joe Root was hardly perturbed during his undefeated knock of 132, but the Indian pace attack fared marginally better and made a few breakthroughs before the hosts reached 314 for 5 at tea.
With India struggling to dislodge Root, who has so far faced 237 balls, England have a good chance of surpassing the visitors' first-innings score of 364, which will certainly give them a psychological advantage going into the last two days of the match.
As many as 97 and 98 runs were scored in first two sessions, signalling the plight of the Indian bowling attack, primarily due to Root, who has tweaked his stance with lesser trigger movement of back-foot.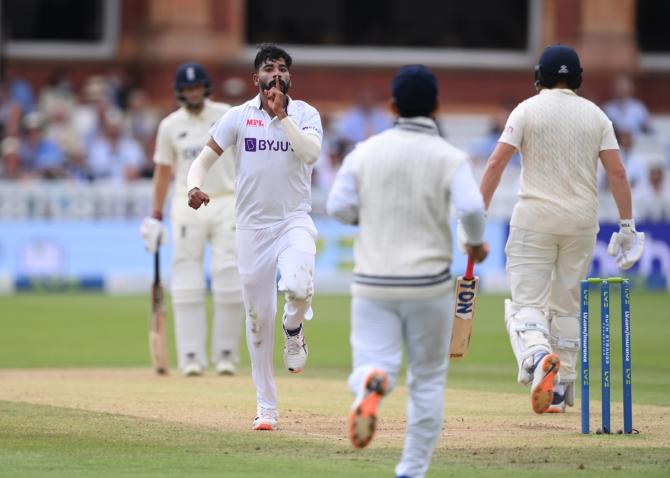 At the tea break, Root was batting with Moeen Ali (20 off 31 balls).
Mohammed Siraj (3/71 in 23 overs) and Ishant Sharma (1/60 in 20 overs) did well to dismiss the well-set Jonny Bairstow (57 off 107 balls) and Jos Buttler (23 off 42 balls) and give India some success in the second session.
However, Siraj was guilty of bowling too many short and wide balls on the day, as a result of which a plethora of boundaries were scored.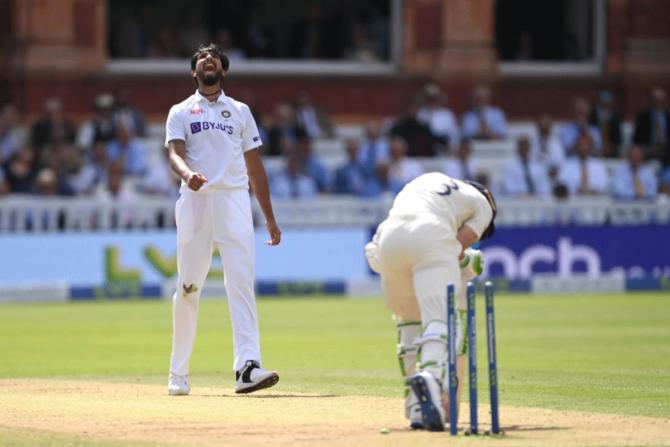 Root and Bairstow added 121 runs for the fourth wicket before Siraj hurried the latter with a short delivery. The batsman was cramped for room as he tried to pull a short-pitched delivery from round the wicket.
Old warhorse Ishant then bowled a fuller delivery that nipped back in and breached Buttler's defence. The ball went on to hit the top of the off-stump from a perfect length.
In between, Root ran a quick single off Jasprit Bumrah to register his 22nd Test hundred and become the first England captain to score five centuries in a season.