The Regional Passport Office (RPO) in Mumbai has summoned lawyers of Lalit Modi for a hearing on Tuesday on their plea to inspect documents, on the basis of which the RPO had sought to revoke former IPL Chairman's passport.
Modi, who is currently in Europe, is facing a probe by multiple government agencies for alleged financial irregularities in the IPL.
Confirming the receipt of notice from RPO, Modi's lawyer Mehmood Abdi said, "We have requested to defer the hearing to November 18 and are waiting for response from the authorities."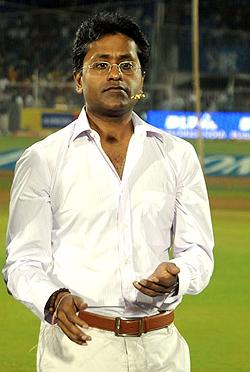 In response to RPO's notice to cancel Modi's passport, his lawyers had requested the passport authorities to allow inspection of documents based on which they had sent a notice to Modi as to why his passport should not be cancelled.
To decide this plea, RPO has summoned Modi's lawyers for a hearing on Tuesday at 4 pm.
Abdi confirmed that at around 2.30 pm on Monday they got a notice from the Regional Passport Officer, Mumbai, asking them to appear for personal hearing on Tuesday at 4 pm.
However, Abdi said it is difficult to attend at a short notice as the attending counsel are pre-occupied with prior court commitments on Tuesday.
He further sought disclosure of all the correspondence and documents relied by the passport authorities for the proposed initiation of action for revocation of Modi's passport.
They are essentially required in the interest of justice and fair play as revocation of passport is a very serious action which puts personal freedom of a person at risk and restraint which tantamounts to curtailment of fundamental rights of a citizen, he said.