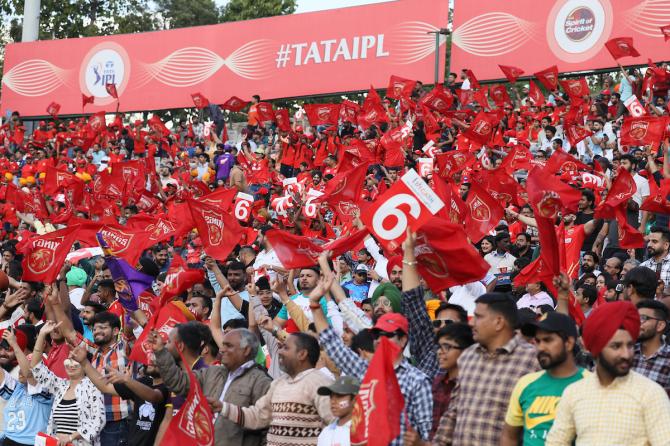 The spectators coming to watch IPL matches in four cities including Delhi, Mohali, Hyderabad and Ahmedabad, will not be allowed to carry protest banners related to Citizenship Amendment Act (CAA) and National Register of Citizens (NRC), according to a specific advisory.
'Paytm Insider', which is the ticketing partner of Chennai Super Kings, Delhi Capitals, Gujarat Titans, Lucknow Super Giants, Sunrisers Hyderabad, Rajasthan Royals and Punjab Kings, has listed a few 'prohibited items' and one of them is banners related to CAA/NRC Protest.
It is understood that the advisory has been issued by the franchises, that manage the ticketing business of their respective home matches.
It is usually done in consultation with the BCCI as marquee sporting events do not allow any publicity of any sensitive political or policy issues.
The Citizen Amendment Act, 2019, better known as CAA was passed by the Parliament of India on December 12, 2019.
The CAA allowed minorities like Sikhs, Parsis, Jains, Buddhists in Islamic countries like Afghanistan, Bangladesh and Pakistan to get Indian citizenship, if they had arrived in the country before December, 2014.
The law didn't grant eligibility to Muslims from these countries.
It had sparked protest across the country as the amendment was seen as discriminatory on the basis of religion.
The National Register of Citizens (NRC) is a register of all Indian citizens whose creation was mandated by the 2003 amendment of the Citizenship Act, 1955.
Its purpose is to document all the legal citizens of India so that the illegal immigrants can be identified and deported.
With fans set to set to return to the stadium after missing the action from the venues for three seasons due to COVID-19 restrictions, the Indian board as well as the franchises perhaps wanted to ensure that no posters or banners are seen inside the stadium which are of sensitive nature.
The specific advisory was found while trying to book tickets for home matches of Delhi, Gujarat, Punjab and Hyderabad.
In case of CSK, the advisory of prohibited items didn't have this specific diktat as it was more generic.
When a senior DDCA official was asked about the advisory, he told PTI, "The ticketing is completely a franchise's prerogative. We are just facilitators, who provide them with the venue. We have no role in ticketing advisory."
A representative of an IPL franchise said that any advisory on prohibited items is always prepared in consultation with the BCCI.
"Any franchise prepares its list of do's and don'ts on the advice of the BCCI and hence if such an advisory has gone, there is approval from the board or else it wouldn't appear on the website," said one of franchise officials on conditions of anonymity.
While there was no official comment available from the BCCI, sources in the know of things said that the protocols that even FIFA follows during its mega event has been adhered to while issuing the advisory.
This is also a way to avoid any untoward incident in the stadium.
"Please check FIFA guidelines for the last year's World Cup football in Qatar. According to FIFA rules, "political, religious or personal messages or slogans" are banned," a BCCI official tracking developments said.
According to a source, the BCCI is wary that one might wear a T-shirt under his shirt or just draw a poster with content that could be politically sensitive in nature.
A diktat like this will prevent any such activity as if anyone does otherwise, he/she could then be held for breach of in-stadia rules.
It must be mentioned that during the FIFA World Cup, at least seven captains from different nations wanted to wear 'One Love' armband with rainbow flag to protest against Qatar's law on same-sex relationship.
But once FIFA threatened to show yellow cards to players for wearing such arm-bands, the teams changed the plans.