Former Australia fast bowler Merv Hughes believes that the absence of Sachin Tendulkar in the first two Tests and Sourav Ganguly in the next two is the main reason for India's poor showing in the ongoing series against Australia.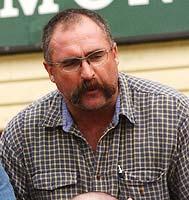 The 42-year-old right-arm fast bowler, who was a key member of Australia teams between 1985 and '94, said it affected the stability of the team that "is always under pressure because of an unsettled opening combination".
Like in his playing days, Hughes, who played 53 Tests and claimed 212 wickets, still sports the handlebar moustache and has a great sense of humour.
Contributing Sports Correspondent Harish Kotian caught up with 'Big Merv', who is in Mumbai with a tour group from Australia, on the second day of the Test.
Is it disappointing that the series hasn't lived up to expectations?
I think it has been good. The thing about the series is a combination of a couple of things: injuries that cost India and also the rain in Chennai in the second Test. If it wasn't for the rain, there were likely chances that India might have won that game.
It might be a 2-0 or 2-1 or 3-0 result for Australia at the end of this game, but it [the series] was closer than lot of people actually give credit for.
Why are the Indian batsmen struggling in the series? The same batsmen played well when Australia toured in 2001 and then again on India's tour of Australia in 2003-04?
They haven't had their best team at all stages. Sourav Ganguly missed the last two Test matches, Sachin Tendulkar missed the first two Tests. When you haven't got your best team it makes things very hard. Also, when you don't have a settled opening combination it puts a lot of pressure on Rahul Dravid at no. 3 and Sachin Tendulkar, who bats no. 4.
If you are 2 for 10, it puts number 2, 3 and 4 and 5 under lots of pressure. If you get to a start of around 50, it doesn't put that much pressure on the middle order. The combination of not having the best team due to injuries and not having good openers has hampered India.
Is this the best Australian bowling attack to tour India in the since 1998?
The sign of how good the Australian bowling attack is that Brett Lee, who is such a good bowler, is not in the team.
Glenn McGrath and Jason Gillespie are very experienced bowlers and doing a good job.
And if you have a look at Michael Kasprowicz's record in the subcontinent -- that is in Sri Lanka, Pakistan and now here in India -- it has been outstanding; he is a very good bowler in these conditions.
With Shane Warne there was a lot of pressure on him in the past, but he has bowled very well in this series before he was ruled out due to injury for this [fourth] Test match. Then, his replacement, Nathan Hauritz, comes in, takes his opportunities and picks up 3 for 14 on his debut, which is fantastic.
It's no shame in failing to this Australian team. They have a very good attack; they were led very well by Adam Gilchrist, and now by Ricky Ponting in this Test match. They are also a very good fielding side; they put pressure on the opposition all the time.
How much is the injury affecting Tendulkar? How long will it take for him to return to full form?
Well, he has been out for two games. And if you ask any batsman, all they rely on is rhythm and timing. When you have been out for so long, you do not pick up rhythm and timing in the nets; you pick up rhythm and timing in the middle. And we haven't seen a big innings from Tendulkar in the middle. Hopefully, he can get a big innings in the second innings.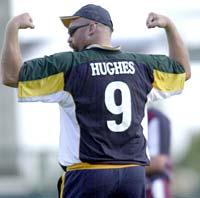 It's just a matter that he was injured and has just come back into the team. It doesn't matter which sport you play. When you come back from an injury it takes a little bit of time to get into the fold. Also, the high expectations on Tendulkar when he comes out to bat and the hopes of India lie on his shoulders. So he has a got a lot of pressure and that could be just weighing him down.
Do you think the success of the Australian team in this series has been down to planning since their loss in 2001?
2001 and beyond. They are very good at planning and they are being very well-coached by John Buchanan. We all thought that Bob Simpson did a very fantastic job, but Buchanan has really taken it to another level. He is methodical about his approach; he is quite methodical about his preparation. The players' preparations is absolutely fantastic as is the recovery work. It's a complete package; the Australian players, the coach, the medical staff, the fitness staff all do a good job. They are all there doing one thing: that is to ensure that Australia is the very best cricketing team that can possibly be.
You have come to India with a large tour group from Australia. What makes India such a special place to visit?
Obviously, the history and tradition of the place and its culture. A lot of people want to get out and see the Indian culture and also the interest in cricket. The series here four years ago, which India won 2-1, and the series that was in Australia late last year, which India drew 1-1, were fantastic. Great cricket combined with the interests in the culture of India has forced a lot of people to come here.
Mark Waugh works for the same company as I do, which is AST (Australian Sports Tours). He was here for the first Test with a group of 40 people and in my group here I have 40 people.
What are your high points and low points of this series?
The high points from an Australian point of view is obviously the series win after 35 years. A lot of effort has gone into it and a lot of planning. A lot of effort has been put in by the players, especially by the fast bowlers in trying conditions.
For instance, in this Test match, India have just picked one fast bowler and three spinners, whereas Australia have gone in with three fast bowlers and a spinner. And, so far, all the three fast bowlers have contributed.
The batting of Michael Clarke and Damien Martyn has been absolutely fantastic.
From an Indian point of view, Harbhajan Singh's bowling. He proved how much he was missed in that third Test, which was very one-sided Australia's way. Anil Kumble has also been fantastic, picking up lots of wickets.
But the downside for India has been the injuries to Tendulkar and Ganguly, which has affected them a lot.
And from our point of view, Shane Warne's broken thumb has been a disappointment. So we haven't had the opportunity of seeing him bowl here on this Mumbai pitch.