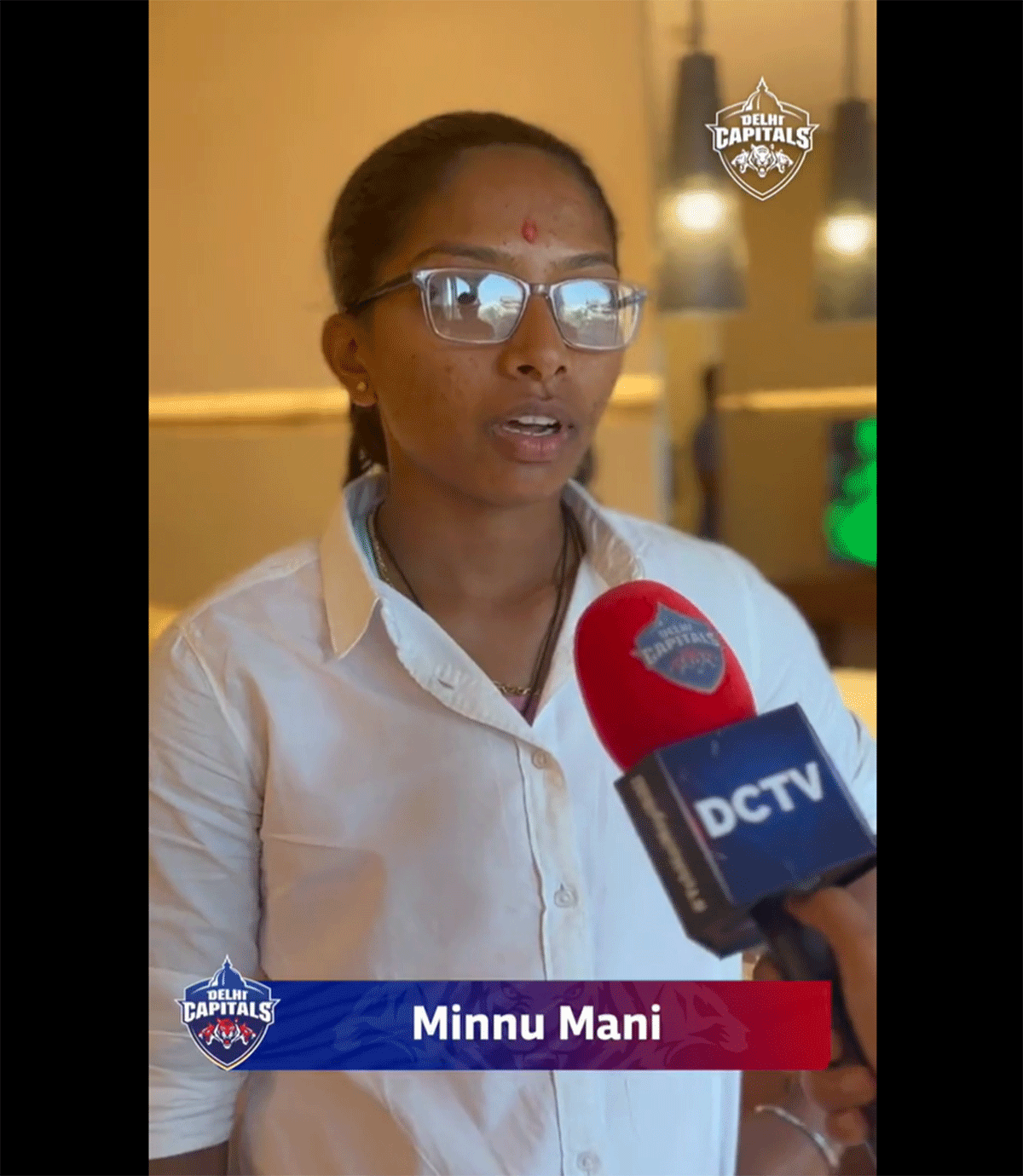 Breaking barriers and going against the tide to achieve goals could possibly make or mar a player's career, especially when the individual hails from a humble background.
But for Kerala's 24-year-old all-rounder Minnu Mani, failure was never an option, for she realised at a very young age that her ultimate goal in life was to play cricket for India, come whatever may.
A tribal girl from Mananthavady in the Wayanad district in Kerala, Minnu took up cricket training when she was in 8th standard and never looked back. She traversed more than 80 kilometres on multiple bus routes to reach the nearest training facility, and would do that for six days a week.
Her perseverance and passion for cricket has now landed her in the Delhi Capitals' camp, with Minnu being the only player from her state to feature in the inaugural Women's Premier League (WPL).
The franchise picked her up during the auctions at a price of Rs 30 lakh.
"For me, it is a really big opportunity to make my parents proud," she told PTI in an exclusive interview.
"I would like to thank the Delhi Capitals, for I am the only player from Kerala who got selected," she said.
Indeed, both, the opportunity and the pay cheque would attract any young kid dreaming of playing the sport at a bigger level. But to get there, Minnu took the road less travelled, rather created one for herself and persisted on it despite facing many challenges and she even had to lie at home about having extra classes, so she could attend cricket training.
"When I started playing cricket, I did not get any support from my family. They were like 'this is a men's game, you cannot play it', or, 'you can't do this'," she said.
"But I started with my cricket coaching in 8th standard, and that time I used to lie about going to cricket training – because they did not like me doing it. I used to lie to them about having extra classes (at school) and go for cricket practice."
Minnu, a left-arm batter and right-arm off-spinner, had to face unique challenges everyday.
"The ground is around 42 kilometers from my house, it is a one-and-a-half hour journey (one way) and I have to change four busses to reach the ground. It used to be very tiring for me; I would wake up at 4:00 in the morning to prepare the meals for the day with my mother.
"I would leave home by 6:45am to reach the ground by 9:00am. I would train till about 1-2pm and then leave for home. The daily commute was very challenging and I would take a break only on Sunday."
Minnu revealed that her parents, who did not support her initially but finally came on board with her plan to become a cricketer, took loans to send her to cricket training.
"I faced financial problems for travelling. My parents did not have a fixed job, my father is a daily wage labourer (a coolie), and my mother is a housewife. There was no financial stability. But somehow they used to arrange money for me to go to practice, which I can now manage through my match fees and all."
"After I began achieving success at lower levels they realised that I could do this, that cricket is my passion, they began supporting me. Earlier they used to insist me to focus on my studies, but now they encourage me to train and practice well," she added.
"(Now) I want to help my parents; they have seen a lot of financially difficult days. They would ask our relatives for money to send me for cricket training. Hence, first of all, I want to solve their financial problems and after that I want to buy a vehicle (a two-wheeler) to go to my travelling for cricket practice," Minnu said.
Minnu admitted there were times she thought about giving up on her dream.
"I think everyone would have faced such a phase. We cannot get desired results all the time and we fail. Sometimes, I also used to think that I cannot do this (continue playing cricket). I dropped out from graduation course because I could not appear for the exams and was also not performing well (in cricket)," she revealed.
"But then I went back to the reason why I started playing cricket – my ultimate aim is to play for India. I talk a lot to myself to encourage myself.
"Also because if I share my problems with my parents or friends, they do not have any idea or experience about cricket or any sports – they do not know the emotion. That again was a difficult situation for me," said Minnu.
Minnu, who scored the most runs in the Women's All-India One-Day tournament recently, revealed floods destroyed her under-construction home in 2018-19, but she was able to get her family back up on feet through cricket.
"I was not at home when it happened," she said.
"I was away with India A playing a series against Bangladesh and Sri Lanka in 2018-19. My home is in a forest area, surrounded by mountains. We had plans to build a new home and the base was laid already.
"When the floods arrived, it also got along a lot of mud. It was a huge loss for us but after returning and getting my match fees, we were able to overcome it. I got about Rs 5 lakh as match fees from that series, which was also my biggest prize money (before WPL contract worth Rs 30 lakh)," Minnu revealed.
For Minnu, it is also crucial to learn from peers such as Smriti Mandhana, India captain Harmanpreet Kaur, Jemimah Rodrigues and even Virat Kohli, and one proud moment arrived when she received messages from Kerala Ranji players on her WPL selection.
"When I got selected in the WPL, I got many congratulatory messages from Kerala Ranji players, which was a booster for me," she expressed.