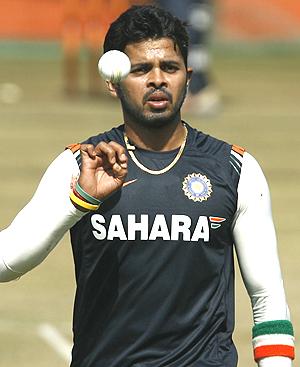 Kerala Cricket Association (KCA) president T C Mathew on Thursday said he is planning to take up the matter of banned pacer S Sreesanth with senior Board of Control for Cricket in India official Arun Jaitley.

Mathew said he would meet Sreesanth and his lawyer soon to discuss further proceedings in the case.
- I will come out clean, says Sreesanth

"When an issue like spot-fixing arises, the BCCI can act like this way only. The International Cricket Council (ICC) have issued strong guidelines on such matters. On its part, the KCA could not go beyond the decisions of BCCI disciplinary committee which is the ultimate body," Mathew said in Thiruvananthapuram.

"Still we have offered our support to Sreesanth. I will meet Sreesanth and his lawyer soon and discuss further steps to be taken in the matter. I am planning to take up the matter with Arun Jaitley, who is member of the BCCI, soon.

"The action against Sreesanth was taken on the basis of an internal inquiry by BCCI. The same stand was taken even against former skipper Mohammed Azharuddin. But we can put more pressure on behalf of Sreesanth," he said.
- 'Srinivasan has made Sreesanth a scapegoat'

Though KCA has given the disgraced pacer permission to practice at the International Stadium in Kochi, he is yet to begin it, Mathew said.

Mathew, who is also the National Cricket Academy chief, said he would give priority to settle the controversial land deal issue in Karnataka in which the Academy had invested a total of Rs 50 crore for the land.

On the recent controversies in NCA concering the resignation of some of the coaches, he said the country had no dearth of qualified coaches and will try and recruit them.

He also claimed that efforts would be made to develop the upcoming stadium in Wayanad district as a zonal cricket academy centre of the country.

On reports that former captain Rahul Dravid is likely to become the director of NCA, Mathew said his understanding is that Dravid is earning more as a commentator.