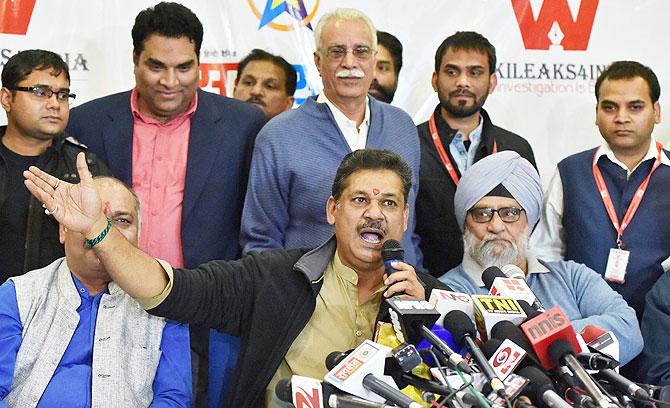 A Delhi court, on Thursday, discharged Chief Minister Arvind Kejriwal and suspended BJP MP Kirti Azad in a criminal complaint filed against them by the Delhi and District Cricket Association and its then vice-president Chetan Chauhan for allegedly defaming the DDCA and Chauhan.
Additional Chief Metropolitan magistrate Samar Vishal granted the relief to Kejriwal and Azad, saying one of the complainants, Chauhan, has "no locus to prosecute this complaint any further because he has been relieved of his position as vice-president and the DDCA has now a new representative to prosecute the case."
The court also noted that the other complainant, DDCA, had not opposed the application of the accused persons seeking discharge in the case.
"Non opposition of this application of discharge by DDCA is also an important fact to be considered.
"Therefore, this discussion leads to the only inference that there is no offence which can be attributed on the accused persons. Accordingly, both Kejriwal and Azad are discharged in this case," the court said.
In his application, the AAP leader had said there was no evidence that Chauhan or any other DDCA official was "personally" defamed.
The DDCA and Chauhan had filed the complaint alleging that the defamatory statements were made by Kejriwal and Azad, who was himself then a DDCA member, "perhaps to remain in the public eye and to gain political mileage".
It had alleged that the actions of Kejriwal and Azad had "severely damaged" the credibility and reputation of the DDCA in India and internationally.
The plea, while denying all the allegations levelled by Kejriwal and Azad, said they have purportedly given "wholly incorrect and false, baseless and grossly defamatory" statements against the cricketing body.