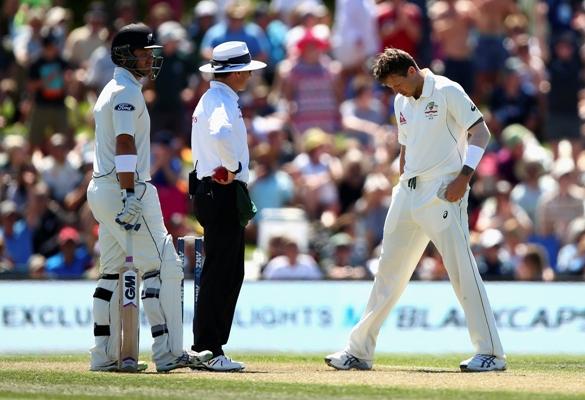 IMAGE: James Pattinson of Australia checks his foot mark with Umpire Richard Kettleborough after a no ball was called. Photograph: Ryan Pierse/Getty Images
James Pattinson has the full support of the Australian team in his battle against over-stepping and they expect him to come out and "blow the game apart" in New Zealand's second innings, according to off-spinner Nathan Lyon.
The 25-year-old Pattinson, recalled for the second test at Hagley Oval after missing most of January due to shin soreness, had figures of two for 81 from 15 overs in New Zealand's first innings but he could have had a much better day for his side.
Pattinson had New Zealand captain Brendon McCullum brilliantly caught by Mitchell Marsh in the gully for 39, only to discover that he had bowled a no ball.
McCullum made the most of the reprieve to smash the fastest Test century and combine in a 179-run partnership with Corey Anderson to set up New Zealand's first innings of 370.
Lyon, however, said the team had not let Saturday's error affect them even though McCullum and Anderson took away all of their early momentum.
"I think a lot of momentum swung their way and credit to Corey and Brendon they ran with it. They played a lot of shots. They rode their luck," Lyon said.
"We are all going to be right behind James and I have confidence that he will come out and blow the game apart in the second innings.
"He is a talented bowler and his adrenaline got up too high and it overstepped the mark, but that's part of the game. I have all the faith in James that he will come out and perform in the second innings."
It is the second time this summer that Pattinson has had wickets recalled for over-stepping the mark.
He bowled West Indies batsman Carlos Brathwaite on 13 off a no ball, then had him caught at fine leg on 50 off another no ball at the Melbourne Cricket Ground in December.
Brathwaite then scored 59 in a 90-run partnership with Darren Bravo and it cost Pattinson a five-wicket haul on his home ground, and coach Darren Lehmann has reportedly spoken to the fast bowler about the problem.
New Zealand captain McCullum said his side had worked hard to eliminate no balls from their game, particularly at training.
"He has obviously had a few wickets this summer where he has overstepped the line and that's something we have worked on with our bowlers," McCullum said.
"It's one thing to do at training and get away with it, but it can have major consequences in the game so we worked quite hard on it."