'We are fully aware of his strengths and how we can handle him.'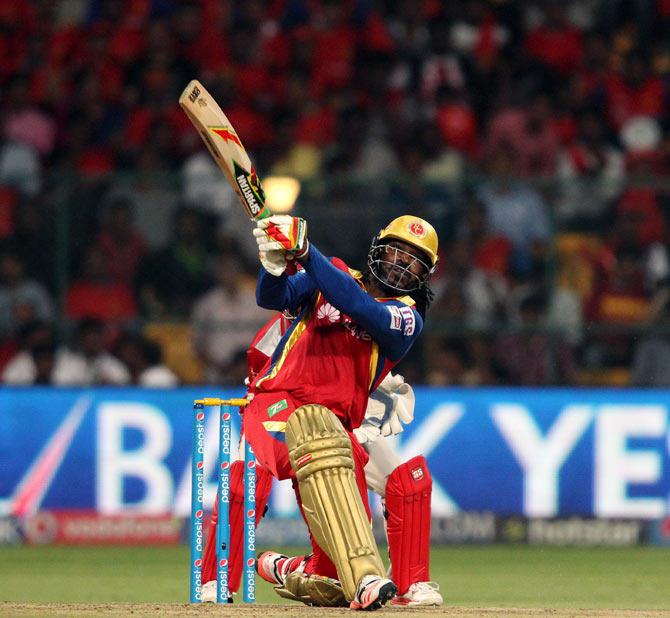 Royal Challengers Bangalore head coach Daniel Vettori claimed his team is pretty well-equipped to handle Kings XI Punjab batsman Chris Gayle's explosive batting because they are aware of his strengths.

"We probably won't anticipate playing against Chris tomorrow (Friday). But if he does, if any team knows how good he is that is RCB and what he has done for the team for a number of years. We are fully aware of his strengths and how we can handle him," Vettori said of Gayle, who played for Royal Challengers Bangalore in the past.
Gayle did not play Kings XI's season-opener against Delhi Daredevils.

Vettori is hoping his bowlers can get the better of dashing opener K L Rahul, who smashed a 14-ball half-century against Delhi Daredevils to power Punjab to victory.

"KL was obviously in fantastic form in the first game and he knows these conditions. He missed all last year for us; it was sad not to see him perform (play at all) but he has gone away to Kings XI and started exceptionally well. Hopefully we can tackle him well," he said.

On whether RCB would consider a sixth bowling option, Vettori said the team looks at it more as an opportunity for five bowlers to do their job, rather than wait for someone to fail and another come into the scene.

"I didn't say we didn't bowl well; I said we didn't bowl well to (Sunil) Narine. Everything else fitted. I was happy with our performance there. There are five bowlers there who are all proven apart from Kulwant (Khejroliya), who is new into the team and we backed him because of his performances leading into it and obviously his previous T20 performance," he added.

Vettori admitted that the spin duo of Yuzuvendra Chahal and Washington Sundar struggled against the aggressive tactics of Narine.

"Once again, it was the way we bowled to Narine we were disappointed with. Washington didn't bowl as well to him and Chahal as well."

The New Zealander said last season his team was not used to the wicket here and hence adaptability was the criteria for purchasing players at the auction.

"We need guys who could perform in any conditions, not a 200 or 220-run Chinnaswamy wicket. We have got a group of guys who are really adaptable. Obviously after the game we will be able to judge and analyse it and see where we stand with the wicket."

On Virat Kohli batting at No. 3, Vettori said the team needs to be flexible and dynamic throughout the season. But they want Brendon McCullum and Quinton De Kock at the top and AB de Villiers in the middle, as they are perfectly cut out for the task.

"The reason we wanted Brendon and Quinton at the top is because they are so dynamic in the Power Play and then AB can take over in the middle stages. At this stage, that is the plan but it can all change," he said.

The RCB coach said the loss of Kohli and AB de Villiers in two balls proved to be the turning point in their defeat against Kolkata Knight Riders.

"Losing AB and Virat in two balls, we didn't launch after that. And I don't think we bowled particularly well to Narine. We went away from our plans a little bit."