10 Wankhede ground staff, 6 event managers test COVID-19 positive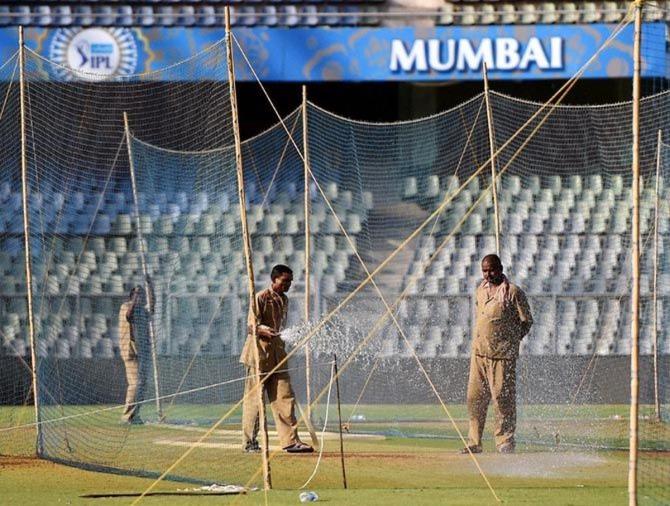 The BCCI is bullish about holding the 10 IPL games in Mumbai between April 10-25 despite an enormous spike in COVID-19 cases in the city, saying creating a bio-bubble at an alternative venue would not be feasible at a short notice.
Delhi Capitals' Axar Patel, 10 members of the ground staff at Wankhede stadium and six event managers, deployed by the BCCI, have added to the growing list of positive cases in the Indian Premier League (IPL), starting April 9.
Hyderabad and Indore have been kept as stand by venues for the IPL in case the COVID situation spirals out of control but as of now, the BCCI is confident about holding the games in Mumbai.
"Yes, Hyderabad is one of the stand-by venues but for all practical purposes, we are still not thinking about shifting games from Mumbai. It will be difficult to create another bio-bubble at such short notice," a senior BCCI official told on Saturday.
With, in excess of 47,000 cases on Friday, Maharashtra is looking at a potential situation of mini-lockdown. Of equal concern to the organisers is the number of ground staff at the Wankhede going up from 8 to 10 between Friday evening and Saturday morning.
If that wasn't enough, around six members of the event management team have also tested positive for COVID-19 and have been sent to isolation.
"Yes, it was 8 positive cases yesterday as far as ground-staff are concerned. Today two more positive cases have emerged and all 10 have been sent back home and are isolated.
"We are bringing fresh ground-staff from the Mumbai CA ground in Kandivali for preparations. Also 6 to 7 event management staff hired by BCCI have also tested positive," a senior Mumbai CA official told PTI.
When a senior BCCI office-bearer was asked about the situation, he admitted that BCCI is indeed concerned.
"Look, even if there is a lockdown, the teams are in bio-bubble and also it's a closed-door event. So we are still confident that IPL games in Mumbai will be held as per schedule with Delhi Capitals playing Chennai Super Kings on April 10 on the second day of the tournament."
As of now, none of the teams currently in Mumbai -- Delhi Capitals, Mumbai Indians, Rajasthan Royals, Punjab Kings -- have access to the Wankhede.
"Delhi Capitals ad Punjab Kings for example are taking turns to train at the Brabourne Stadium and Bandra Kurla Complex (BKC) ground. KKR is training in Navi Mumbai at the DY Patil before they leave for Chennai," the official informed.
It is expected that BCCI's medical unit will enhance the testing rate due to the surge of cases in the state.
The event management and operations of IPL till last year, was handled by the IMG but from this year, the board is handling the event on its own.
Speaking to ANI, an official of one of the franchises -- currently based in Mumbai -- said that it does change the situation and calls for stricter protocols.
"You do get a little concerned when you hear such things days before the start of the tournament. We have all been following protocols to the core, but obviously, when such a news come in, it makes us a little wary. We are looking at keeping things as tight as possible. Have to be on our guard," the official said.
Another franchise official said it was a wake-up call for everyone heading into the tournament.
"This could actually serve as a wake-up call before the start of the tournament. Sometimes we tend to get a little comfortable after going inside the bubble. But this will ensure we follow every protocol and there is no messing up," the official said.
Wankhede is set to host 10 IPL games this season from April 10-25. The first match at the Mumbai stadium is slated to be played on April 10 between Delhi Capitals and Chennai Super Kings.
Four franchises -- Delhi Capitals, Mumbai Indians, Punjab Kings and Rajasthan Royals have set up their base in Mumbai as of now.
Maharashtra reported 47,827 new COVID-19 cases and 202 deaths on Friday with Mumbai registering the highest-ever single day spike of 8,832 new cases. It was the second day in a row that Mumbai recorded more than 8,500 cases.
On Thursday, Kolkata Knight Riders batsman Nitish Rana had tested negative for coronavirus after returning a positive result on March 22. Having undergone self-isolation after the positive result, he underwent a COVID-19 test on Thursday and tested negative. He will start training shortly with an eye on the opening game against SunRisers Hyderabad on April 11.
The BCCI SOP says a player who tests positive must isolate in the designated area outside the bio-secure environment for a minimum of 10 days from the first day of symptoms or the date of collection of the sample which resulted in a positive RT-PCR report, whichever is earlier.
"During the 10-day isolation, the individual must rest and avoid any exercises. The team doctor should regularly monitor the case. If symptoms worsen during the course of isolation, the individual must be hospitalised immediately," the SOP states.
"We have enough back-up staff to handle as we had factored in that the situation in Mumbai is grim at the moment. But yes, we are closely monitoring the situation," the official added.
Meanwhile, a positive case has also emerged from Chennai Super Kings' media content team.
The member isn't a part of the bio-bubble. The team's training schedule remains unaffected.