Pune Warriors' assistant coach Rob Walters said losing the wickets of Yuvraj Singh and Luke Wright in the same over proved to be the turning point in his team's 15-run loss to the Delhi Daredevils in a Pepsi IPL match in Raipur.
-IPL: Pune lose to Delhi, slip to bottom of table
-IPL PHOTOS: Pune Warriors vs Delhi Daredevils
Losing yet again from a winning position has put Pune in a precarious position and from now, it will be a do-or-die battle for them.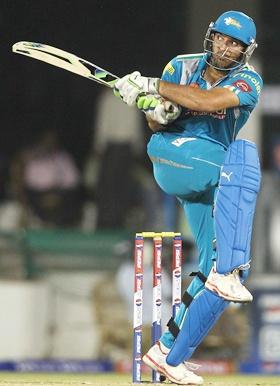 "Yuvraj and Wright were playing well. Losing both of them in the 18th over of the match proved to be the turning point and led to the team's defeat. It happened when we had a grip over the game and we would have won it," Walters said.
After their defeat to the Delhi Daredevils, the struggling Pune Warriors are now the bottom-placed side in the points table.
"Now it's pretty simple that we will have to fight hard ahead. We will have to win every game in the tournament. You have got to try and find a winning formula and you have to try few combinations before get there," he added.
On whether the team needed more time for practice at a new and different ground like Raipur where IPL is being hosted for the first time, he said, "we got enough time for practice here. We can't blame over a preparation. Although boundaries are big but ground condition is good here."
Photograph: BCCI