Paceman S Sreesanth has been warned by the BCCI for raking up the 2008 'slapgate' issue through a social networking website.
-Truth revealed? Harbhajan slapped Sreesanth, not elbowed
-Lalit Modi to consider releasing 'slapgate' video
-The 'slapgate' incident was planned: Sreesanth
-'Backstabber' Bhajji never slapped me, tweets Sreesanth
-Bhajji refuses to react to Sreesanth 'slapgate' claims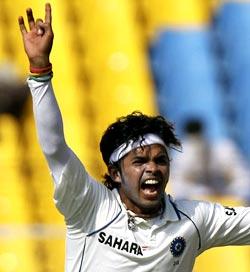 The Rajasthan Royals impulsive medium-pacer has been told that if he repeats it again, he will be issued a show cause notice, according to an IPL source.
Sreesanth made revelation through his tweets that Harbhajan Singh was a backstabber and that the spinner had not slapped him as had been reported by media.
He claimed on Friday through a series of tweets that he was elbowed by his India teammate and the whole thing was planned.
The BCCI has also warned Virat Kohli and Gautam Gambhir for their angry outburst at each other during an IPL match between Kolkata Knight Riders and Royal Challengers Bangalore early this week.
Gambhir and Kohli charged at each other following the dismissal of the latter.
They were reprimanded by the match referee and now BCCI has asked them to conduct themselves properly.