Off-spinner Harbhajan Singh has refused to comment on his former India teammate S Sreesanth's claim that the 2008 IPL season 'slapgate' incident was pre-planned and he was wrongly made the villain of the whole controversy.
- The 'slapgate' incident was planned: Sreesanth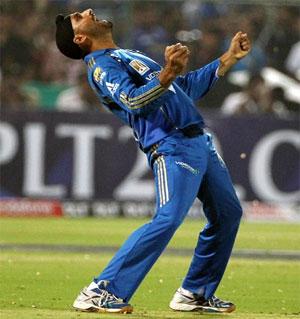 - 'Backstabber' Bhajji never slapped me, tweets Sreesanth
- Mumbai Indians vs Kings XI Punjab, April 25, 2008
"No comments. I don't want to make any comments," Harbhajan said on Friday, when asked to react to Sreesanth's explosive claims on Twitter earlier in the day.
Five years after the infamous 'slapgate', Sreesanth made a series of revelations on the 2008 incident on his Twitter page, creating a fresh controversy in the IPL.
He claimed that he was not all at fault in the incident and the real video, which has never been released till now, would show his version. He also accused Harbhajan of being a "backstabbing person".
Sreesanth, who is currently playing for Rajasthan Royals, demanded that the videotape of the incident be made public.
Photograph: Robert Cianflone-IPL 2010/IPL via Getty Images