Following the spat that occurred between KKR's Gautam Gambhir and RCB's Virat Kohli, and the media comparing the incident to the ill-fated 'slapgate' that involved Mumbai Indians' Harbhajan Singh and pacer S Sreesanth during the first edition of the IPL in 2008, the Kerala pacer has come out with his version of events.
- Gambhir-Kohli involved in ugly on-field spat
- Kohli, Gambhir warned for ugly spat
Declaring that he was not slapped by Harbhajan Singh, Sreesanth tweeted: "Bhajji Never Slapped me...all I did is play the game the way I had all my life.he lost it badly ..being the captain of MUMBAI he Lost it.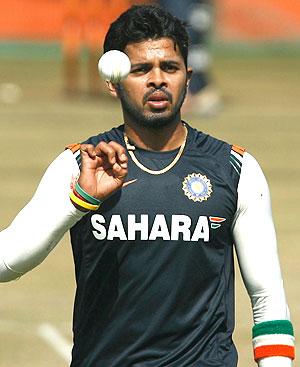 "He had no control over his anger..,Nd one more thing I wanna clear..he (nanavati sir ) knows the truth and the full ipl..he had lost it."
The 30-year-old further claimed that when he went to greet Harbhajan after the match, which Mumbai Indians had lost to Sreesanth's then-IPL team Kings XI Punjab, the former lost his cool and nudged him with his elbow.
Sreesath went a step ahead and called Bhajji a backstabber.
"Every one blaming me Nd always writing and talking about slap gate??it really s**#s.the truth is in the video ..which is with ipl.. I want the world to c it..Whn I went to shake hands afte the match..he had lost it..he had already planned to hit me(elbow me)all his anger
"I don't want Bhajji to feel bad now..I need to tell the truth to the world..wht happend was bad..it's not my fault at all..and all media ??? All blamed me for getting emotional ..??c mon who doesn't get emotional whn u know the person who u worship is a backstabbing person Nd ..
Nd whn u start to c the big change in person who u trust so much..the World comes down ..that's wht happ..;He Never slapped me."
Sreesanth also said the media should stop comparing untoward incidents in cricket with the 'slapgate'.
"It's not my fault at all ..Nd I keep getting compared to all this bull s##*..whn ever anything bad happens in ipl or cricket match..crazy," he tweeted.