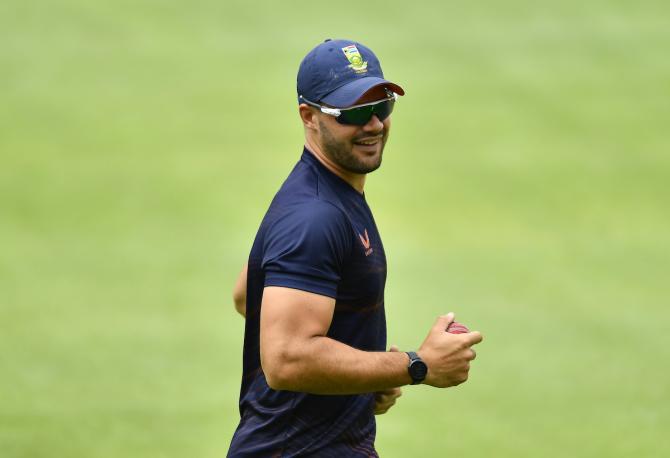 Ahead of IPL 2023, Sunrisers Hyderabad named South African batter Aiden Markram as their new skipper.
The former IPL champions had parted ways with skipper Kane Williamson after a dismal show and since the auction fans had been waiting with bated breath for the team to announce their new captain. The two favourites for the captaincy role were Mayank Agarwal and Aiden Markram, while Bhuvneshwar Kumar was also pegged as a strong contender.
On Thursday, the Hyderabad IPL franchise ended the wait as they named the South African batter as their new captain. New recruit Mayank Agarwal, who had led the Punjab Kings for a full season in the last IPL edition, didn't impress as captain or as a batter. On the other hand, Bhuvneshwar, who has been with the team longer than the other two had led SRH on a few occasions, but Markram was picked ahead of the Indian bowler.
Recently, Markram led Sunrisers' sister franchise Sunrisers Eastern Cape to the title in the inaugural edition of the SA20. He put up a stellar show with the bat and ball and led the team from the front.
Having proved his calibre to shoulder responsibility and deliver, the South African all-rounder was rewarded by the 2016 IPL champions as the new skipper for the upcoming edition of the glitzy Indian T20 league.
Just days ago, the IPL announced its schedule for the upcoming season. The 16th edition of the tournament will get underway on March 31st, with reigning champions Gujarat Titans taking on Chennai Super Kings in the opener.
Sunrisers Hyderabad will open their IPL 2023 campaign on April 2. The former champions will take on inaugural champs Rajasthan Royals in their tournament-opener in front of their home crowd at the Rajiv Gandhi International Stadium.