70 league stage matches on the home and away format will be played across 12 venues over 52 days.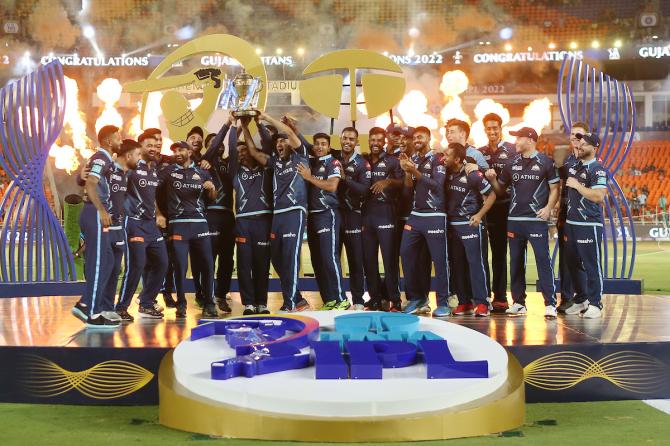 The wait for the Indian Premier League 2023 schedule is finally over with the Board of Control for Cricket in India announcing the fixtures of the upcoming edition on Friday.
The league returns to the home and away format. In the previous edition, the T20 extravaganza was held across Mumbai, Pune and Ahmedabad.
In IPL 2023 all teams will play seven home games and seven away in the league stage.
A total of 70 league stage matches will be played across 12 venues over 52 days.
"The 16th season of the marquee event will kickstart on March 31 2023, with a blockbuster clash between Gujarat Titans and Chennai Super Kings in Ahmedabad at Narendra Modi Stadium - the largest cricket stadium in the world.
"April 01, 2023 will be the first double-header day of the season, where Punjab Kings will square off against Kolkata Knight Riders in Mohali and Lucknow Super Giants will take on Delhi Capitals in Lucknow," read a statement from BCCI secretary Jay Shah.
The tournament will have 18 double headers, with the day games starting at 3:30 PM IST and evening games at 07:30 PM IST.
Rajasthan Royals have their first two home games in Guwahati and the remainder in Jaipur.
Punjab Kings play their five home matches in Mohali and their last two home matches in Dharamshala, against Delhi Capitals and Rajasthan Royals respectively.
The schedule and venues for the Play-offs and Final will be announced later.
The summit clash of the IPL 2023 is on May 28, 2023.
Guwahati to host maiden IPL matches
Guwahati will host its maiden Indian Premier League (IPL) matches in April with the BCCI allotting two Rajasthan Royals 'home' games to the Northeastern city on Friday.
Rajasthan Royals will play against Punjab Kings in the first match and take on Delhi Capitals in the second one, Assam Cricket Association (ACA) CEO Pritam Mahanta said.
"We are glad to announce that ACA Stadium, Guwahati will host two matches of Tata IPL on April 5 and April 8, 2023," he said in a statement.
"Guwahati will be the 'home' venue for Rajasthan Royals," he added.
Rajasthan Royals will play the remaining of their home games in Jaipur.
Guwahati was allotted two Rajasthan Royals matches in April 2020, but they had to be cancelled due to the outbreak of the pandemic and the subsequent restrictions.
The Jaipur-based franchise earlier partnered with the ACA for a cricket academy, which is now functional at the ACA Stadium.
The BCCI on Friday announced the schedule for the upcoming IPL. A total of 70 league-stage matches will be played across 12 venues over the course of 52 days, starting March 31.