Having played for so many years, expectation of people doesn't bother me: Rohit Sharma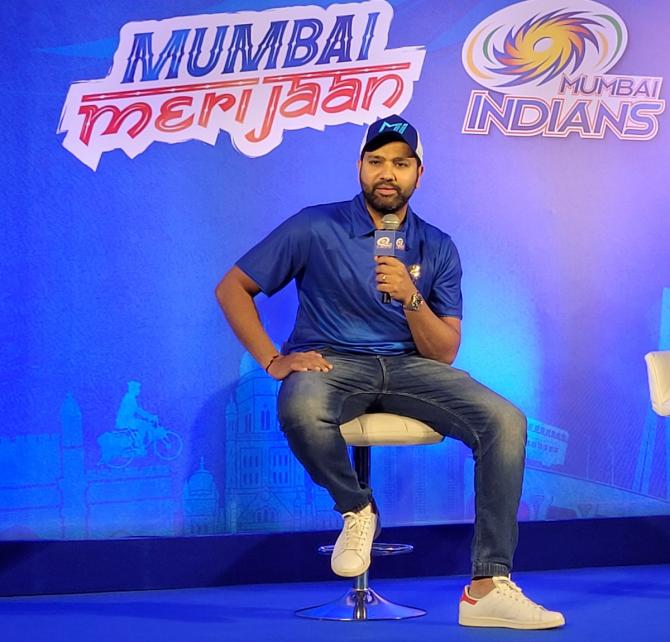 Rohit Sharma knows a thing or two about winning IPL trophies and having been there and done that on five occasions for Mumbai Indians, public expectation is the last thing to make him wary.
The most successful captain in the history of IPL with five championships, Sharma knows that Mumbai Indians are one of the title contenders and enter any tourney with a baggage of hype and hoopla.
And that's what a protective skipper wants to shield the youngsters in his side from as one can easily get overawed by the sense of occasion.
"Expectations will always be there whenever we go out to play, not just in the IPL. Having played for so many years it does not bother me and I am not worried about what the people are expecting me to do," Sharma said at the season opening media conference organised by MI.
"We know that we have to do our best and win the trophy. To keep thinking about it all the time is to put pressure on yourself," the skipper said.
Dewald Brevis, Tilak Verma will all be playing their second season but for young Cameron Green with a multi-million dollar deal, IPL will be a different beast altogether.
"I don't want to put too much pressure on them (youngsters) right now. Closer to our first game, we will give them that specific roles. Obviously leading up that first game, guys pretty much know what we are expecting from them," Sharma explained.
"But the last thing I will do is put too much pressure on them, especially the guys who have not played IPL before and there are a few," the skipper assured to put his protective arm around the junior members of the contingent.

Would love to grow as player with inputs from Boucher
Sharma had forged a successful combination with Mahela Jayawardene for some years and is equally hopeful that he will develop a fine rapport with new head coach Mark Boucher. For the record, Jayawardene is now the Global Head of all the MI franchises.
"It's always been my philosophy. I like to learn and grow as a cricketer. I have heard so many good things from the South African players about Mark about how he is taken the SA team through in the last couple of years," the skipper waxed eloquent.
"When he is taken over as the head coach of the South African team. So, obviously, for me, again, how every individual works, what sort of mindset they have, that will be the key. To understand and learn from Mark how he has taken forward his cricket," he said.