'Test cricket and one-day cricket are tough on the body, T20 cricket is short.'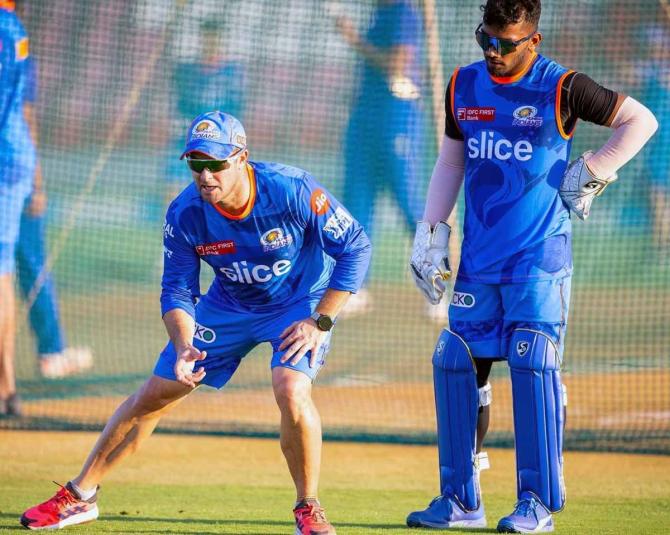 Mumbai Indians head coach Mark Boucher feels the incessant talk over workload management in T20 cricket is overrated as the other two formats are more punishing on the body.

Speaking to media ahead of IPL 2023 starting on March 31, Boucher said he doesn't feel the need to manage workload in the shortest format.
However, considering the ODI World Cup at home later this year, the Indian players' workload will be monitored closely by the BCCI over the course of the IPL.

"It is amazing we are even talking about workload in T20 cricket. Probably about 10 or 15 years ago we would not be having this conversation. Workload is something… we have the science behind it, we have got trainers and we have got the guys who give us the data," said Boucher on Wednesday.

"There is a lot of talk about workload but if you look at our schedule, we have got quite a bit of rest in between. We can try and look after every player and I do not see workload being a major issue for us throughout the IPL. Sometimes media and people look too much into workload in T20 cricket.

"Test cricket and one-day cricket are tough on the body, T20 cricket is short. We should not be talking about workload in T20 cricket with all due respect," said the former South African wicketkeeper-batter.

Boucher also backed Suryakumar Yadav to get back amongst the runs in IPL 2023 following a horror showing of three golden ducks in a row in the recent ODI series against Australia.

"Surya is fine. You can't judge a guy's form based on how he is playing the first ball. I checked on him about how he is feeling, and he said, 'coach I am hitting the ball very well'. I said, 'cool'," Boucher said.

"You can't say that a guy is out of form if a guy does not get past the first ball. Unfortunately, he has not been able to do that in the last three games. Hopefully, when he faces the first ball in the IPL, the whole crowd will cheer and he will be back to business.

"He is a great player and probably the best T20 player in the world for the moment," he added.

Boucher said the absence of Jasprit Bumrah provides an opportunity for other bowlers to step up.

"Our bowling attack is quite exciting. Losing Bumrah has been a big loss for us, I will be honest with that.

"The way the Mumbai Indians have selected their squads over the last few years is that, you select your playing eleven, you select your back up eleven and then you invest in a couple of youngsters for the future. It's now time for those youngsters to show up and basically get the opportunity.

"We got experience in the spinners in Piyush (Chawla), we have got a couple of youngsters in Kumar (Kartikeya) and (Hrithik) Shokeen as well. It's going to be interesting to see how they sort of operate this season," he said.

Talking about the new rule of teams being allowed to field an impact player, Boucher said, "We are going to have to learn. It is a great innovation; I have no problem with the changing of the teams after the toss."

"It is going to be a level playing field after the toss if you do lose the toss, especially in India where there is the dew factor. So you are just going to be able to adjust.

"But as Rohit said, you have got 11 cricketers and you will try to select the best 11 cricketers that you have. The 12th player is just a bonus," he added.