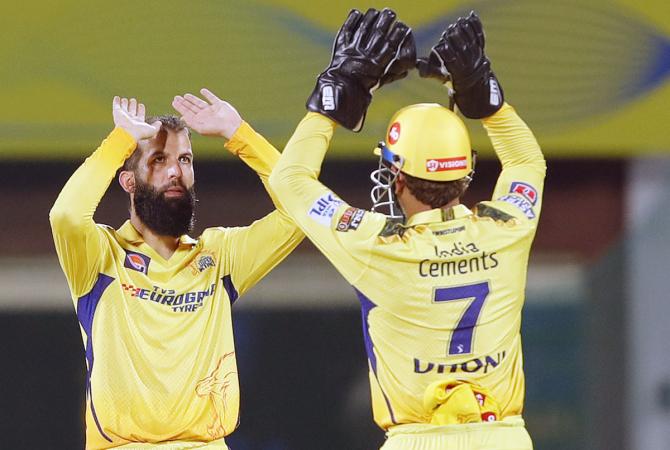 Moeen Ali said he has no issues with his spin being used sparingly by captain Mahendra Singh Dhoni after the Chennai Super Kings all-rounder helped his team to victory over Lucknow Super Giants in the IPL 2023 match in Chennai on Monday.
The 35-year-old did not bowl against champions Gujarat Titans, who won by five wickets, in their tournament opener but claimed 4/26 against Lucknow as Chennai secured a 12-run win in a high-scoring contest where both sides breached 200.

Dhoni astutely marshalled his spin resources with Moeen and Mitchell Santner sharing five wickets between them and conceding 47 runs in their eight combined overs to tilt the game in Chennai's favour.

"I tried to bowl like I do in Test cricket and just spin it as hard as I can," the England player said after collecting the Player of the Match award.

"They have big hitters so you don't want to get it up there against these guys but we had a good (bowling) partnership so it was nice to get the win."

With all-rounder Ravindra Jadeja also in the squad, Chennai boast a formidable spin attack and Moeen was confident Dhoni would get the best out of them.

"MS knows what he's doing. The great thing about bowling under MS is he knows when to bowl players," Moeen said.

"I'm not going to bowl all the time with Jadeja in there. I think it's going to take partnerships and individuals to stand up and win games."

England Test captain Ben Stokes, who is managing a knee injury and did not bowl against Gujarat, sent down one over conceding 18 runs.

The Chennai bowlers conceded three no balls and 13 wides against Lucknow and Dhoni said they had to cut down on the extra deliveries.

"Or they'll have to play under a new captain," the former India skipper added.