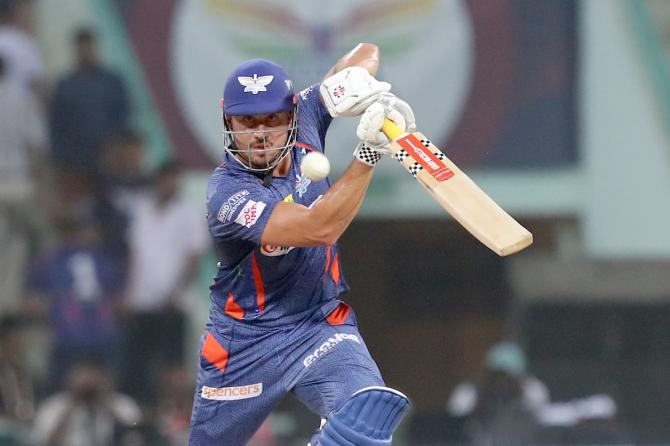 In a captivating battle on a pitch where the par score lingered in the high 140s, the Lucknow Super Giants showcased their dominance by notching an impressive 177 against Mumbai Indians on Tuesday, May 16, 2023, night.
With the stage set on one of the finest batting strips this venue had to offer, the remarkable Marcus Stoinis emerged as the game-changer. Despite his previous struggles to find his rhythm on this ground earlier in the tournament, Stoinis showcased to the world that there is always room for a first-time hero.
The Australian cricketer emerged as a true force to be reckoned with, delivering an unbeaten and swashbuckling innings of 89 runs off just 47 deliveries. He unleashed an astounding display of power and precision.
With four boundaries and an incredible tally of eight sixes, Stonis painted the field with a tapestry of awe-inspiring shots.
Opting to field first, Mumbai Indians started the game with a strong statement as Jason Behrendorff swiftly dismissed the out-of-form Deepak Hooda and Prerak Mankad off consecutive deliveries.
With the score at a precarious 35 for three, Stoinis stepped onto the crease, joining forces with Skipper Krunal Pandya. The duo orchestrated a remarkable rescue mission for the home team, exhibiting patience and skill in equal measure.
Both batters opted for a cautious approach, shunning risky shots in favour of grafting their way out of trouble. Their partnership flourished under the challenging conditions, forming a solid foundation.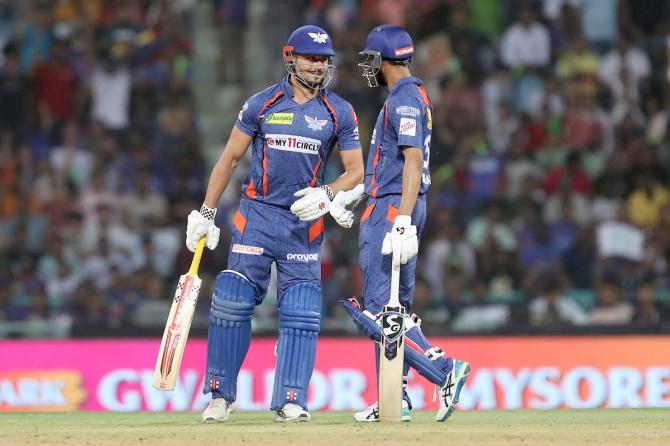 With unwavering determination, they stitched together a crucial 82-run stand, slowly but steadily steering their team towards a respectable total. However, Krunal's resilient journey was hindered by cramps, forcing him to retire on an impressive 49 runs from 42 deliveries, including a solitary boundary and a six.
Luck smiled on the Stoinis when he was on 42. A leg-before decision off a well-directed yorker from Akash Madhwal initially sent a ripple of concern through the Lucknow crowd. The 33 year old swiftly opted for a review, and the replays revealed that the ball would have sailed harmlessly past the leg stump, granting him a crucial reprieve.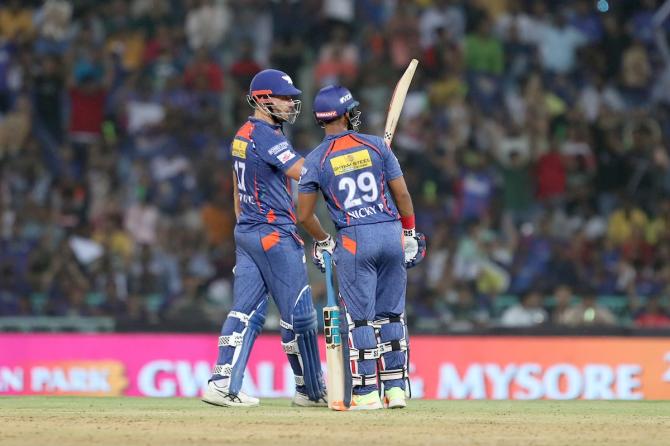 Empowered by this stroke of luck, Stoinis shifted gears with resolute determination in the following over. English pacer Chris Jordan's 18th over witnessed the game slipping away from Mumbai's grasp. Stoinis unleashed a relentless assault on the bowler, sending the ball soaring to all corners of the ground.
Two magnificent sixes stood as mirror images of each other, with Stoinis effortlessly driving a slower, slightly short delivery and a low full toss over the long-on boundary.
To demonstrate the full range of his shot-making skills, he followed up with three exquisite boundaries.
Jordan's inconsistency in line and length plagued his spell, culminating in figures of 0-50.
Stoinis continued his assault in the 19th over, depositing Behrendorff for two consecutive sixes.
With unwavering confidence, he put the finishing touch on his innings by lofting Akash Madhwal over the long-off boundary.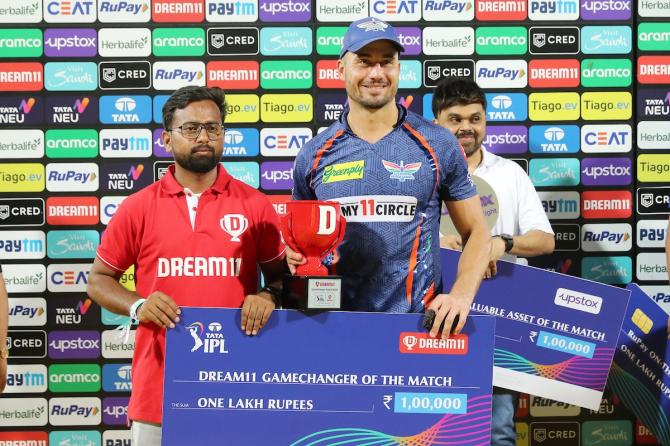 Stoinis single-handedly dragged the Lucknow Super Giants from 123 after 17 overs to a commanding total that soared well beyond the par score of 177.