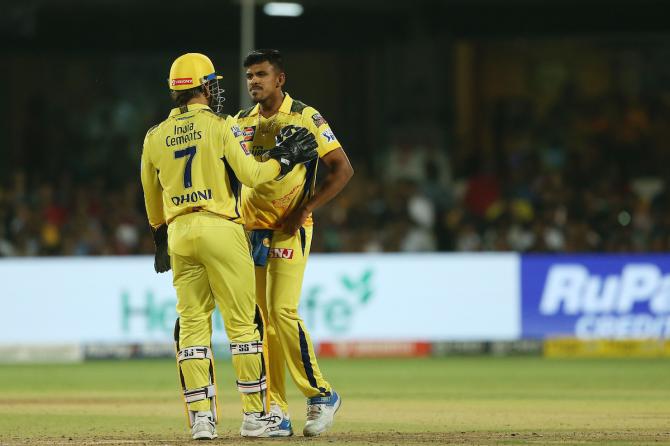 Handling youngsters at the death overs is a "challenge" and Chennai Super Kings captain Mahendra Singh Dhoni is looking at the seasoned Dwayne Bravo to help them out.
Along with Dhoni, Bravo has been a part of some of CSK's finest wins in the Indian Premier League.
"It is a difficult one for the youngsters. But they are working hard. Bravo is one of the specialists. Under him, the bowlers will gain confidence. It's a team game. The coach, the bowling coach and the senior players guide them," Dhoni said after his team's eight-run win over Royal Challengers Bangalore in Bengaluru on Monday.
Dhoni is impressed by Shivam Dube's footwork against the spinners but said he needs to work on his batting against pacers.
Dube blazed away to a 27-ball 52 in the team's match against RCB. Having posted an imposing 226 for six, CSK emerged victorious by eight runs.
"Dube is a clean hitter, is a tall guy with good reach. He has an issue with the fast bowlers but he's a clean hitter against the spinners. We had certain plans for him. We feel he's someone who can deliver. He needs to believe in that more than us," Dhoni said at the presentation ceremony.
CSK were worried till the time the duo of RCB skipper Faf du Plessis (62 off 33 balls) and Glenn Maxwell (76 off 36) were at the crease.
"Whenever you score 220, the batsmen need to keep on hitting. If Faf and Maxi had continued, they would have won it by the 18th over. I keep assessing from behind the wicket, I am always involved in what needs to be done rather than thinking about the result."
Devon Conway slammed 83 off 45 deliveries while Dube blazed away to a 27-ball 52, before CSK stopped RCB at 218 for eight.
"I think we played it perfectly, the last five overs were set up for the finish. DK finishing the game, that's bread and butter for him, but that shows how good their bowling was," RCB skipper du Plessis said.
"200 was going to be par, we went for few runs towards the end. We could have minimised the damage by restricting them (for less than 20 in an over)."
"The last four overs was where it was set up for a perfect finish. It was one of those wickets, one of the best (for batters.) As a bowler you need to be skilful, Siraj was unbelievable.
"We couldn't manage to finish it off, but we got to move on. I lost a little bit of power towards the end, was disappointed as I got stiff. Need to keep going harder against the spinners in the middle overs."