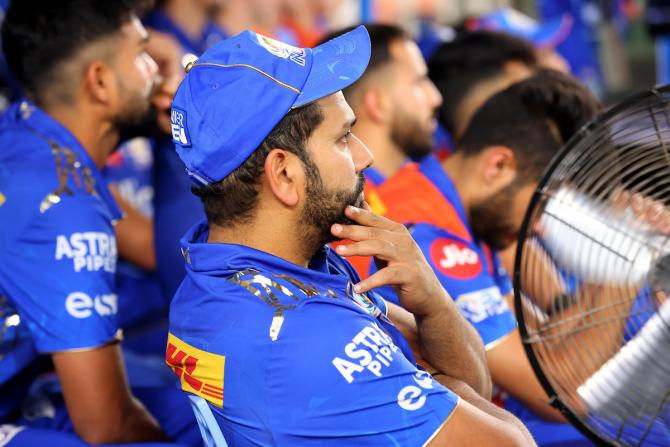 Mumbai Indians skipper Rohit Sharma expressed his disappointment after his team conceded 70 runs in the last four overs of Gujarat Titans' innings in the IPL at the Narendra Modi Stadium in Ahmedabad on Tuesday.
A few days after their bowlers went for 96 runs in the last five overs against Punjab Kings, MI struggled yet again at the death, against the defending champions.
"It's a little disappointing. We pretty much had control of the game till the last few overs when we went for too many runs. It's just about execution," Rohit said at the post-match presentation ceremony.
"We need to execute what's right, who are the batsmen, those kind of things. But in the end we didn't do that and gave too many runs. You've got to look at every team has very different strengths. We have a strong batting line-up to achieve the target.
"Today our batting couldn't get going. There's a lot of dew as well so if we had batted well then maybe we would have chased it. But we didn't start well and you don't do that when you are chasing 200-plus."
Set a stiff target of 208, MI were stopped at 152 for nine in the stipulated 20 overs.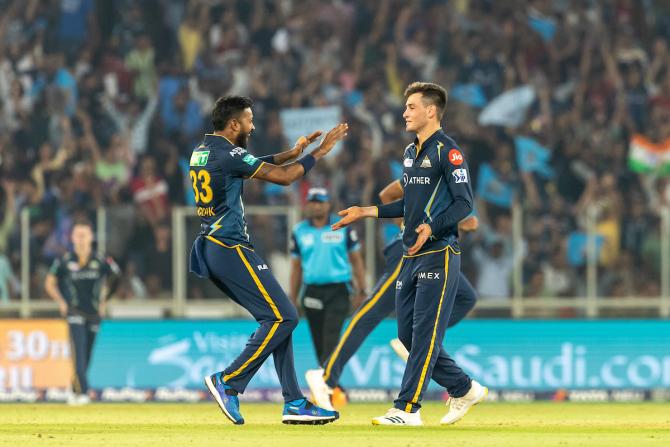 Winning captain Hardik Pandya was delighted with the result and said he always backs his instinct while leading the side.
"In captaincy I take the call in the moment rather than pre-planned. Captaincy is something where I just always bounce on my instinct. Me and Ashu Pa (coach Ashish Nehra) have a very similar mindset and 99 per cent of the times we back our calls and they are similar calls.
"Today bowling Rashid and Noor we knew we can take off pace against batters like Green and David who like pace on the ball," he said.
On Abhinav Manohar, who blazed away to 42 off 21 balls, Hardik said, "It's pure hard work, the amount of balls he hits in the nets and credits to the support staff as well.
"Last year we spoke to him and this year so far he has been hitting it the best in the team. We are very happy and looking forward to more innings like that."