Sunil Gavaskar, Sachin Tendulkar, Ajit Wadekar, Dilip Vengsarkar, Vijay Manjrekar and Eknath Solkar are among the 17 cricketers from Maharashtra who have the 'Kar' suffix in their surnames and have played Test cricket for India, points out Gulu Ezekiel.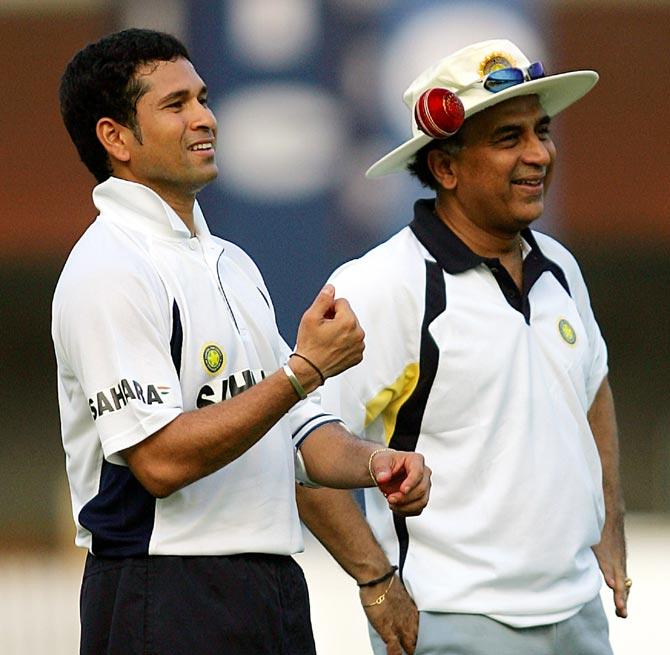 IMAGE: Sachin Tendulkar, left, with Sunil Gavaskar. Photograph: Babu AD/CP/Reuters
Nagavkar, Dokarkar, Talkar, Razpurkar... all cricketers but not a line-up of the Mumbai or Maharashtra Ranji Trophy teams -- they are all members of the Israeli national team!

And to think there has not been a Maharashtrian 'Kar' in the Indian team since Sachin Tendulkar played his final Test in October 2013.

Prime Minister Narendra Modi becoming the first Indian Prime Minister to visit Israel last week brought the country into focus in the Indian imagination like never before.
Though India recognised the State of Israel in 1950 -- two years after its creation -- full diplomatic ties were not established till just 25 years ago.

However, right from the start Jews from India have been immigrating to Israel and while barely 5,000 remain in India, the Indian Jewish Diaspora in Israel number over 60,000.
And wherever there are Indians, cricket is bound to follow!
In fact, Jews from other cricket playing countries like England, Australia and South Africa, as well as Indian Jews, particularly the Bene-Israeli ('Sons of Israel') community from Maharashtra have helped to ensure that cricket is widely played in their spiritual homeland.

These Bene-Israelis largely retain their Indian origin surnames, hence the presence of Safania Nagavkar, Nir Dokarkar, Issac Talkar and Yaniv Razpurkar in the Israeli national team.

This got me thinking -- how many with that specific 'Kar' suffix to their names (which generally denotes the name of the village of their family origin) have played for India in Test cricket and what would an All-time XII of 'Kars' look like?

Going through the list of Indian Test cricketers, I found a total of 17 in this category -- plus one (Rohan Gavaskar) who played ODIs only.
Some legends, some relative unknowns but still good enough to form a formidable team of their own.

Apart from the 12 listed in the team below, the other five are Khandu Rangnekar, Chandrakant Patankar, Manohar Hardikar, Hemant Kanitkar and his son Hrishikesh Kanitkar.
There is one more -- Manoj Prabhakar! But not being from Maharashtra, we will have to exclude the all-rounder.

Sunil Gavaskar would walk into most All-time World XIs and opens the innings with his Mumbai and India teammate (two Tests in 1972-1973) Ramnath Parkar, a dynamic stroke player and fielder who got a raw deal at the national level.

Sachin Tendulkar is another World XI sure-bet and he is part of a formidable middle-order with Ajit Wadekar, Dilip Vengsarkar, Vijay Manjrekar and his son Sanjay Manjrekar.
The batting is bolstered by the presence of two all-rounders, ace short-leg specialist Eknath Solkar and all-rounder and pace bowler Dattu Phadkar, the Kapil Dev of the '40s and '50s.
His new ball partner will be Ajit Agarkar while Dattaram Hindelkar (Vijay Manjrekar's uncle) is the wicket-keeper.
Ghulam Parkar, a brilliant cover fielder who earned a lone cap as opening batsman in 1982, is the 12th man.

The bowling is decidedly thin, Mumbai and Maharashtra have traditionally produced more batsmen than bowlers in Indian first-class cricket.
While Solkar can assist Phadkar and Agarkar in the pace department, he can also switch to left-arm spin with Tendulkar in support.
Here it is regrettable that one of India's finest spin bowlers, Mumbai's left-arm magician Padmakar Shivalkar does not qualify as he played only unofficial Tests.
The same goes for Maharashtra's ace pace bowler Pandurang Salgaoncar who would have shored up the weak bowling department.

The captain? There are four in the side, but I will go for Ajit Wadekar, the first Indian captain to win three Test series in a row, including in the West Indies and England in that glorious Indian summer of 1971.
Gavaskar, Tendulkar and Vengsarkar are the other three who have captained the country.

All-time 'Kar' XII: Sunil Gavaskar, Ramnath Parkar, Ajit Wadekar, Sachin Tendulkar, Dilip Vengsarkar, Vijay Manjrekar, Sanjay Manjrekar, Eknath Solkar, Dattu Phadkar, Ajit Agarkar, Dattaram Hindelkar (wk). 12th man: Ghulam Parkar.

PS: My original family name was Talkar. It was changed by my great-grandfather as the British used to call him 'Talker'!

Gulu Ezekiel is a senior sports journalist and author based in New Delhi.