'When the national anthem of India was sung and joined by all present with the PM in front, it was the best moment of the whole night.'
Rabbi Reuven Solomon Galsurkar, a Jewish priest of Indian origin, spent the first 20 years of his life in Mumbai.
On Wednesday night, he travelled from Ashdod to Tel Aviv to hear Prime Minister Narendra Modi.
Rabbi Galsurkar tells Rediff.com's Archana Masih from Israel why the evening was so special.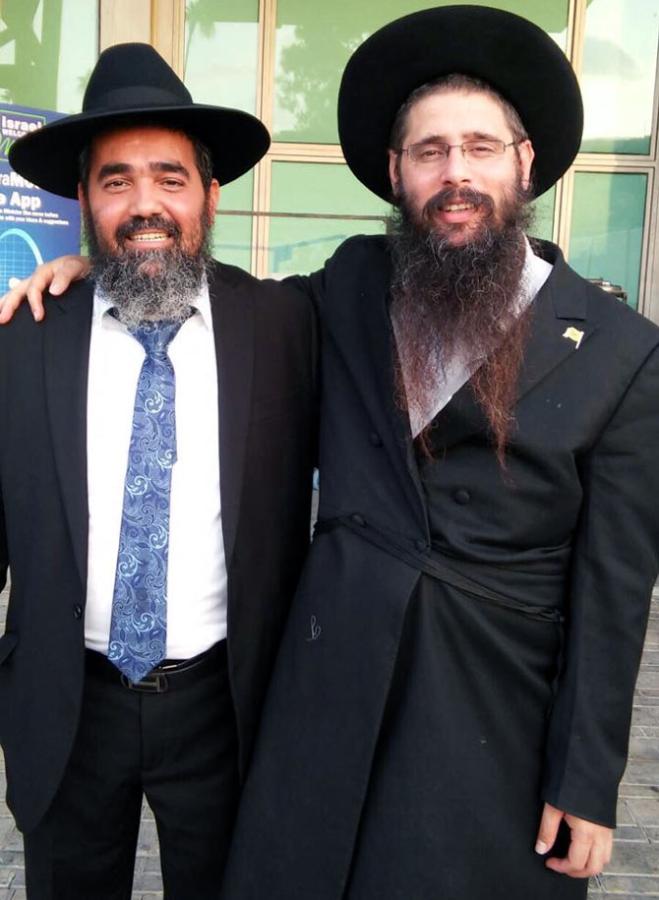 IMAGE: Rabbi Reuven Solomon Galsurkar, left, with another rabbi. Photograph: Kind courtesy Rav Reuven
We left in about 10 buses from Ashdod in what would be a 45 minute ride to Tel Aviv.
People came from the north, south, east and west of Israel. Everyone was excited about seeing Prime Minister Modi.
Everyone had come because it was the closest they could get to seeing the PM.
The security was strict and it took an hour for everyone to go in. There were big posters of Mr Modi outside.
No cameras were allowed inside, but we could take our phones.
It was a special event.
The venue was almost full when my wife and I reached.
It not only had Jews from India, other people of Indian origin were also there.
People were talking, singing.
It was the first time I saw such a big gathering of Indians in Israel.
The PM brought us all together.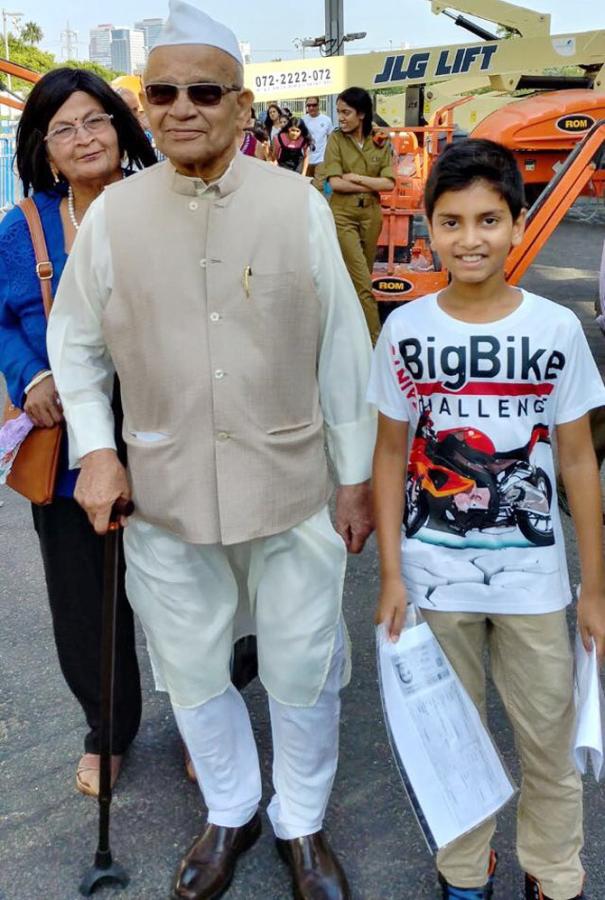 IMAGE: Indians outside the convention centre where Prime Minister Narendra Modi addressed the Indian Diaspora in Israel. Modi is the first Indian PM to visit the Jewish homeland.
Photograph: Kind courtesy Rav Reuven
The programme started with a Jewish dance. Singer Sukhvinder (Singh) sang and I remembered some of the songs from 18 years ago -- Chaiyya, Chaiyya and Vande Mataram.
People were singing along, clapping.
Since I study and teach the Torah as a teacher of religion, I do not know much about Bollywood. But the Indian community is very connected with Bollywood. We get Hindi (television) channels.
There was classical dance and other performances to Bollywood songs, but I went out during that time because as a rabbi it is not proper to see women dance according to Jewish law.
My wife -- who is Israeli -- told me about it.
After the cultural programme, we were asked to take our places and the prime minister arrived.
It was a special moment to see Benjamin Netanyahu and Narendra Modi come together and shake hands.
When the national anthem of India was sung by a lady and joined by all present with the PM in front, it was the best moment of the whole night.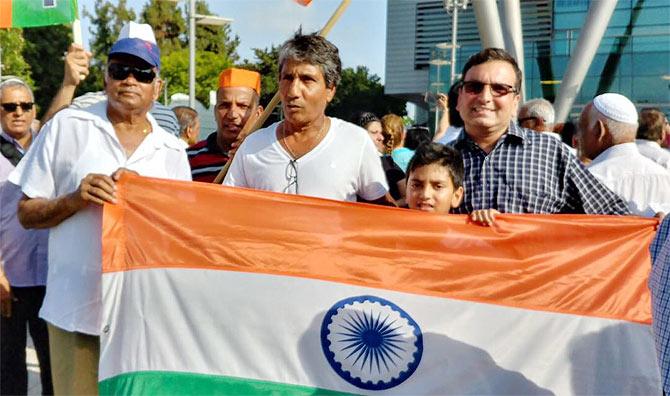 IMAGE: Indians with the Tricolour outside the venue. Photograph: Kind courtesy Rav Reuven
I liked Mr Netanyahu's speech when he said the two countries got freedom almost at the same time and they have risen and now we are together.
I feel it is going to be a very strong connection.
Mr Modi's speech was very good. He took the names of wellknown Indian Jews like E Moses and General J F R Jacob.
He said that in spite of being such a small community Indian Jews have made an impression wherever they are.
He spoke about the similarity of Jewish and Indian culture like Diwali, the festival of lights, which can be compared to Hanukkah in Israel.
He mentioned an Indian saint who had come to Jerusalem 800 years ago and said it showed that our connection goes back not just 70 years, but hundreds of years.
He spoke about what his government had done and its aim to 'Reform, Perform and Transform'.
I liked that very much and it got great applause.
Today (July 6) he went to honour Indian soldiers in Haifa.
It was nice that he announced a direct Air India flight because now only El Al flies non stop.
The OCI (Overseas Citizen of India) announcement was also very received.
He was the star of the evening.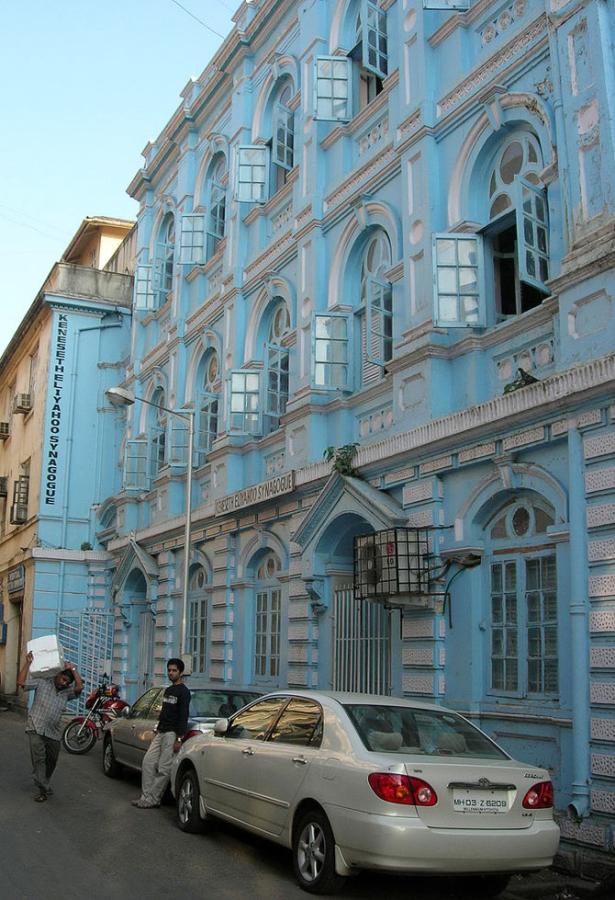 IMAGE: The Knesset Eliyahoo is an orthodox Jewish synagogue in Mumbai.
The sanctuary within the interior of the building points towards Jerusalem.
Photograph: Kind courtesy Wikepedia
I came to Israel when I was 20. I studied at the Jacob Sassoon high school in Bombay. I learnt Hebrew.
I had a dream to come to Israel for religious studies. My brother bought my ticket.
A teacher from Chabad House also helped and after graduation I came to Israel for six months. Then I extended my visa and stayed on.
I studied religion and did not return, but my heart is in India.
I did not know Hebrew very well so I had to learn it. It takes 7 years of learning to become a rabbi.
We have to take examinations. The learning of the Torah never ends.
I go to the synagogue every day and teach people the Torah.
My native language is Marathi. I also give lectures in Marathi to Jews from Maharashtra.
I cannot forget Marathi. My family is from Konkan. I miss everything about Bombay.
My picture (above) is somewhat like Raj Kapoor in the Mera Joota Hai Japani song -- but my dil hai Hindustani.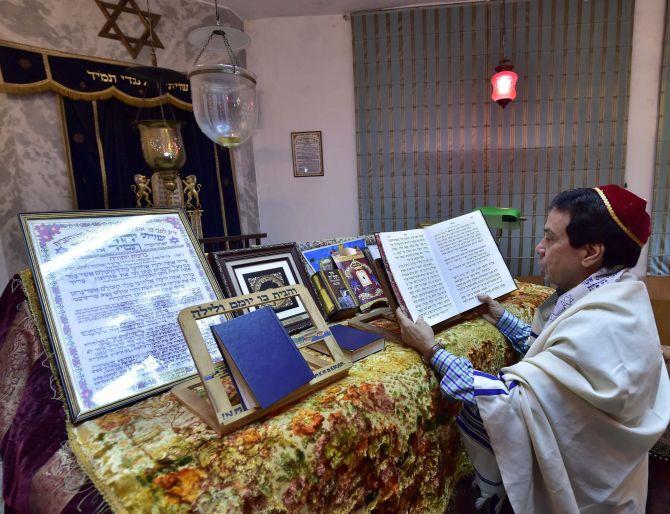 IMAGE: Rabbi Ezekiel Markel at the Judah Hyam Synagogue in New Delhi.
Approximately 6,000 Indian Jews live in India and enjoy a minority status in Maharashtra.
Photograph: Kamal Kishore/PTI Photo
Our holy temple was destroyed 2,000 years ago, so Jewish people went all over the world.
They also came to India and then they returned.
Yes, we are different from the Jews of Europe, but have faced no discrimination.
We have the same Torah, but have some different customs for sure.
We respect each other.
20, 30 years ago there was a question about Indian Jews, but it was cleared and Indian Jews in Israel are like other Jews.
When I came people would be surprised to know that there were Jews in India. But when they saw us they came to know that India also had orthodox Jews who have kept their laws.
There are six synagogues and one prayer hall where Indian Jews pray and one Beth Midrash where we learn the Torah in Ashdod.
There are 10,000 to 15,000 Indian Jews in this city. There are about 80,000 to 85,000 Indian Jews in Israel.
For all Jewish people, the family name is very important.
Galsurkar is derived from the place in Konkan my family comes from.
I can never forget where we come from.
Wherever I go, I give my full name. I am proud to be from India.
Jai Hind! Jai Israel! Jai Maharashtra!