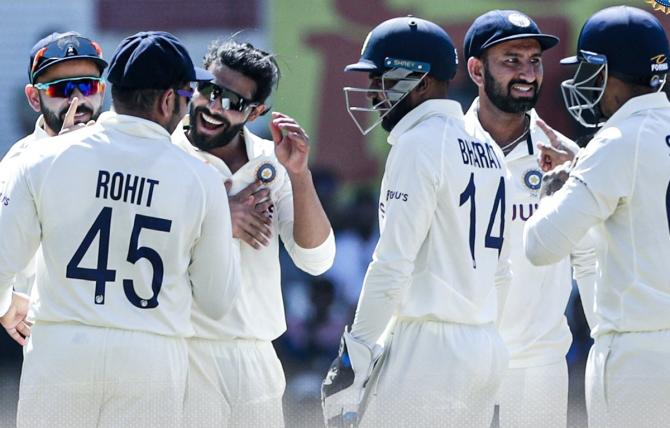 Keeping wickets in his debut Test for Team India, K S Bharat played an important role in overturning the umpire's decision following a successful review.
Wicket-keeper-turned-commentator Dinesh Karthik, who was impressed with Bharat, provided a delightful insight into how the 'keeper assisted Captain Rohit Sharma with the decision-making.
'They say a Test cap will always be well-earned. And he has really earned his stripes. Played for Andhra for a long time. And one of the few guys who has played a lot of India A games as well. Was there for about 5 years. And here it come -- in the first five minutes of his keeping, in his debut -- a big call to be taken, everybody excited.
'Goes straight to Rohit Sharma to have a conversation with him. And that's the interesting part -- as a keeper, you need to have clarity, you need to be sure, you need to tell the captain what exactly you have seen. In as few words as possible so he has enough time to take that decision,' DK said on-air.
DK was spot-on with his observation after Mohammed Siraj drew first blood by removing Usman Khawaja in the second over of the Australian innings.
Though Siraj's appeal was turned down by the umpire, Rohit reviewed the decision after a brief discussion with debutant Bharat.
The importance of the wicket was clear from the celebrations among the India cricketers. Even usually calm Coach Rahul Dravid could not hide his excitement as he was seen celebrating in the dressing room with the support staff.
Bharat had donned the gloves for India on day 3 of the first Test against New Zealand in Kanpur in 2021 when Wriddhiman Saha suffered a stiff neck.