- 'At no point did we back off. If at any stage that we had in mind that we might play for a draw, we would have lost by 150 runs'
- 'I was playing positive and going by my instincts'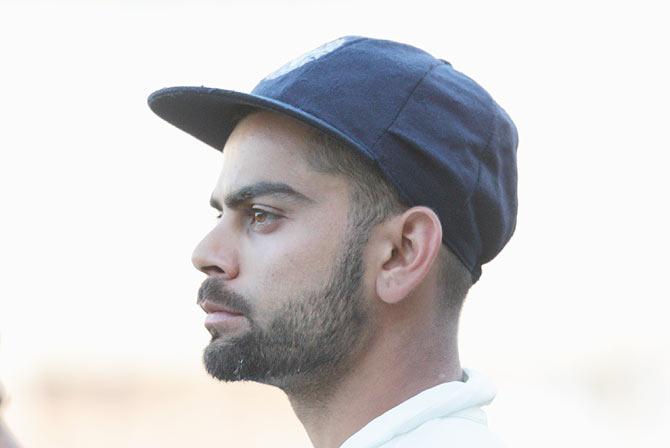 Virat Kohli wears a pensive look after the first Test at the Adelaide Oval on Saturday. Photograph: Scott Barbour/Getty Images
Stand-in India captain Virat Kohli has no regrets that his side lost the first test to Australia on Saturday after risking everything to try and snatch an unlikely win.
Set a daunting target of 364 on the final day, India spurned the chance to play safe and salvage a draw when they went for it, only to come up short when their lower-order batting collapsed in the final session.
For Kohli, who led India's assault with a brilliant century, the 48-run loss was a bittersweet result but the batsman praised his team mates for throwing caution to the wind.
"I'm really proud of the way the boys played," Kohli said.
"At no point did we back off. And we are not going to back off either. If at any stage that we had in mind that we might play for a draw, we would have lost by 150 runs, to be honest.
"So we went for it. That is what I am happy about."
- PHOTOS, 1st Test: Lyon roars as Australia script thrilling victory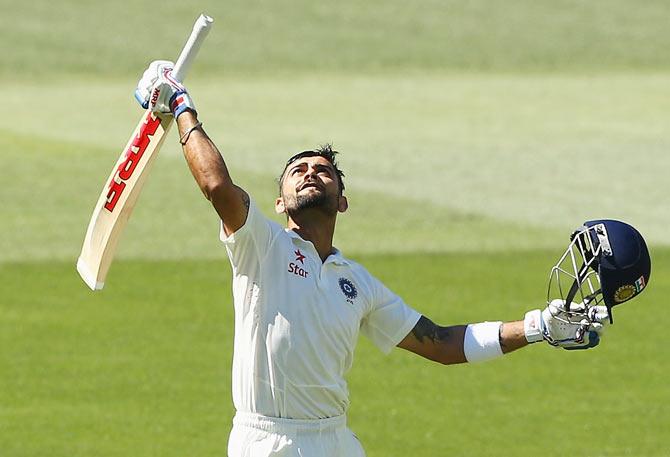 Virat Kohli celebrates after reaching his century on Saturday. Photograph: Robert Cianflone/Getty Images
Kohli, who filled in as skipper for the first time after regular skipper Mahendra Singh Dhoni withdrew because of injury, led by example with a couple of classic captain's knocks.
Kohli became the second Indian batsman after Vijay Hazare to score two hundreds (116 and 148 in 1947-48) in a Test at Adelaide.
Among Indian batsmen, he became the fourth after Hazare, Sunil Gavaskar (thrice) and Rahul Dravid (twice) to achieve this feat.
In doing so, Kohli matched Greg Chappell's feat of scoring twin hundreds in a Test in his first match as captain. The Australia had achieved it against West Indies in 1975-76 at Brisbane.
- Lyon spins Australia to victory despite Kohli century
"One good thing was that I wasn't thinking of any milestones," said the twin-centurion.
"I was only thinking about the target trying to calculate who I was going after. That's the first time I have been able to do that, in Test cricket at least. That was something new for me. So that felt good.
"I was hoping, when Mitchell Marsh was swinging at the boundary, that he will drop the catch. But he didn't. There are no regrets about playing that shot. I could have placed it better. Had it gone for a boundary, things could have been different. But those are big ifs.
"I was just reacting to watching the ball and being positive... playing on instinct."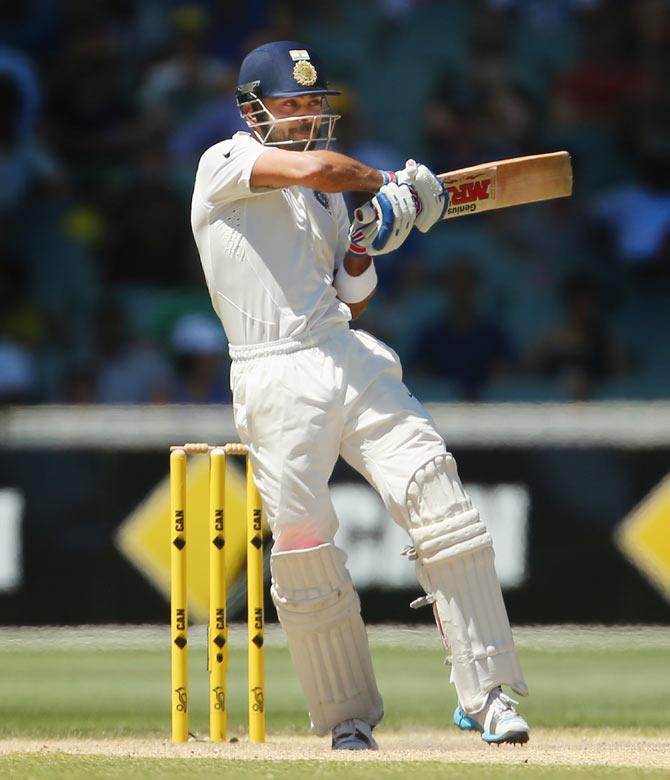 Virat Kohli bats on Day 5. Photograph: Scott Barbour/Getty Images
Kohli was supportive of debutant leg-spinner Karn Sharma.
"That was my personal decision. I felt Karn was bowling better in warm-up and practice sessions than other spinners. There are no regrets again. It was a plan that I thought should work. And he bowled pretty well for his first game. You have to give the guy credit. He had fielders up and challenged the Aussie batsmen to score off him."
- There's a chance I may never play again: Clarke
Despite losing the match, Kohli also impressed with his captaincy but said he has no designs on taking over from Dhoni, who will be back in place when the second test starts in Brisbane next week.
"I would be very happy that he is going to be fit and available," Kohli said.
"It doesn't matter if I have the 'c' in front of my name or not. That doesn't change anything as far as my mindset is concerned.
"I have enough friendship and enough respect between the team that I can go and speak to them every now and then and keep them on the same page.
"That is my responsibility, that is something I will look to do even if I'm not captain."