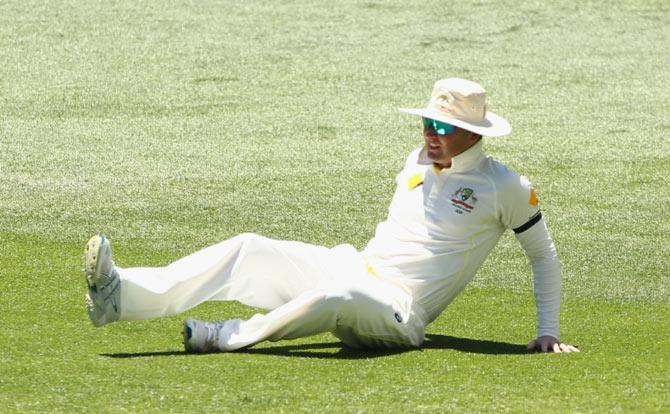 Australia captain Michael Clarke reacts after getting injured. Photograph: Robert Cianflone/Getty Images
Australia captain Michael Clarke has raised the prospect that his cricket career could be over after injuring his hamstring in the opening Test against India in Adelaide on Saturday.
Clarke said he intended to keep playing but the latest setback, which the 33-year-old said would force him to miss the remaining three Tests of a series, had caused him to think about his future.
Clarke will miss the rest of the series after injuring a hamstring while fielding on Saturday, the latest in a series of back and leg problems that have hampered the Australian skipper.
"This first Test is one we will remember and cherish for the rest of our careers," Australia captain Michael Clarke said of the first match since the death of his good friend.
"He's in our minds, he always will be. He will be for the rest of my life.
"Every Test match you play for Australia you have a lot to play for but obviously this series is even closer to our hearts."
The 33-year-old hopes he can recover in time to play in the World Cup, which Australia is co-hosting early next year, but his recurring problems have caused him, to ponder his future.
- Lyon spins Australia to victory despite Kohli century
"There's a chance I may never play again," he told a news conference at Adelaide Oval.
"I hope that's not the case and I'll be doing everything in my power to get back out on the park, but I have to be realistic as well."
Clarke did not finish the match, which ended with Australia securing a thrilling 48-run victory, after he hurt himself on the final day.
Lyon finished with 7-152, giving him 12 wickets for the match, a career-best, and handing the Australians the early advantage in the four-match series which resumes in Brisbane next week.
Clarke was sent for scans for the second time in a matter of days when he injured himself while fielding in the second session, pulling up sharply after feeling the hamstring go when reaching down to stop a ball.
He limped off with the assistance of the Australian team physiotherapist and said later the early prognosis was not good.
- PHOTOS, 1st Test: Lyon roars as Australia
"The scans are not great, they certainly showed a tear there," Clarke said.
"The experts are looking at them and I can pretty confidently say that I won't take part in this Test series."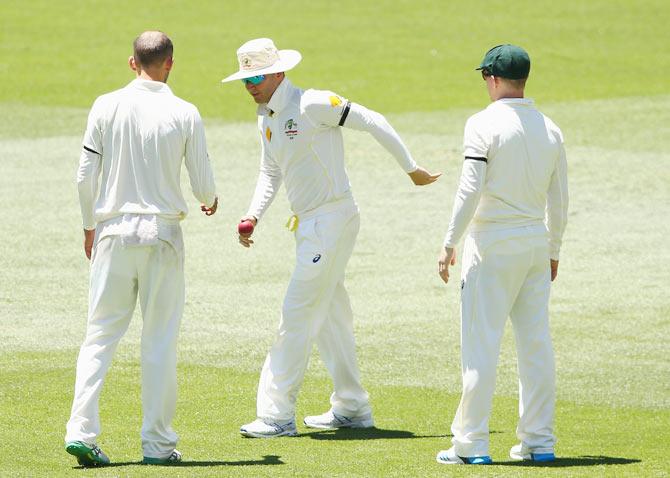 Michael Clarke of Australia tries to find his feet after pulling his hamstring while fielding on Saturday. Photograph: Robert Cianflone/Getty Images
Clarke has been troubled by hamstring and back issues since he was a teenager but the problem has only worsened in recent months.
He almost missed the first Test because of a recurring hamstring problem and suffered a painful back injury while batting in the first innings.
He retired hurt but recommenced his innings the next day, scoring a century, only to suffer another problem on Saturday.
"I did my left hamstring (previously). I've done my right side of my back, I've just done my right hammy... I've got injury concerns at the moment," Clarke said.
"Now I've got to go back and do what the experts tell me, to give myself my best chance of being fully fit.
"But I think I have to be honest with myself and have a good hard think about things, definitely."
With Clarke ruling himself out of the second Test starting in Brisbane next week, Australia selectors called up middle-order batsman Shaun Marsh to a squad that will be led once more by wicketkeeper and vice-captain Brad Haddin.
Left-arm paceman Mitchell Starc was also added with the starting 11 to finalised next week. The third Test starts in Melbourne on December 26 then the last is in Sydney from January 6.
The main goal for Clarke though is the 50-over World Cup, which Australia is co-hosting with New Zealand in February and March next year.
"I want to be playing in Brisbane, every game I miss for Australia is heartbreaking," he said.
"Our first (World Cup) practice game is eight weeks away.
"I'd love to take part in the tri-series, I'd love to take part in the World Cup but I just have to wait and see.
"Hopefully I'll get another opportunity to play again this summer."