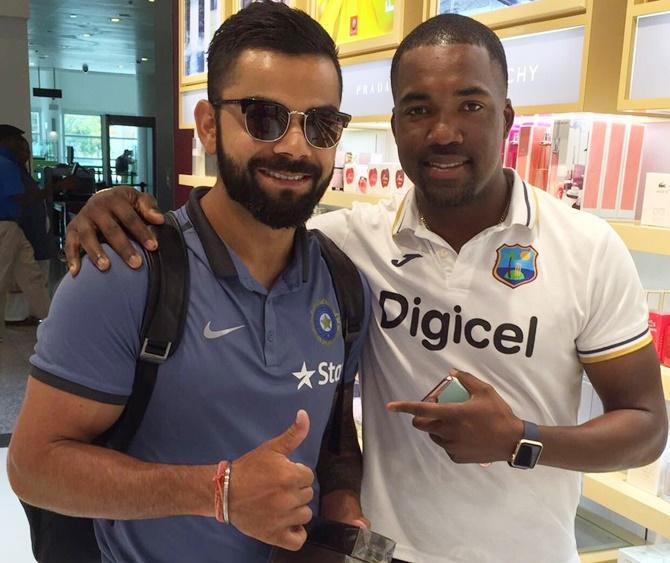 IMAGE: Darren Bravo and Virat Kohli spotted in the Antigua airport. Photograph: WICB/Twitter.
India will play two Twenty20 internationals against world champions West Indies in Florida in late August, the Board Of Control For Cricket In India (BCCI) said on Tuesday.
India lead 1-0 in their four-test series against West Indies, and the Twenty20 matches will mark the first full member games in the United States in four years, when New Zealand played West Indies.
The games will be held on August 27 and 28 at the Broward Stadium in Fort Lauderdale, a month after six Caribbean Premier League games, were played there.
The Broward Stadium is the only ground in the United States that meets international cricket specifications, and organisers say they have invested about $1.4 million to bring it up to standard including tweaking the floodlights to point at the pitch and erecting big video screens.
The United States would be a big market to crack for cricket bosses. The Twenty20 format is likely to be the most appealing form of the game, in the face of traditional U.S. sports, thanks to explosive batting and a relatively short matches.
"This will be a great opportunity for the cricket fans in America to watch the two champion sides in action. This will be developed into an annual cricketing event in the United States," BCCI president Anurag Thakur said in a statement.
"This will be a great initiative in our continued efforts to develop cricket in the Americas, a very important market," Whycliffe Cameron, president of West Indies Cricket Board, said.