'There was pressure and expectation on the players.'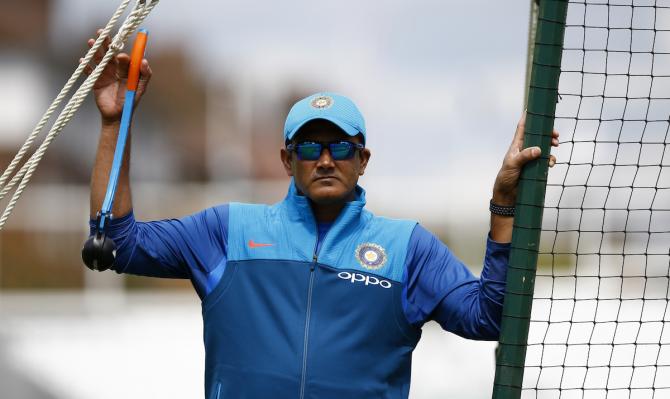 India are set to play Pakistan in the Asia Cup and the World Cup in the coming two months, and legendary leg-spinner Anil Kumble said on Tuesday that the key will be to take it as just another game of cricket.
The former India captain has an outstanding record against Pakistan in both Tests and ODIs, having taken 81 wickets from 15 Tests, including snaring all 10 wickets in an innings (10/74) in 1999 at New Delhi.
In 34 ODIs against Pakistan, Kumble has grabbed 54 wickets.
"In our times, the word was 'lose even to Kenya but not to Pakistan'. There was pressure and expectation on the players.
"That's how the matches between India and Pakistan are being played and the key is to treat it as just another match," Kumble said in Bengaluru while speaking during the launch of Pitchside -- the memoir written by veteran cricket administrator Amrit Mathur.
The function was also attended by former India batter and the current NCA chief VVS Laxman and former India wicketkeeper Syed Kirmani.
The 10-wicket haul against Pakistan is still a much-cherished moment for Kumble.
"I did not go onto the field thinking of a 10-wicket haul, though that is the dream of any bowler.
"However, in the next Test match against Pakistan, the Asian Test Championship at Kolkata, I was struggling to take even one wicket. That is the game of cricket for you," he said.
Kumble had ended that match with figures 1 for 139 as Pakistan defeated India by 46 runs at the Eden Gardens in February, 1999.
Mathur was India's team manager during the 2004 tour to Pakistan.
He remembered the tight security which was given to the Indian team during that trip.
"Pakistan was ready to give any amount of security to us. There were police vehicles in front and behind our team bus, a helicopter above the team bus, Rapid Action Force in all major road points and snipers on top of buildings en route to the stadium, especially in Karachi.
"At one point, even players were feeling why we need so much security, but overall the tour went off well," said Mathur.