'I feel, touch wood, that I'm fitter and healthier than I've been for a long time'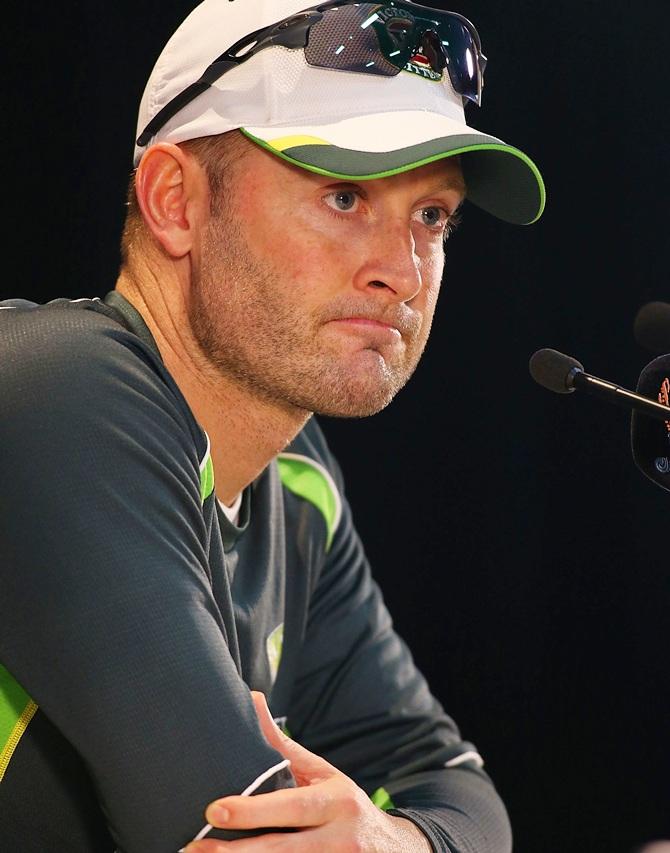 Michael Clarke of Australia addresses the media. Photograph: Paul Kane/Getty Images
Australia captain Michael Clarke showed a tetchy side to his nature in his pre-match press conference ahead of Sunday's crunch World Cup clash against Sri Lanka at the Sydney Cricket Ground on Saturday.
Having kept reporters waiting for an hour while he finished batting in the nets, Clarke's first few answers indicated it might possibly be the least informative of his many appearances in front of the media.
Have you got a team? -- "I haven't got a team". Is it a fitness thing? -- "I've absolutely no idea". How is Mitch Marsh? -- "I don't know the answer to that". Is Shane Watson set for a recall? -- "I'm not a selector so I don't know the answer to that."
Clarke can be a great communicator, as he graphically illustrated with an incredibly moving tribute to Phillip Hughes in the same news conference room just four months ago.
Having forcefully made clear his lack of status in the selectorial inner sanctum, therefore, he soon tired of being the curmudgeon.
All-rounder Marsh was raring to go despite a slight foot niggle, he said, while fast bowler Pat Cummins was unavailable for a second match in a row because of his side strain.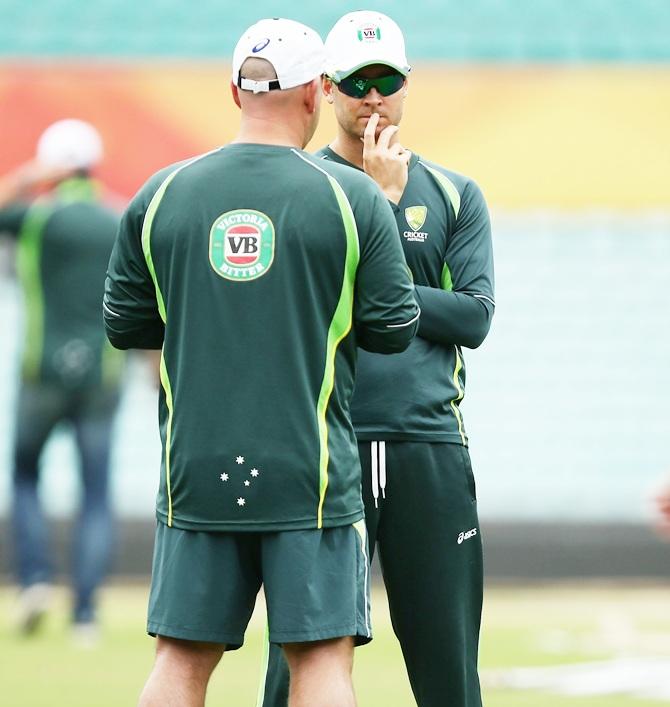 Michael Clarke of Australia, right, talks to Australian head coach Darren Lehmann during Australia nets session. Photograph: Matt King/Getty Images
A clue to Clarke's mood perhaps came when he was asked how he was feeling physically, a question he has faced countless times over the last few months as he has battled with recurring hamstring problems.
With Australia's match against Bangladesh having been washed out and the victory over Afghanistan being so comprehensive he did not need to bat, Clarke's injury-delayed start to the World Cup means he has faced just 18 balls at the tournament.
Being such a fierce competitor, it could be the lack of a chance to go out and do what he does best might have taken its toll on his temper.
"I feel, touch wood, that I'm fitter and healthier than I've been for a long time," he said with the air of someone making a clear statement.
"I have that hunger inside me to be successful and help Australia to get as far as we possibly can in this World Cup.
"I've copped a fair bit of criticism over the last few months so I'm excited about what lies ahead. I'm at my best, I'm ready to help this team have success."
Clarke was also expansive on a matter on which he could be considered an authority, the condition of the pitch at his home ground.
The 33-year-old suggested that spin could be a factor in Sunday's match, which will all but decide which team finishes second in Pool A.
"Looking at the wicket today, if we were to play today, the toss would be crucial," he said.
"If it's still a little bit tacky like it is today, then I'd really want to bat first."