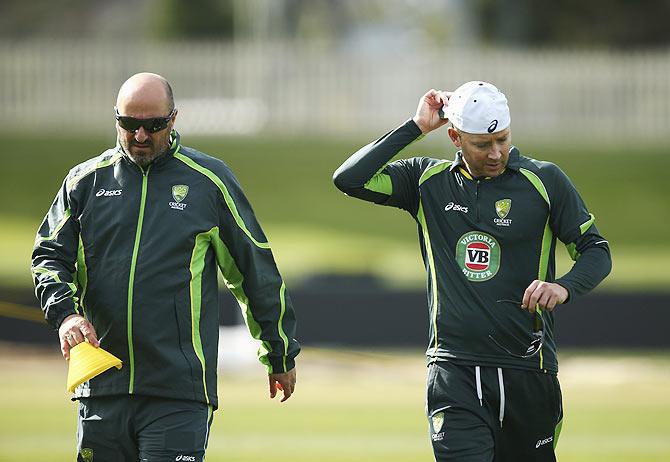 Michael Clarke of Australia speaks with Team Physiotherapist Alex Kountouris, Australian , during a nets session. Photograph: Ryan Pierse/Getty Images
When the 2015 ODI World Cup began, no one cared to look past Australia to lift a record fifth title. A strong team, home advantage, and flailing opposition, meant that they were in pole position going into the tournament.
- Favourites Australia wary of Pakistan enigma
- Australia v Pakistan: How the teams stack up!
As the tournament reaches the quarter-final stage, the co-hosts find themselves in the odd position of needing to make that 'favourites' impression.
During the first couple weeks of the competition, they never really got higher than third gear. An easy victory against England, a wash-out against Bangladesh and a close-shave defeat against New Zealand meant that they found themselves in a difficult position of having to win the remaining matches to finish second in the group. This, when top spot in Pool A was considered a given.
From there onwards, it has been about putting in professional performances one after the other. Afghanistan were brushed aside, Sri Lanka challenged but Australia persevered, and then Scotland provided the ground for some experimentation, despite that match-situation becoming uncomfortable.
But they finished second after all, their renegotiated target achieved after the one-wicket loss in Auckland.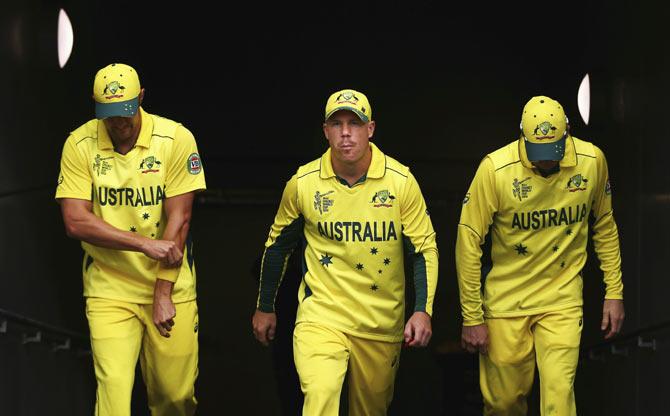 Australia's David Warner walks out on to the field. Photograph: Ryan Pierse/Getty Images
They started the ODI leg of the home season in January hoping to win every game they play until March 29. That is no longer possible, but they could still end up winners, such is the belief in this squad.
Don't Miss! The Rediff Cricket Show
World Cup: Wear Blue for Team India!
It is their World Cup to lose. And they aren't exactly wrong in thinking so, considering they boast a fiery bowling line-up and bat as deep as number eight (sometimes nine). Their fielding is almost always top-notch, they have an inspirational captain in Michael Clarke and they always have a very vocal crowd backing them.
They have sorted their playing eleven, and now know what combinations they want to play with. Their power-players are all in good form; Shane Watson has felt homely at number six, Mitchell Marsh is waiting in the wings, Glenn Maxwell is smacking everything out of the park at the moment, and there is no game James Faulkner cannot finish in his team's favour.
Up top, David Warner and Aaron Finch pack a punch and must be raring to get going again, after not opening against Scotland, surprisingly.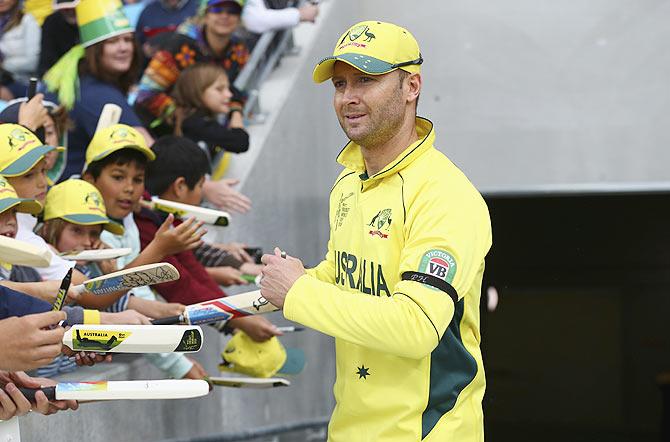 Australia captain Michael Clarke signs autographs. Photograph: Ryan Pierse/Getty Images
Steve Smith and Michael Clarke have the requisite experience to manoeuvre the middle overs. Then, their attack possesses Mitchell Johnson, Mitchell Starc and Pat Cummins, all capable of consistently bowling at 145-plus. With Josh Hazlewood putting his hand up, the team management is spoilt for choice. Not to mention they are very good fielders. How do you get past this side?
- The Cricket World Cup like never before, only on Rediff.com
- VOTE: Who will win the 2015 World Cup?
Yet, they haven't played like champions-elect until now, and it must be bothering them.
This is the time to turn up the heat and steal the spotlight back from India and New Zealand. Only thing, they need not to get too carried away in exerting themselves and give Pakistan a sniff.
Despite having won nine out of their 10 One-Day Internationals against Pakistan at home, Clarke warned his team against complacency on Thursday.
"I think Pakistan have been under-rated for a long time especially in the shorter form of the game," he said.
"They have got a lot of talent. Their attack is very good and they have got a good mix of youth and experience."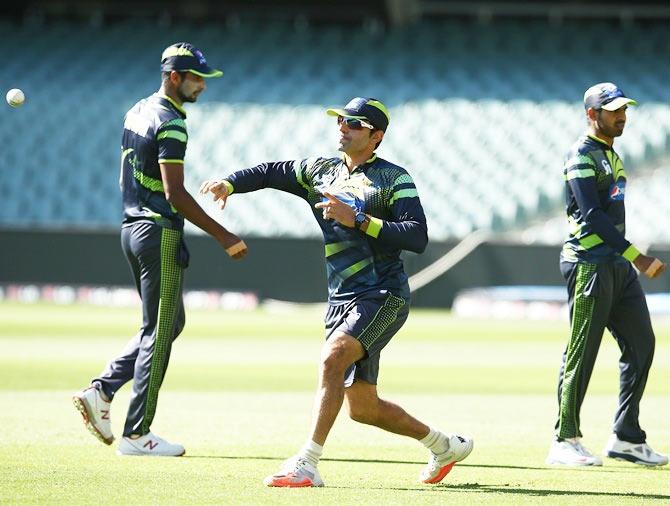 Pakistan captain Misbah ul Haq throws the ball during a nets session. Photograph: Morne de Klerk/Getty Images
This is the real slippery game of the quarters' stage. No one ever knows which Pakistan side turns up on the given day. It could be the ones who beat South Africa with consummate ease in Auckland. Or it could be the ones who couldn't get a move on against India or got unstuck against Zimbabwe before Misbah ul Haq saved them.
World Cup PHOTOS: 'Lucky' Rohit hits ton against Bangladesh
World Cup PHOTOS: Tahir, Duminy spin South Africa into semis
6 reasons why Gayle will blow away New Zealand's chances
As always he will have a big say on proceedings. The runs off his blade as well as the calming influence he exudes as captain on the field will be needed more than ever.
To what degree his wards listen will shape their performance in this match. They have been struck down by injury to Mohammad Irfan and will miss his bowling just as their attack was beginning to gather steam. They can only get a replacement in time for the semi-finals, but to do that, they need to get past a very professional Australian side.