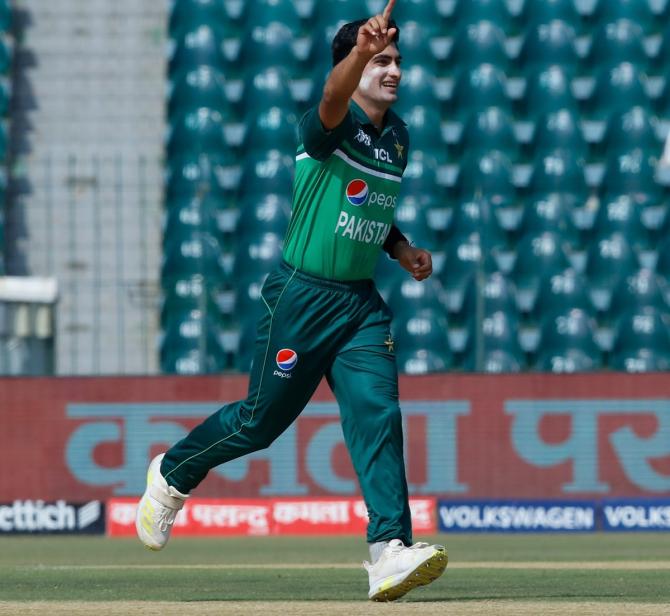 Indian commentator Harsha Bhogle has expressed his concerns over the potential absence of Naseem Shah from Pakistan's squad for the upcoming ODI World Cup, describing it as a "significant setback" for the 'Men in Green'.
This comes in light of recent reports from ESPNcricinfo, indicating that Naseem's right shoulder injury is more severe than initially suspected, making it increasingly likely that he will miss the entire ICC ODI World Cup 2023.
The Pakistan Cricket Board (PCB) has not provided detailed information about the extent of Naseem's injury. He underwent scans in Dubai after sustaining a muscle injury below his right shoulder while bowling against India.
Naseem was forced to leave the field during his over and was subsequently ruled out of the competition. Another concern for Pakistan has been Haris Rauf's side strain, which prevented him from bowling further after five overs. As a precautionary measure ahead of the World Cup, Pakistan rested Rauf in their match against Sri Lanka.
Addressing the uncertainty surrounding Naseem's injury, Harsha Bhogle took to social media, stating, "It appears that Naseem Shah's injury may be more serious than initially thought. If he misses out, it will undoubtedly be a significant setback for Pakistan."
Naseem Shah is not the only player facing injury concerns in the Asia Cup. India's all-rounder Axar Patel is also in doubt for the tournament's final match. During India's Super Four Asia Cup clash against Bangladesh, Axar suffered an injury to his hand while batting. The team management has yet to make a final decision regarding Axar's availability for the final.
Commenting on Axar's injury, Harsha Bhogle expressed his hope that the all-rounder would recover in time for the World Cup, emphasising his value as a versatile player who contributes with both bat and ball. Bhogle wished Axar well in his recovery.